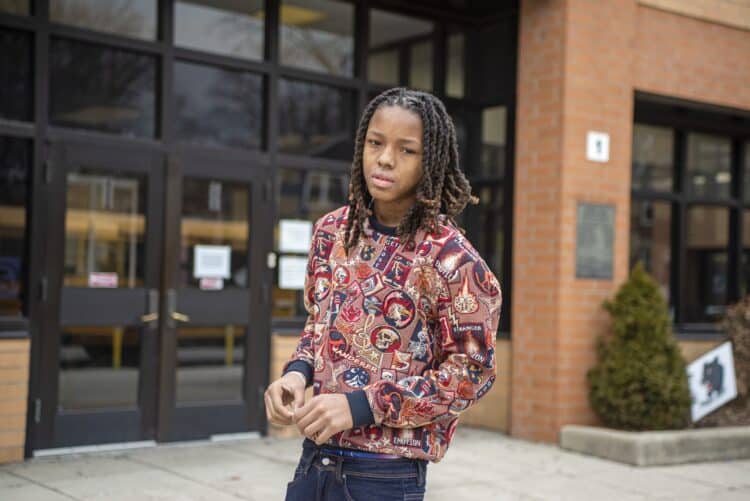 Not to be confused with the actor/comedian Mike Epps, Michael Epps is a talented young actor who has been making a solid name for himself over the last few years. Michael got his big break in 2018 when he was cast in the Showtime series The Chi. Now in its fifth season, viewers have gotten the chance to watch Michael grow up before their eyes. While it's true that he doesn't have the longest acting resume, he is already showing that he has what it takes to build a long-lasting career in the entertainment industry. Needless to say, there are lots of people who are excited to watch his career continue to blossom in the years to come. Continue reading to learn 10 things you didn't know about Michael Epps.
1. He Is A Chicago Native
Chicago is arguably one of the most well-known cities in the United States, and it has been the birthplace of some very talented people. Michael Epps is proud to be another name on the list. He was born and raised in the Chicago area, where he still lives with his family.
2. He Is an Entrepreneur
Acting may be Michael's primary focus at the moment, but it's not the only thing he has his sights set on. He also loves fashion, and he is the founder of a clothing line called Crown Me. The brand offers a variety of items, including t-shirts, hats, hoodies, and sweat pants.
3. He Likes Helping Others
Teenagers often get a bad rap for being self-centered and thoughtless. However, that's a stereotype that doesn't fit who Michael is at all. He is the kind of person who thinks about others, and he is serious about using his platform to help those in need. He is especially passionate about helping the people of Chicago.
4. Family Is Important to Him
Michael has remained pretty private since breaking into the entertainment industry, so there isn't much information out there about his life outside of his work. However, something we do know is that he really values family, and he has an especially close relationship with his mother.
5. He Is A Musician
The world may know Michael as an actor now, but one day people will also know him as a musician. During an interview with Upfront NY, Michael said, "My style of music is, of course, Hip Hop. I plan on talking about things I want to have, things I've been through, things that I hope to have, and things I want to get like that in my songs. The music video is coming soon. I can't really tell you too much about that yet, but stay tuned for that."
6. His Mom Inspired Him to Get Into Acting
Michael isn't the only person in his family to have an interest in acting. His mom was an inspiring actress, and it was her interest in the craft that inspired Michael to get started. She even introduced him to his first acting opportunity. To this day, Michael's mom remains his biggest fan.
7. He Plans to write a Book
Being good at multiple things is one of the best ways to find success in the entertainment industry. Luckily for Michael, that isn't a problem for him. According to The Knockturnal, Michael and his mother are currently in the process of writing a book. There is no information on when the book will be released.
8. He Got His Start on YouTube
Michael may not be a YouTuber, but he still has the platform to thank for getting him started in acting. Michael made his acting debut in a YouTube series that his mother was acting in. Even though it wasn't a major production, everyone involved could see that Michael was working with some serious talent.
9. He Wants to Be in an Action Movie
Michael is thankful for all of the opportunities he's gotten so far, but he hopes to do even more in the future. Michael told Upfront NY, "I would like to play in an action movie. You know movies like "Fast and Furious" or "Transformers" or "X-blade." Movies with all the production and slow motion, something like that."
10. He Likes Basketball
We've already established that Michael is very passionate about the arts and all things creative, but that isn't the only thing he's interested in. He also loves sports, and he grew up playing basketball. Now that his acting career has taken off, he probably doesn't have time to play in any kind of organized league at this point.