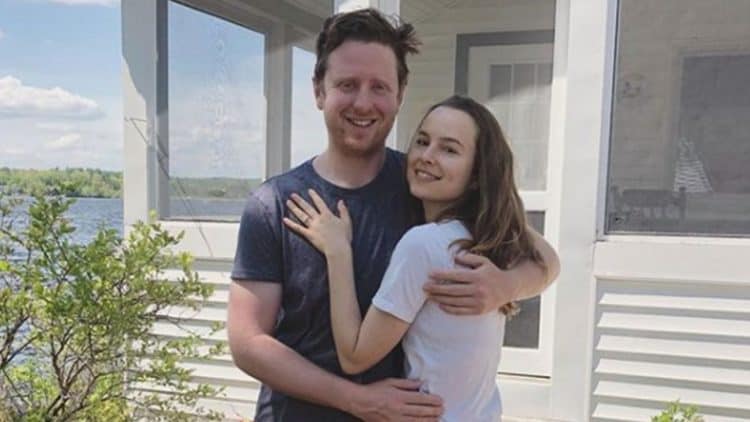 When you grow up on national television, you gain a few fans. When you grow up on national television as a Disney Channel star, you attract a lot of fans. Despite the fact that former Disney star Bridgit Mendler has managed to move on past the Disney child star stage and into a highly successful adult career in the acting business, she still has a lot of young fans—and many new ones. The former Disney star is now a married woman, and she is thrilled to share her husband with the world (to a certain extent, of course). Her husband is Griffin Cleverly, and we can share what we know about him.
1. They Wed in 2019
They didn't just get married, but they are still in the honeymoon phase of life. They tied the knot in the fall of 2019, and they were elated about their intimate beach ceremony. Only a select few close friends and family were invited to witness their special day, and that has been a great success for them. They cherished every moment of their intimate wedding.
2. He's Been with Mendler for Many Years
This couple got engaged in April of 2019, married a few months later, and they're still enjoying their marital bliss. They had been together for approximately five years prior, having started dating around the beginning of 2017 – almost five years, give or take a few months either way.
3. He's a Deep Thinker
His wife calls him a deep thinker, which is certainly not a bad thing. He is likely someone who takes things to heart, making thoughtful decisions rather than rash or thoughtless ones. We can imagine he is reasonable and relatively calm, and enjoys contemplating the many things he has going on in life.
4. He is Goofy
If we just made him sound serious, let us digress. He might be a deep thinker, but Mendler also calls her husband a goof. He's likely a good blend of serious and fun, and it sounds like the two of them have a great time together in their marriage and prior to it.
5. He is a College Graduate
We have established that this is a man who graduated from college in 2014. He attended UCLA, and he graduated with an impressive degree. He specialized in mechanical engineering, thus making him a mechanical engineer.
6. He Works for Lockheed Martin
When he is not busy with his famous wife, Griffin Cleverly – or Griff, as his wife calls him – works for Lockheed Martin. It appears he has been with the renowned company since around 2018. The exact nature of his role and where he works remain unknown.
7. He Worked for MIT
Prior to taking a position with Lockheed Martin, it appears that Cleverly had worked with another renowned company. He was a Research Associate at none other than the Massachusetts Institute of Technology (MIT).
8. He is Private
Bridgit Mendler is well-known for her many famous roles on television and with Disney, but she's not usually seen as a very public figure. She has always done an admirable job of keeping her life as private and out of the spotlight as possible, and it seems she has chosen a partner who likewise prefers to keep their lives out of public view. They are very private and generally do not share much with the public, but they do share enough to keep their fans updated.
9. Their Wedding Was Magical
Both recalled in interviews in the past that their wedding was truly magical. The sunset was breathtaking, the sound of the ocean waves rolling on the sand was calming, the sound of their friends and family gathered together was heartwarming, and they had each other. Honestly, we cannot think of anything more perfect than a wedding as lovely as this one.
10. He's 30
Griffin Cleverly is a man not much older than his wife. He was born in January of 1991 and recently celebrated his 30th birthday in 2021. As he left behind his 20s and entered into his 30s, it is said to be the best decade of your life. There is so much to be learned from your 20s and applied in your 30s, and there are so many things that make this decade a magical one. Here's to a happy decade, a happy marriage, and a happy life doing what he loves to do the most.