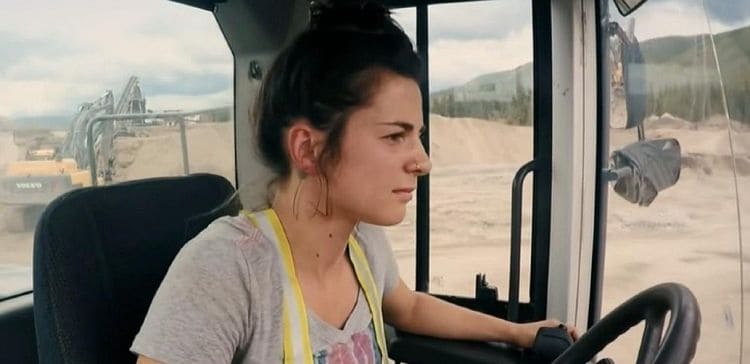 For the last 10 years, the TV series Gold Rush has given the world a glimpse into what it's like to make a living searching for gold. While this can typically be a very lucrative line of work, the pandemic has caused some complications with getting experienced people out into the field. As a result, one of the show's stars, Parker Schnabel, has had to hire some inexperienced people to get the job done. Among those with no experience is Tatiana Costa. Although Tatiana is new to the world of gold mining, she isn't afraid of a challenge and she's ready to learn everything she can. Keep reading to find out 10 things you didn't know about Tatiana Costa.
1. She's From Portugal
Since Tatiana is new to the spotlight, there isn't a lot of information out there about her. However, based on her Instagram bio, we know that she is originally from Portugal. She currently lives in Canada although it appears that she has also lived in a couple of other countries over the years.
2. Gold Rush Is Her Only TV Experience
From what we can tell, Tatiana hasn't been on any TV shows prior to Gold Rush. It also doesn't appear that she has any connections to the entertainment industry. In fact, she probably never ever imagined that she would become a reality TV star, but we all know that life has a funny way of working things out.
3. She's In A Relationship
Not only have things been going well for Tatiana in terms of her career, but it looks like her personal life is going well, too. Tatiana is in a relationship with a man named Taylor Matejka. It's unclear exactly how long they've been together, but they appear to be going strong. From what we can tell, the couple does not have any children.
4. She's a Dog Person
Even though Tatiana doesn't technically have any children, she's still getting the chance to flex her mommy muscles. She is a very proud pet parent and she has an adorable little pug. Although her dog doesn't have an Instagram profile of its own, it has made several appearances on Tatiana's page.
5. She's Well-Traveled
In addition to having lived in multiple countries, Tatiana also loves traveling. She has gotten the opportunity to visit some awesome places including Greece, Peru, and Costa Rica. There's no doubt that she's going to be adding even more destinations to her list in the coming years.
6. She Studied Politics
Tatiana's road to becoming a professional gold miner appears to have had a few interesting stops. According to Tatiana's Facebook profile, she graduated from Aberystwyth University after studying international politics. We weren't able to find any information on whether she's ever held a job in the political field.
7. She Loves Scuba Diving
As you can probably already tell, Tatiana is a very adventurous person. She loves a good adrenaline rush and she isn't afraid to step outside of her comfort zone. Scuba diving is one of her favorite ways to let her adventurous side roam, and she has gotten the chance to dive in places all over the world.
8. She Likes Her Privacy
When people sign up for reality TV, it's easy to assume that they are the kinds of people who love attention and want to share their lives with the world. That isn't always the case though, and people like Tatiana Costa are proof. Despite her newfound position as a reality TV star, she seems to be a very private person. She hasn't revealed many details about her personal life and her social media content is based on her adventures.
9. She's Family Oriented
Even though we don't know much about Tatiana's personal life, her Instagram profile does suggest that she has a close relationship with her mom. While most of her content is strictly focused on things like traveling and scuba diving, Tatiana did post a photo of her and her mom with the caption "'No matter how much I say I love you , I always love you more than that' – best mother , best friend and best diving buddy".
10. She Went to High School in England
As mentioned earlier, Tatiana is originally from Portugal, but it looks like she moved to England at some point before she reached adulthood. Tatiana's Facebook profile reports that she went to St Peter's RC High School which is located in Manchester, England. According to the school's website, "St Peter's is an established Roman Catholic high school providing excellent pupil care, high quality teaching and strong academic results."
Tell us what's wrong with this post? How could we improve it? :)
Let us improve this post!