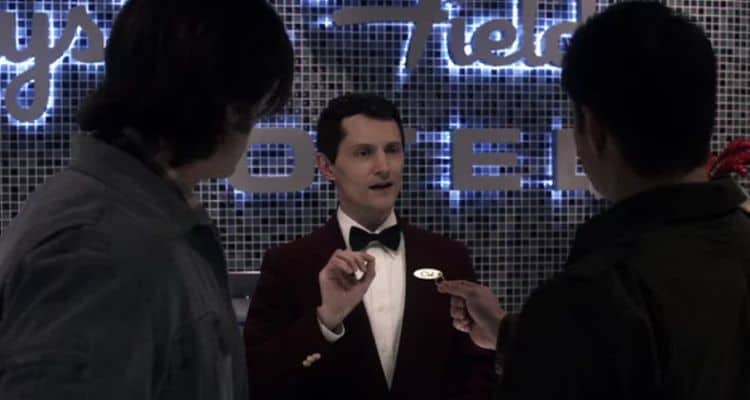 John Emmet Tracy is a natural performer who has managed to turn his talent into a long and lucrative career. Since making his on-screen debut more than 30 years ago, John has become recognizable to people all over the world. From the big screen to the small screen, John has captivated countless viewers. His resume includes credits in successful projects such as Batwoman, iZombie, and Yellowstone. Although John hasn't made any on-screen appearances in 2022, he has a handful of projects in the works that will continue to cement his legacy as a superstar. Before long, he may even become a legitimate household name. Continue reading for 10 things you didn't know about John Emmet Tracy.
1. He Is Originally From Chicago
Chicago is a city that has no shortage of history and culture. Although it might not be the first place that comes to mind when people think of the entertainment industry, it actually has a very strong arts scene that has helped many people start and maintain their careers. Over the years, the city has given us dozens of talented actors, musicians, and other performers and John Emmet Tracy is one of them. He was born in Chicago and was raised between there and Milwaukee. While it's true that he will always be proud of where he's from, he's also thankful for the fact that his acting skills have given him the chance to see places all over the world.
2. He Started Acting As A Child
John didn't start acting professionally until he was an adult, but he has loved acting for almost as long as he can remember. During an interview with My Devotional Thoughts, John said, "I started acting when I was very young – even before I knew it was a job. I actually can't remember any time in my life when I didn't think of myself as a performer. There was never a great big transition moment where I announced to my family that I was going to do this professionally or anything like that. They would have probably laughed if I had announced it to them since it must have been pretty obvious to anyone around. Maybe the constant costumes and fake moustaches gave it away!" Although pursuing a career in a field like acting can be risky, things have worked out nicely for John and he's been able to watch his childhood dream come true.
3. He Loves Connecting With His Fans
No matter how talented a person is, it's not possible to become a big name in the entertainment industry without having a dedicated fan base. After all, if you're putting on a show there have to be people who actually want to come see it. That being said, John is very grateful for all of the people who have shown him love and support throughout his career. He has been fortunate to touch the lives of countless people – many of whom are always looking forward to his next project. John loves being able to engage with his fans as much as possible, and social media has made it easy for him to do that. Although he isn't the most active Twitter user, when he does get on the platform he likes to respond to tweets from his fans. As you can imagine, his fans always love hearing from him and it's been a great way for him to return some of the love they've given him.
4. He Isn't Afraid To Stand Up For What He Believes In
Standing firm in what you believe in isn't always an easy thing to do. This is particularly true for people who work in industries where they are constantly under the scrutiny of the public eye. However, that has never stopped John from taking a stance on the things that are important to him. John is a firm believer in the importance of human rights and he has used his platform to raise awareness of several issues such as fighting racism and improving diversity and inclusion. John also isn't afraid to get a little political. In addition to encouraging his social media followers to exercise their right to vote, he has also been open about his stance on several political issues.
5. He Loves Doing Theater Work
Like lots of other actors, John started his career before transitioning into on-screen opportunities. Although he genuinely enjoys both mediums, there's something extra special to him about being on stage. While talking to My Devotional Thoughts, he said, "Theatre has always been at the center of what I do. I think of it like a hometown or maybe like my own neighborhood or something. I love to travel and to see and do other things, but I always come back home. Working on a play feels like that. Like so many actors will say, it means something very particular and significant to share a story in person, in three dimensions and to have living communication with everyone in the building – in the audience, backstage, front-of-house or onstage. We're doing the whole thing together!"
6. He Likes to Write
Acting has been John's primary focus for much of his life and at the moment he doesn't have any screenwriting credits. However, writing has always been something he's enjoyed. During his conversation with My Devotional Thoughts, John said, "I have been writing for years, but have never pursued doing anything professional with it. Just something I enjoy – although I don't have much time to write these days. As for directing, I have actually directed quite a bit: mostly for theatre productions at colleges and acting conservatories. I guess I have directed close to thirty productions. Although acting is my first love, I do enjoy directing – especially working with actors!" Perhaps one day we'll see John direct some on-screen projects or decide to pursue his writing on a serious level.
7. He Is A Formally Trained Actor
Not long after John discovered his love for acting, it became clear that he was a natural at it. However, even with his natural talents, he decided that he wanted to learn as much about the craft as he could. He studied acting at Rose Buford College in England and he has also worked with several acting coaches throughout the years. While he understands that there are lots of actors who have opted to forego an acting education, he thinks there is a lot of value in being trained on technique. Although his days of being a traditional student may be over, John is the kind of person who always likes to learn new things and put his skills to the test.
8. He Is A Proud Dad
Throughout his career, John has never been the kind of person who likes to put his private life on display. That being said, there are people out there who may not be aware of the fact that he's a father. Although trying to balance a successful career with fatherhood hasn't always been easy, John has always managed to make it work thanks to the love and support of his wife. While all of his professional accomplishments are certainly something to be proud of, there's nothing that John loves more than being a father. When he isn't busy with work, you can bet that he is spending as much time as he can with his loved ones.
9. He Likes Taking Pictures
John may not think of himself as a photographer, but he might want to start. John's Instagram reveals that he has a knack for photography. When he's out on his adventures, he loves snapping as many beautiful moments as possible. His followers seem to recall enjoy it when he posts the photos he's taken. Photography is another one of the ways John likes to express himself and it's also been an additional way for him to tap into his love for storytelling.
10. He Started a Charity Event
Keeping people entertained isn't the only thing John has used his platform for. He is also serious about helping others and he even started an event called The 24 Hour Shakespeare Project which took place in 2014. The event was a 24 hour reading of all of Shakespeare's works.
In an interview with Talk Nerdy With Us, John shared, "When my son was two and a half he was diagnosed with something called coarctation of the aorta and they came to us and told us that he needed surgery on his aorta. Which is quite a shocking thing to hear about your two and a half-year old child…So I set about editing down Shakespeare's plays to short, manageable versions. In fact I edited all 38 plays. It took me five years and I edited them down to roughly thirty to forty minute versions. On Shakespeare's 450th birthday We came together with nearly 200 actors and I got on stage and stayed for 24 solid hours. We performed stage reading of all 38 of his plays and raised money for BC Children's Hospital." Unfortunately, it doesn't appear that he has any plans to bring the event back.