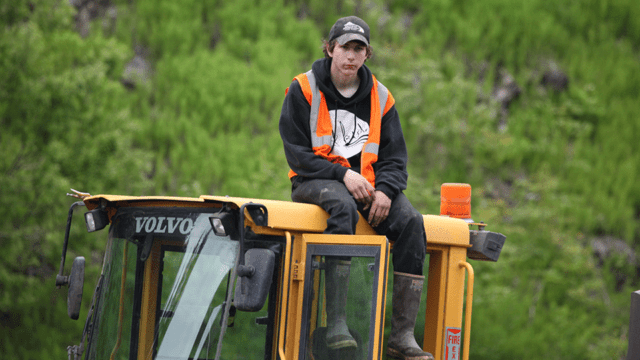 Parker Schnabel is best known for his appearance on the popular reality series "Gold Rush Alaska" on the Discovery Channel. He's a favorite who has made such a good impression that his admirers are anxious for any news that is available about him. He's not the Hollywood jet set type, so Parker isn't making the news or gossip columns regularly, but he has led an interesting life. For fans who are anxious to find out more about the rough and ready miner, here are five things that you probably didn't already know about him.
1. He's a native Alaskan
While many of the personalities who appear on shows of this type are native to larger metropolitan areas, this isn't the case for Parker Schnabel. He didn't have the experience of growing up in the big city and the experience the need to get away from it all in exchange for a big change, he was born into this. The 23 year old was born in haines, Alaska and has spent his life around the mining industry. He's been actively involved since childhood. He continues with his grandfather John's legacy, working the Big Nugget mine that was Johns until his passing in the past year.
2. Parker has a unique perspective on wealth
In his lifetime, Schnabel has mined a lot of gold. In fact he's recovered some $13 million worth since he first started, but he is pragmatic about his fianancial situation. There is a high overhead that goes along with a mining operation and what you bring out isn't necessarily what you get to keep. He understands that it takes money to make money and additionally, that there will be times when he will spend money with long periods in between strikes.
3. He is currently a multi-millionaire
At the age of 23, Parker Schnabel has a net worth of $3 million. He's not the kind of guy to spend money on extravagant living. Instead, he is careful to reinvest when it is needed. He enjoys the life that he's chosen to live and he is all about keeping the mine running in the way that it needs to be run. This mean putting money back into the operation and keeping up with the maintenance.
4. He passed on college
Parker had a designated college fund that he was free to use if he wanted to go into a different line of work. Instead of hitting the books, he used the money that was set aside for education to put into his own branch of the family business. He invested it into his own mining operation and took up the family trade instead of trying something new that he wasn't familiar with. Parker knows mining and he has the heart, skill and common sense to make it work.
5. He has a girlfriend
Parker has spent the majority of his time in the company off men who are middle aged. His life has been about the mining industry, but he is, after all, a very normal young man, and a fine example if we may say so. He's been with her for nearly two years now. His current girlfriend is Ashley Youle whom he met when he was in Australia. He invited her to come for a visit to Alaska and the rest is history. We hope that it works out well for Parker because he's a really nice guy in addition to being a hard worker.
Save
Tell us what's wrong with this post? How could we improve it? :)
Let us improve this post!