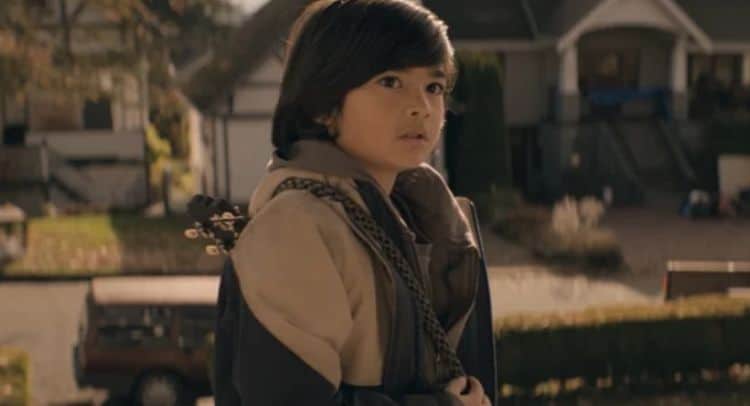 Some people spend their entire lives trying to find something they're passionate about. However, at just 11 years old, Gordon Cormier has already found that thing for him. The talented young actor is already making quite a name for himself in the industry, and his future is looking incredibly bright. Gordon made his on-screen debut in 2019 in the TV series Get Shorty. Since then, he has managed to consistently land opportunities. Recently, it was revealed that Gordon will be in the upcoming TV series Avatar: The Last Airbender and this role will likely elevate his career to hew heights. Keep reading for 10 things you didn't know about Gordon Cormier.
1. He Comes From A Diverse Background
Gordon was born and raised in Canada to a Filipino mother and a white father. Gordon is really proud of his roots and the role they have played in his life. As he gets older, it'll be interesting to see if he gravitates towards roles that highlight his culture. It's unclear whether he and his family still live in Canada.
2. He's A Skater
In a lot of ways, Gordon is very different from other kids his age. In others, however, he's just a "regular" kid who enjoys hanging out and having fun. Skating is one of his favorite ways to spend his free time and he's got some serious skills. When he isn't busy working, you can often find him at the local skate park.
3. He Practices Taekwondo
Acting may be Gordon's main focus, but it's not the only thing he has put a lot of time and energy into. He began training in Taekwondo when he was around seven years old. The skills that he's learned through martial arts will likely come in handy throughout his acting career.
4. He Has A Supportive Family
There are countless actors who have sad stories about how their family didn't support their dreams of becoming an actor. Gordon is fortunate that that isn't something he's had to deal with. His parents have been by his side every step of the way and they're very proud of everything he's accomplished.
5. He's Learning The Guitar
Acting isn't the only way Gordon likes to put his creative skills to good use. In an Instagram post in 2020, Gordon revealed that he recently got a new guitar and he was ready to start practicing. At the moment, music is only a hobby for him and there's nothing to indicate that he has plans to pursue it on a professional level.
6. He's Done Some Voice Work
Gordon has already proven that he has what it takes to put in a good show in front of the camera, but he also knows how to make the magic happen in the booth. Although he doesn't have any official voice acting credits on his IMDB page, Gordon's Instagram profile revealed that he has some voice acting opportunities in the works.
7. It's Unclear If He's Had Any Acting Training
Gordon is still pretty early on in his career so he hasn't gotten the chance to do much press. As a result, we don't have any information on what inspired him to get into acting. We also don't know if he's undergone any kind of acting training. Since Gordon started acting at such an early age it goes without saying that he hasn't gone through a traditional drama program.
8. He Loves Basketball
If Gordon hadn't gone into acting, there's a chance he could've joined a local basketball team and become a star. Basketball appears to be one of Gordon's favorite sports and he loves getting out on the court and working on his skills. He may not have the time to play competitively at the moment, but if that time ever comes he'll definitely be ready.
9. He Likes Being Out In Nature
Today's kids have gotten a bad reputation for only being interested in sitting in front of a screen all day, but Gordon is the kind of kid who likes to get out and take advantage of the fresh air. Gordon spends a lot of time outdoors enjoying the beauty of nature. He loves to do things like go hiking and simply exploring his surroundings.
10. He's Signed To An Agency
Working with an agency can provide an actor with lots of opportunities to advance their career. Sometimes, it can take. actors a long time to find an agency to represent them. However, Gordon is already signed to an agency called Premiere Talent. Having this connection will allow him to have easier access to auditions.Avatar: The Last Airbender
Tell us what's wrong with this post? How could we improve it? :)
Let us improve this post!