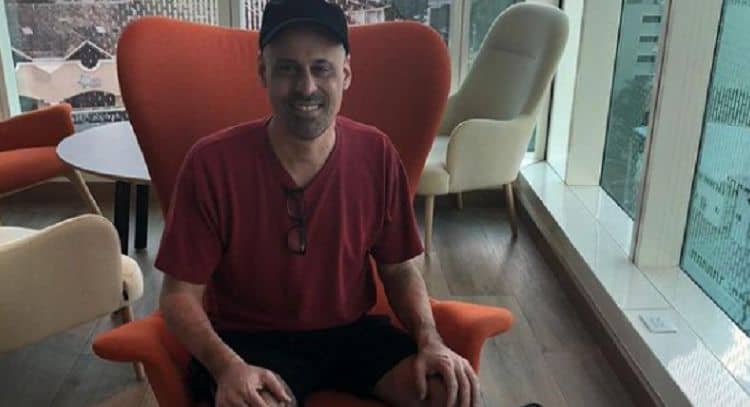 There is something on reality television for everyone. It might seem so foreign to many to consider meeting someone from another country online, falling in love, and wanting to marry them despite the fact that you've met them once or twice – or you haven't met them at all in person – but it is a way of life for so many people. Perhaps that is why people love the show "90 Day Fiancé," so much. The entire thing is just so foreign and insane when you stop and think about it. Meeting someone online and moving to a new country to be with them or have them move from a different country to be with you, and you're so certain things will work out that you have 90 days to get to know them in person and get married. It's a mess, and it's so entertaining to so many. Gino Palazzolo is a man who is part of the show, and fans want to know more about him.
1. He Met a Woman Online
He met Jasmine online in 2020, and he fell hard and fast for her. She's from Panama, and he is not. They met, he began to follow her on social media even though they met on a dating website, and he fell hard and fast. He admits it, too.
2. He's All About Starting a Family
He wants a family, and he wants it with his internet girlfriend from a different country. He has not made that any kind of secret, and he is not keeping his feelings to himself. He'd like to marry her, and he will make that happen if he does nothing else.
3. He Had Plans
When he left the US to meet his online girlfriend for the first time, he had a plan in mind. Number one, he was going to propose to her on that trip. Before he came home to America, he was going to be engaged to this woman he'd never met. He wanted to make it happen.
4. That Wasn't His Only Plan
If we are being honest, we can say that this was not the only plan he had in mind, either. Sure, he was going to ask her to marry him when he met her for the first time, but he was going to do something else. He was going to leave this trip to come home with not only a fiancé, but with a pregnant fiancé. No, he did not talk to her about this first.
5. He's Divorced
Prior to meeting his Panamanian love online, he was married and divorced. His divorce was rather difficult on him, and he suffered significantly from that. He didn't have a good time focusing on his marriage ending, and he jumped hard and fast into a new relationship.
6. His New Girlfriend is Possessive
Experts on the show used that word, but she does not think that this is true. She thinks otherwise. She calls herself possessive, yes, but she also considers herself caring and protective. She just loves hard, according to herself. Potato, Potato, right?
7. He's an Engineer
Whether he is good at marriage and relationships is one thing, but it is certain that he is good at his job. He's an engineer, and he's been recognized by his company for the work that he does. Apparently, he is quite good at what he does, and he is also quite successful.
8. He Has a Type
He does like a South American woman. His new online girlfriend is from Panama. His ex-wife is Brazilian. It seems to use he has a type, and that he does not deviate at all from his type. That's all right, of course. Everyone has a type. It's just that sometimes people have the wrong type, and it is looking that way for this man.
9. He is a Hopeless Romantic
We are going to go out on a limb here and say that hopeless is a good term for him. He does seem to be the type who cannot seem to see past the roses and the flowery aspects of love even when things seem to be more of a red flag than anything else. He's having his issues and his moments, but maybe he will find love.
10. He is A Traveler
One thing we do relate to about Gino, however, is his love of traveling. He's an avid traveler, and he always has been. If he's not at work, you can typically find him in the middle of some sort of amazing trip to see the word, and we do appreciate that about him.
Tell us what's wrong with this post? How could we improve it? :)
Let us improve this post!