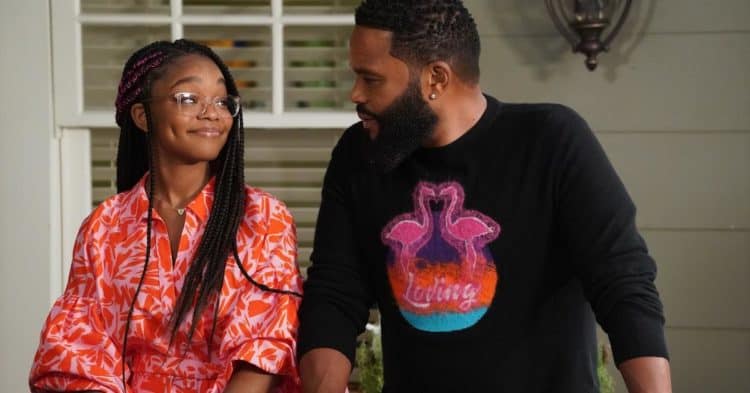 For eight seasons, America has ridden with the Johnson family on Black-ish. Through the show, we have been introduced to many a character, the most savage of which is Diane ( Marsai Martin). As one half of the Johnson twin duo, we've watched her annihilate members of her family with the wittiest comments, carry herself with intense sophistication, heal fast, address uncomfortable truths, all while being a child. Sometimes Diane presented herself as the most level-headed person in the room, despite being in the presence of adults. Here's a look at some of those moments:
1. The Time She Schooled Rainbow On Arbitrage
What started with Bow schooling Diane on handling finances ended with her eating humble pie, considering the fact that her daughter knew more than she let on. Diane's purchase of a $300 Beyoncé doll did not go too well with Rainbow, who thought she was being wasteful. Instead, Rainbow was of the opinion that Diane should have put part of her money in the bank to allow it to accumulate interest. Later, Rainbow would learn that Diane was not interested in the doll at all. She only bought it so she could flip it. " I invested my money in that Beyoncé doll. I flipped it for ten times what I paid," Diane told Rainbow. According to Diane, the doll's retail price did not match its true market value: basic arbitrage. Bow tried to pretend that she knew what the word meant but she had Diane explain it, just so she could 'confirm'. Diane went on and on, going as far as asking her whether she had a backup income plan besides her 'doctor thing'.
2. The Time She Confronted Dre And Bow About Their Parenting Styles
Parenting disparities were not so much a rarity in the Johnson household. With their older children Junior ( Marcus Scribner) and Zoey ( Yara Shahidi), Dre was happy when he discovered that his son was sexually active, but he wasn't too impressed when he learned the same about Zoey. The differences in how they parented boys versus girls only grew clearer with the twins, Jack ( Miles Brown) and Diane. It all started with Diane getting a sweatshirt from a boy at school. Dre proceeded to give her the lecture of a lifetime, addressing her suggestive social media presence and acceptance of things from the opposite gender. " A breath mint could be the only thing between you and maternity pant!" He yelled. Diane later discovered that her parents treated her differently because she was a girl, and proceeded to confront them. " You've seen Jack online. He's shirtless and sweaty. And how many lectures did he get, because I've gotten two so far." She lamented. Diane pointed out that Jack was making out with an Ashley. When Dre suggested that they had no need to worry about Jack being pregnant, Diane reminded them that he could get someone pregnant.
3. The Time She Was Firm About Her Career Choice
Diane had life figured out in her own little way. When Rainbow caught her with drawings that resembled test tubes, she was impressed that at least one of her children was considering a professional career in medicine. Before she entertained the thought any further, Diane broke her heart with the revelation that her drawings weren't test tubes. " Those aren't test tubes. They are energy drinks for an ad campaign and black kids who are too young to take energy drinks. I wanna work in advertising like dad," Diane told her mom. All along, Bow had thought Diane wanted to be a doctor like her mother. She, on the other hand, had her own reservations. "You wear the same thing to work every day. How long do you have to go to school to be a doctor?" Diane couldn't let bow finish reciting the number of years. Bow saw her as the only hope since Zoey was likely to marry well (" probably several times" according to Diane), Junior was the type to be a couch potato until he was 30, while Jack was…Jack. " Sweetheart, I need you on this one. Do you understand?" Bow persuaded. Diane shook her head.
4. The Time Her Family Wanted Her To Break Up With A Broke Guy
Diane's love life was, for the better part, neither here nor there. If she wasn't eyeing her older sister's boyfriend then dismissing him as 'a project', she was introducing Pops ( Laurence Fishburne) to a seemingly 'woke' Brad-ley ( Nathaniel Logan McIntyre). Diane received a gift from Nate from school, a necklace that was clearly from a gumball machine. As was typical with Diane's sassiness, she made a point to throw the necklace in the trash. While her grandmother applauded her move, her parents told her it was the thought that mattered. Diane still went out on a date with Nate because she thought he was kind of cute. The date didn't go so well since his car couldn't start and they had to take the bus. Rainbow ( Tracee Ellis Ross) convinced Diane to go on a second date. When Nate gifted Diane a counterfeit designer bag, Rainbow finally moved to camp Ruby ( Jennifer Lewis), where standards were the order of the day. In the end, Diane refused to break up with Nate and called her family "shallow", with her grandmother Ruby declaring herself the shallowest of them all. " I don't wanna be in a relationship where I'm judged by what I have." Diane declared.
5. The Time She Confronted Her Family About Colorism
Trouble arose in the Johnson family when they realized Diane's face was not well-lit in her class photo. The Johnsons were keen on avoiding the conversation altogether, but Diane wouldn't let it slide. " Since when did you become dark-skinned?" She asked her dad who was caught off-guard. Dre ( Anthony Anderson) fumbled with his response. " I'm not dark-dark…" he said with the most clueless gaze planted on his face. Diane was convinced that no one in the family was darker than she was. And when Rainbow suggested that her being different was a good thing, Diane retaliated with a difficult question. " If it's so good then why are you all so scared to talk about it?" She asked. " Like today, you're saying that it's about the camera lighting or complexion. No! It's about me being darker." As much as Bow tried to convince her that black was beautiful, Diane let her parents know that skin bleaching was a ten-billion-dollar business, and everywhere she went, the color of her skin affected how she was treated.
Tell us what's wrong with this post? How could we improve it? :)
Let us improve this post!