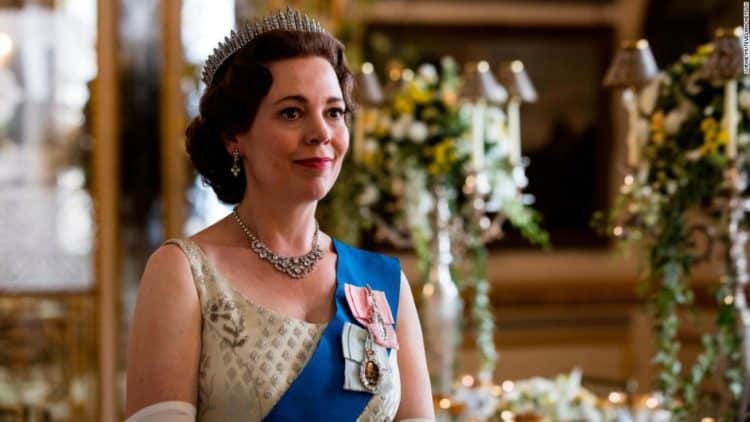 Olivia Colman is finally graduating from The Crown after a magnificent, two-season tenure as Queen Elizabeth II. As per show tradition, she's going to pass the baton to Imelda Staunton, who is set to play the role in Seasons 5 and 6 of The Crown. Colman has won multiple awards for playing Her Majesty in The Crown, including a Golden Globe Award and a Primetime Emmy Award for Outstanding Lead Actress in a Drama Series. Even though she'd definitely miss playing the Queen on one of Netflix's most popular series, she says she's quite happy that she'll no longer be playing the role. She's been honest about the complications of playing the character, saying that portraying the Queen on the series had been one of her most challenging roles because "behind closed doors, we don't know what she's like." "I had a little bit of play with that. But definitely … the hardest part I've done is someone who's real. I'm not ashamed to say that I'm quite pleased now to be able to move on to something else," Colman said, according to The Radio Times.
So, what exactly is Olivia Colman moving on to? The British actress has appeared in major productions over the past decade, with some of her roles snagging her trophies from prestigious award-giving bodies. She won an Oscar for Best Actress for her role as Anne, Queen of Great Britain in The Favourite. She was nominated once again for her role in The Father, opposite Anthony Hopkins. Additionally, she's played roles in other well-received movies, such as Murder on the Orient Express, The Mitchells vs. the Machines, and The Lost Daughter. With these films in her repertoire, you can expect her future projects to be as equally good. Here's what Olivia Colman has in store for her fans in the upcoming months.
Landscapers
Olivia Colman is going to appear in an upcoming miniseries — her first — on HBO, titled Landscapers. A true crime series directed by Will Sharpe (The Electrical Life of Louis Wain), the show stars Olivia Colman and David Thewlis (Harry Potter) and is inspired by the 1998 murders of Nottinghamshire couple William and Patricia Wycherley. The Guardian provided a bit of a background on the real-life crime in a report they published in 2014, giving details on how the couple who killed them (played by Colman and Thewlis) got away with the crime for so long. "How could an unassuming middle-aged woman and her bookkeeper husband come to shoot her parents at point-blank range for the sake of some obscure memorabilia? And how did they get away with it for so long? William and Patricia Wycherley were killed at their home in Forest Town, Mansfield, some time over the 1998 May Day bank holiday weekend. As soon as the banks reopened on the Tuesday morning, Susan and Christopher opened a joint account into which they would transfer the Wycherleys' savings, pensions, disability benefits and winter fuel allowances, gradually siphoning off every penny. They wrapped her parents' bodies in a duvet cover and buried them a metre under their lawn, a few steps from their own back door. And then… nothing. Nobody came looking for the Wycherleys, and no one noticed they were dead."
Wonka
Olivia Colman is also set to join the cast of Wonka, an upcoming fantasy film that's supposed to be a prequel to 1964's Charlie and the Chocolate Factory. The movie will depict the life of Willy Wonka, with Timothee Chalamet playing the titular character, as he starts his career as a chocolatier. Joining the cast, alongside Colman, are Keegan Michael-Key (Schmigadoon!), Sally Hawkins (Paddington), Rowan Atkinson (Mr. Bean), and Jim Carter (Downton Abbey). There might be some delay on Wonka's release date, however. It was reported on The Sun that filming on the set of Wonka has been suspended because one of its starts tested positive for Covid-19. It has not been revealed which performer tested positive, but everyone involved in the film, including its star, Chalamet, has been self-isolating. A source for The Sun had this to say about the suspension: "Despite the strict Covid protocols everyone had been abiding with, as soon as there was a positive test on Thursday the whole production shut down immediately as bosses didn't want to take any chances. There's a huge amount of money tied up in filming so any delays can become incredibly costly. On site medical staff are monitoring the situation and won't make anyone come back until it's safe. Most people involved are double vaccinated anyway, but it shows that Covid can still find a way."
Secret Invasion
At last, Olivia Colman is joining the Marvel Cinematic Universe. She's been reported to join an upcoming MCU project titled Secret Invasion. In the series, Samuel L. Jackson (Pulp Fiction) reprises his role as Nick Fury. It's not yet clear which character Olivia Colman is set to portray. Not much is known about the project, but Marvel's president Kevin Feige had this to say about Secret Invasion, according to Inverse: "I mean, we're interested in the political paranoia aspect of Secret Invasion and really showcasing the stars with Samuel L. Jackson and Ben Mendelsohn, two amazing actors that you want to have in any series, and we're very lucky to have them for that. That's the sort of primary focus of that and, of course, it will tie into other things and the Skrulls in ways you haven't seen before, but yes, anything could be anything. Wise words. But we wanted to do that as a series because it would allow us to do something different than we've done before."
Joyride
Colman can do comedy too. Before she became the British cinema titan that she's now known, she appeared in Edgar Wright's Hot Fuzz. Her role was small, but she did deliver memorable scenes. She's doing comedy again, this time in an Irish coming-of-age comedy film titled Joyride. According to Screen Daily, the producers are planning a theatrical release in 2022. Colman was spotted filming the movie in Kerry, Ireland, alongside co-stars Charlie Reid and Lochlann Ó Mearáin, according to Metro.
Tell us what's wrong with this post? How could we improve it? :)
Let us improve this post!