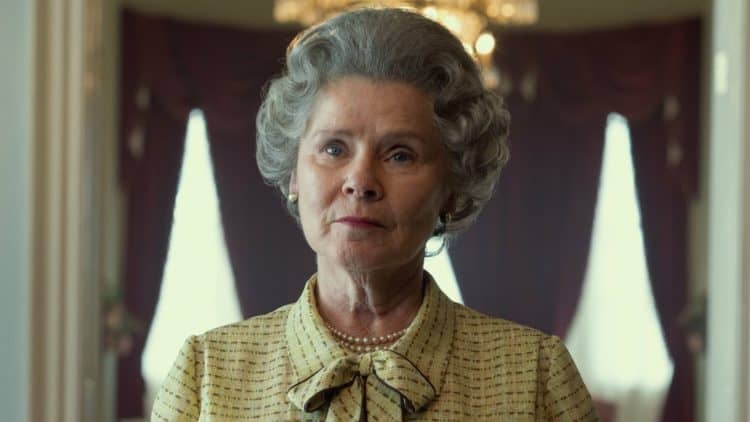 It's still at least a year-long wait before we are able to binge The Crown again on Netflix, but the people behind the show have been generous enough to tease us with casting news and behind-the-scenes images. One that particularly excited fans of The Crown was the announcement that Imelda Staunton will be taking over from Olivia Coleman in playing the central character of the show, Queen Elizabeth II. Teaser images released by showrunners depict Imelda Staunton in character, a spitting image of Her Majesty during the '90s. Meanwhile, Tobias Menzies, who played the late Prince Philip, passes the baton to Jonathan Pryce (Two Popes). In a statement announcing her takeover of the role, Imelda Staunton paid tribute to her predecessors and promised to play the role to the best of her ability. "I'm delighted to be here, inheriting the role of Queen Elizabeth from two outstanding actresses. I will do my utmost to maintain the very high standard that they set. Hopefully, I look calm, capable, and collected. My stomach, meanwhile, is doing somersaults," Staunton said, according to TV Insider. With Imelda Staunton announced to be at the helm of the new cast members of The Crown, everyone is asking about previous films and projects she had been in. Here are a few films from Imelda Staunton's repertoire that showcase her acting prowess.
1. Harry Potter and the Order of the Phoenix
Imelda Staunton had been a prominent actress in the U.K. for years. But for younger, international audiences, she's probably best known for playing the universally reviled character Dolores Umbridge in the fifth installment of the Harry Potter series, Harry Potter and the Order of the Phoenix. Staunton's Umbridge was such a show stealer, in a Harry Potter installment that was supposed to show the dreaded return of Voldemort, that she constantly ranks high in lists of most hated Harry Potter characters. Imagine being able to steal the limelight from the Dark Lord himself? While describing Umbridge as "horrible," Imelda Staunton admitted to Variety's Jenelle Riley that she loved playing her and other similar characters in movies. "You can go to places that one shouldn't go to, and that's interesting. These people who are desperately unhappy or unloved go to a very dark place because that's all they know and they can't help themselves. It's always fascinating to look at the journey of that person's life, to create your own narrative for the reasons for their actions." As to whether younger Harry Potter fans recognize her in the streets and "cower a little" in her presence, Staunton confirmed: "Yes, yes, a little! And I can understand that. The power of that writing and that character that she had was appalling. So I can understand that kids hold that very vividly in their minds." Staunton's Dolores Umbridge also briefly appears in the seventh installment of the Harry Potter franchise, Harry Potter and the Deathly Hallows – Part 1.
2. Downton Abbey
The movie, based on the historical series Downton Abbey, introduced Staunton's character as Lady Maud Bagshaw, a distant cousin of Robert Crawley and a courtier of Queen Mary. A character that she says "couldn't be more different" from Dolores Umbridge, Imelda Staunton told Town and Country's Caroline Hallemann that her role in the movie "has empathy and she has human feelings and I think Dolores lacks both those things and couldn't be more different." She reunites with Maggie Smith in Downton Abbey, the latter of whom plays fan-favorite Cousin Violet. The two shared scenes in Harry Potter and the Order of the Phoenix.
Fun fact: in real life, Imelda Staunton is married to Jim Carter, the actor who played the loyal and reliable butler of Downton Abbey, Mr. Carson. They have been married for almost 40 years and have a daughter, Bessie Carter, who is also an actress. Staunton is set to reprise her role in the upcoming second Downton Abbey movie, titled Downton Abbey: A New Era.
3. Paddington and Paddington 2
Imelda Staunton doesn't play a human character in both Paddington and Paddington 2. Instead, she voices Aunt Lucy, the loving, caring aunt of Paddington. Starring Ben Whishaw (Hamlet) as the voice of the titular character, Paddington retells the classic British children's story of the refugee bear who is taken in by the Brown family. Both movies received rave reviews from critics, with Karen Han of Polygon describing Paddington and Paddington 2 as simply "perfect." The second movie currently holds a 99 percent certified fresh rating from Rotten Tomatoes. Paddington is a sort of a mini-Harry Potter reunion — at least for its older cast members. Michael Gambon (Dumbledore), Julie Walters (Molly Weasley), and Jim Broadbent (Slughorn) play roles in Paddington. Imelda Staunton also works with Hugh Bonneville (Henry Brown) in the Downton Abbey movies.
4. Finding Your Feet
Finding Your Feet is a British rom-com that stars Staunton, Timothy Spall (Spencer), Celia Imrie (The Best Exotic Marigold Hotel), Joanna Lumley (Absolutely Fabulous), and David Hayman (Taboo). Staunton and Spall are longtime friends, according to a 2018 interview they did with the Los Angeles Times. The two appeared in the Harry Potter series, although their characters never shared scenes with each other, but the two go way back, having met each other in 1975 at the Royal Academy of Dramatic Art. In her work on Finding Your Feet, Imelda Staunton had this to say: "I don't think any of us were aware we were making a film about older people having relationships — they were just people, whether we were 23, 19 or 98. We were just telling the story of their difficulties, of their upsets, of their humor. It seemed to do that quite well, I thought. And I don't think we ever felt like 'Oh blimey, this is a bit token' at all. We're not those sort of actors. I never felt we had to go against anything too sentimental."
5. Vera Drake
The movie that launched Imelda Staunton into serious stardom, Vera Drake tells the story of a 1950s housekeeper who provides secret abortions to local women. With the title character played by Imelda Staunton, Vera Drake received many accolades from various award-giving bodies, including a Best Actress nomination for Staunton and a Best Picture nomination for the film at the Oscars. While failing to grab what would have been her very first Oscar, she would nevertheless be awarded as Best Actress in the 2005 BAFTAs.
Tell us what's wrong with this post? How could we improve it? :)
Let us improve this post!