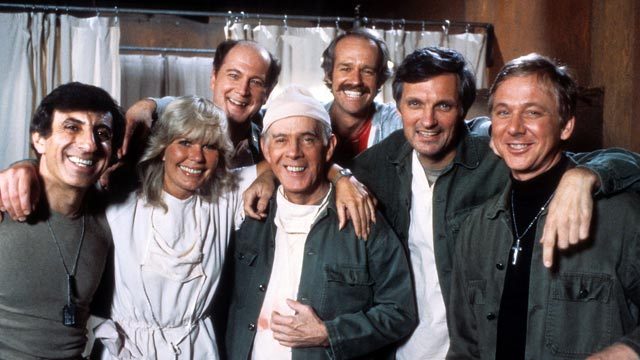 Arguably, television shows that were originally major motion pictures don't really cut it. They never seem to be able to live up to the original. And, for every single one that is better than the movie, there are ten that aren't even close.
Today's entertainment trend also seems to be just the opposite, as in TV shows turned into movies like "Sex in the City", "21 Jump Street" and the sequel, "The A-Team", "The Brady Bunch", "Dragnet", "Dr. Who", "The Dukes of Hazzard", and my favorite "Entourage". In addition, "Star Trek", "The Fugitive", "Mission Impossible", "Charlie's Angels", "Batman" and "Superman" were all originally TV shows and look how many sequels they turned into. In addition "Dark Shadows" was a TV soap opera that became a movie much later.
Now, in many cases, the movies that evolved from these TV shows were much better, thanks to bigger writers, directors, and actors, as well as the schedules that movies shoot on as compared to the very fast-moving TV show schedules. So, that being said, it's not too easy to find TV shows that were based on hit movies and are really better than those movies, but there definitely were a few, including:
"MASH"- (11 Seasons)
"Mash" the movie was released in 1970 and was a satirical comedy that involved a bunch of misfit doctors in the Korean War who worked at a mobile Army hospital. This particular motion picture turned out to be one of the most successful ones ever for the great director Robert Altman. Then CBS turned it into a TV show two years later, bringing more success than the movie had ever seen, thanks to the comedic writing and amazingly funny cast. The characters in the movie that were played by Elliott Gould and Donald Sutherland were played on the small screen by Wayne Rodgers and Alan Alda. In fact, Alda's character "Hawkeye" will go down in history as one of the funniest tongue-in-cheek characters to ever hit the TV screen. And, this particular TV show was the first one to actually be better than the movie. During its long 11-year run, the show won 14 Emmy awards. In addition, the series finale was viewed by 125 million viewers and still stands today as the most-watched television event of all time!
"Buffy the Vampire Slayer" – (7 Seasons)
This oh-so-popular supernatural drama has often been named the best adapted for television from a movie series of all time. But, since it only ran seven seasons, which is less than "Mash" and hasn't won nearly as many awards or accolades, we placed it second. One of its endearing qualities is how it mixed all that supernatural stuff with engaging stories about teenage angst and scary high school days. It also portrayed Sarah Michelle Gellar's character of Buffy as a totally relatable girl managing a perfect balance between the everyday issues of high school with the challenging work of preventing the end of the world via a vampire takeover. And, according to EW, millions of fans, and Rolling Stone, it's actually one of the best TV shows ever due to the fact that it could be both funny and scary at the same time. Josh Whedon revamped the movie, which by and large was rather forgettable on the big screen , and turned it into a small screen mega-hit. So, now "Buffy the Vampire Slayer" is considered in the business to be a gold standard that folks putting together movie-to-TV shows should be following.
"Fargo" – (3+ Seasons)
The Coen Brothers did a bang-up job with the 1996 Oscar-winning movie of the same name, and surely their FX series involvement should have been more than just as executive producers. But nevertheless, the TV series was a huge hit and well it should be. It had amazing writing, gorgeous scenery, and some of the best acting on TV today. The first season starred Billy Bob Thornton and it could be argued that it was Fargo's best season. His fantastically evil bad-to-the-bone character was unforgettable and TV audiences everywhere just loved to hate him. He was just the epitome of all that's mean and ugly in the world, but in spite of that, we really hated to see him die. That's probably because he ate up the scenery around him like he always does. Bily Bob has, of course, turned in some great performances in his career, in addition to being an excellent director, but "Fargo" has just got to be one of his best. We just couldn't wait to see what evil deeds his character would come up with each week. Following his death, we wondered if the series would be canceled, but it came back with some fantastic new stars like Ted Danson, not to mention an award-winning soundtrack. Audiences everywhere are just waiting to see what the next season will bring.
Friday Night Lights (5 Seasons)
OK, we all know how much everybody in the U.S. loves football, so this one had to be a hit. And, Peter Berg is one of those excellent directors, who can give the audience what they want whether on film or on the small screen. He brings the high school football team and Coach Taylor to the forefront while still keeping the focus on all of the other endearing characters in the small town in Texas. This is a true story that became a movie that may have only been moderately successful at the box office but turned into a critically acclaimed TV show. And, many are saying that it became a big hit mainly because it had "heart". The cast changed from the movie to the small screen with the exception of "Nashville" star, Connie Britton, who plays Coach Taylor's wife in both. The series came to an end with both of its creators, Kyle Chandler and Jason Katims, winning an Emmy.
La Femme Nikita (4 Seasons)
In the 1990 film, Luc Besson gave us an action thriller about a drug addict who was struggling with her horrific lot in life as an assassin, a role she was forced into by the government. Before hit TV shows like "Homeland", "24", and "Alias" brought antiterrorism to the forefront, Nikita was fighting those nasty terrorists and often all on her own. She was a kick-ass lady on film and that carried over well into the TV show. Only on television, she wasn't a drug addict at all and her relationship with Michael, her trainer, became more central to the series. The TV show fared much better than the cult film and its sequels, quite possibly because it didn't have to suffer through that foreign film flair that many American audiences just never quite take to. This TV show only ranked #5 because it never received the rave reviews of the other four, but it was definitely an improvement on the movie.
Tell us what's wrong with this post? How could we improve it? :)
Let us improve this post!