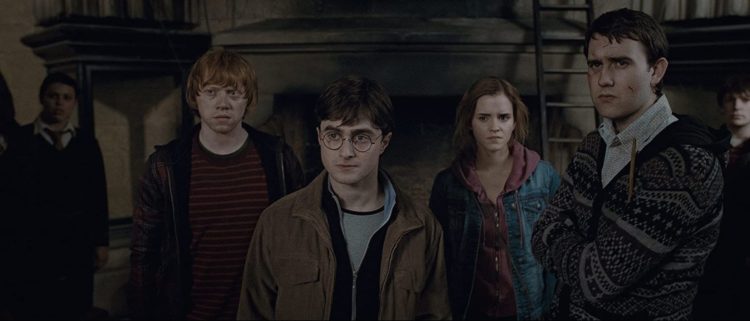 Potterheads have not been able to contain their excitement ever since news hit of a 2022 Harry Potter reunion. Set to be aired on January 1, 2022, the reunion will be held in celebration of the 20th anniversary of the first film in the series, Harry Potter and the Sorcerer's Stone. Everyone's expected to be there — or at least almost everyone. We know the big three, Daniel Radcliffe, Rupert Grint, and Emma Watson, will appear in the reunion, according to Variety, as well as most of the actors who appeared in the movies. We also know that J.K. Rowling, the brains behind the Harry Potter universe, will be excluded from the much-anticipated get-together. Reactions to her exclusion have been mixed, with some long-time fans considering her omission sacrilegious. Others, however, believe her exclusion is well-deserved, given what some claim to be her harmful comments about the transgender community. Nevertheless, we can expect that the people we want to see there, will be there. Here's a list of who we should expect to see in the 2022 Harry Potter reunion.
1. Daniel Radcliffe
What's Harry Potter without, well, Harry Potter? Daniel Radcliffe, who played the titular character, is expected to grace the reunion to regale long-time fans of his experiences playing the Boy Who Lived. Now 32 years old, Daniel Radcliffe has been able to successfully detach himself from the role that gave him international fame, appearing in The Woman in Black and Escape from Pretoria.
2. Rupert Grint
Rupert Grint played Harry Potter's best pal, the ever-so-loyal Ron Weasley. Grint has also been able to carve a career for himself outside of the Wizarding World, most notably co-starring with Nick Frost on the British black comedy series Sick Note.
3. Emma Watson
Emma Watson played the brilliant Hermione Granger in the movies. Emma Watson arguably enjoys the most fame of all three, having 62 million followers on Instagram alone. She's also appeared in major productions outside of the Harry Potter universe, playing starring roles in Beauty and the Beast and Circle, opposite Tom Hanks.
4. Helena Bonham Carter
Helena Bonham Carter played Bellatrix Lestrange in the movies, Voldemort's obsessively loyal henchwoman. She's most recently appeared in Enola Holmes and played a major character in Seasons 3 and 4 of The Crown as Queen Elizabeth's sister, Princess Margaret.
5. Robbie Coltrane
There can't be a Harry Potter reunion without big, ol' Hagrid himself. Robbie Coltrane played the gentle giant in the movies. His most iconic line, "Yer a wizard, Harry," has become the subject of thousands of memes on the internet. Outside of the Potterverse, Coltrane voiced Lord Dingwall in the Pixar animation Brave.
6. Ralph Fiennes
Is there anyone who can play a villain better than Ralph Fiennes? The actor played the Dark Lord himself, Lord Voldemort, in the Harry Potter franchise. Fiennes isn't new to playing bad guys, having taken on the role of a Nazi war criminal in Schindler's List and as Hades in Clash of the Titans. More recently, however, he's known as M, James Bond's boss, in Skyfall, Spectre, and No Time To Die.
7. Gary Oldman
The Oscar-winning actor Gary Oldman was a central character in the third Harry Potter movie, Harry Potter and the Prisoner of Azkaban, playing the role of THE prisoner of Azkaban. His character, Sirius Black, makes multiple appearances across the franchise. Outside of the Wizarding World, Gary played Winston Churchill in The Darkest Hour, gaining him his first Academy Award win.
8. Imelda Staunton
Before she was given the role of Queen Elizabeth II in the upcoming seasons of The Crown, Imelda Staunton was Dolores Umbridge, the much-reviled professor of Defense Against the Dark Arts in Harry Potter and the Order of the Phoenix. Fans are excited to see her once again, but hopefully no longer in the pink outfit she had notoriously worn in the movie.
9. Tom Felton
Tom Felton played Draco Malfoy in the Harry Potter movies. Felton has also moved past his role as a cruel Slytherin boy, having played characters in Ophelia and The Forgotten Battle. He also surprised everyone with his transformation in the children's movie A Babysitter's Guide To Monster Hunting.
10. Evanna Lynch
Evanna Lynch's fairy-tale story of being a fan to becoming a supporting character in the Harry Potter universe is well-known to avid watchers of the Harry Potter movies. She played Luna Lovegood in the franchise, but has since snagged starring roles in independent projects, most notably in My Name Is Emily.
But Who Isn't Appearing?
Other actors who are expected to appear in the reunion are Jason Isaacs (Lucius Malfoy), James and Oliver Phelps (Fred and George Weasley), Mark Williams (Arthur Weasley), Bonnie Wright (Ginny Weasley), Matthew Lewis (Neville Longbottom), and Ian Hart (Professor Quirrell). There's no word on whether Michael Gambon, who played Albus Dumbledore, will appear in the reunion. Given that the reunion will be in celebration of the first movie, in which he didn't play Dumbledore, his non-appearance might be excused, although Ralph Fiennes didn't appear in the first movie either but is expected to join the reunion nonetheless. Maggie Smith, who played Professor McGonagall, also isn't on the list of those who are expected to appear. She had played a prominent character since the first Harry Potter movie.
Back to J.K Rowling's non-inclusion in the reunion. She has not shared why she isn't going to be in the 2022 Harry Potter reunion, but as mentioned earlier, many believe it's because of the major backlash she received over comments about the transgender community she had made in recent months. The stars of Harry Potter released statements that rebuked her stand, with Radcliffe writing in the Trevor Project: "Transgender women are women. Any statement to the contrary erases the identity and dignity of transgender people and goes against all advice given by professional health care associations who have far more expertise on this subject matter than [Rowling] or I." In a tweet that has gained almost 1 million likes, Emma Watson wrote, "Trans people are who they say they are and deserve to live their lives without being constantly questioned or told they aren't who they say they are." Rupert Grint weighed in as well, saying, "I firmly stand with the trans community and echo the sentiments expressed by many of my peers. Trans women are women. Trans men are men. We should all be entitled to live with love and without judgment."
Tell us what's wrong with this post? How could we improve it? :)
Let us improve this post!