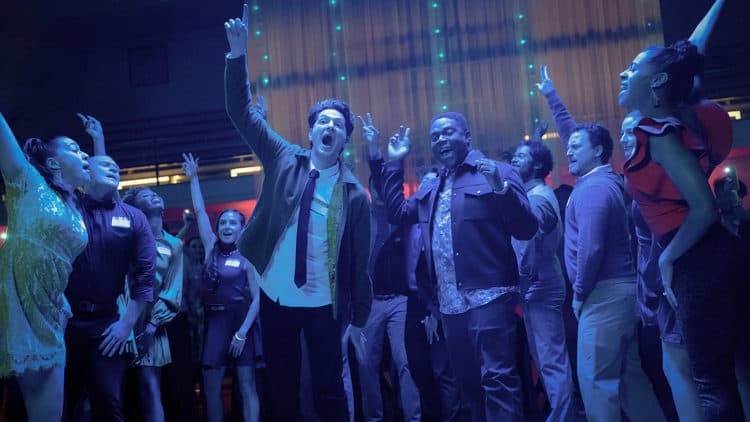 From the creative mind of 21 Jump Street and The Lego Movie's Chris Miller comes The Afterparty, a mystery/murder comedy about a high school reunion's afterparty that ends in death. Naturally, everyone becomes a suspect, and the detective uncovers shocking truths after he interviews the former classmates one by one. This Apple TV plus exclusive has several big-name talents such as Tiffany Haddish, Dave Franco, Ike Barinholtz, and Sam Richardson, who are no strangers to being involved in great features. However, they've also been in some really bad movies too. This article will list the five terrible movies involving the cast of The Afterparty. Each of the movies has ten or more unfavorable reviews. The only features exempt from this list are animated (Sorry Lego Movie). Let's get started with the first movie.
Nobody's Fool
In this unfunny mess, Nobody's Fool picks up on Tanya, she's fresh out of a five-year stint in prison and her sister helps Tanya get back on her feet. When the ex-con hears about the long-distance, online relationship with a man she's never seen, the women try to uncover the truth behind this mysterious man. Tiffany Haddish and Tika Sumpter's strong chemistry and likeability manage to squeeze a couple of funny one-liners out Tyler Perry's script, but the filmmaker continues to make features that are tonally confusing with an over melodramatic plot and narrative that isn't cohesive. Haddish is funny, but she can be over-the-top sometimes, which doesn't match the overall tone of a scene. Perry simply can't decide whether it's a romantic feature between Omari Hardwick and Tika Sumpter, or a straight comedy about Haddish's character. Since the narrative is so jumbled the plot loses steam well ahead its 1-hour and 50-minute.
Like A Boss
The needlessly R-rated comedy sees Mia and Mel run their own cosmetics company, but they're currently in a financial bind that forces them to consider a buyout offer from an industry titan. The business puts their friendship to the test as the ugly process begins. Like A Boss has its heart in the right place with a meaningful message, but this crude picture wastes its talented cast on a bland and simply unfunny script. Like A Boss tries way too hard to be funny and push the boundaries of the rating that it fails at both. None of the jokes feel natural, and the comedy is so over-the-top that its borderlines unbelievable. Unfortunately, all the attempts at comedy take away the chances at proper character development or even a decent story.
Music
In this misguided feature, Music is about Zu, who's suddenly forced to take of her half-sister, Music. This musical drama explores intimate themes of love, the complications of life and relationships, and the importance of trust. Music clearly has good intentions, but it's a confusing mess that fails at the musical and comedy aspects. The musical numbers tended to pop out at nowhere and feels disjointed for a good portion of the other scenes within the film. Unfortunately, it lacks understanding of its sensitive subject matter and doesn't properly explore its meaty themes. Sia's feature film debut is essentially a clumsy misfire on all fronts.
Disaster Movie
This disaster of a film follows a group of attractive 20-somethings through a series of natural disasters. Disaster Movie is pretty much an excuse to cram as many lame pop culture references as possible in a span of 1 hour and 30 minutes. These Friedberg and Seltzer movies are not even in the class of "so bad its good" as there's just no entertainment value to be found. The Amy Winehouse scene is a strong representation of just how tasteless and stupid the jokes are. There's really no plot, mainly just a collection of unfunny scenes that get you from point A to point B, and unlike classics such as Airplane, this parody film doesn't stand on its two legs. Disaster Movie is the very definition of a cash grab, nothing less, nothing more. On the bright side, at least Kim Kardashian is in the film.
Suicide Squad
This messy superhero flick centers around a group of villains who go on a top-secret mission. Deadshot, Harley Quinn, Captain Boomerang, Killer Croc, and other inmates must learn how to work together against a mysterious enemy who has the power to destroy the world. While not outright terrible, Suicide Squid is one of the most bland and disappointing comic book features to come out in a long time. The David Ayer feature is better suited as a Deadpool-style pic, yet the film follows an extremely predictable path that goes out of its way to soften its characters. The cast has a good rapport together and there's some fun moments here and there, but you'll easily forget Suicide Squad once the credits roll.
Tell us what's wrong with this post? How could we improve it? :)
Let us improve this post!