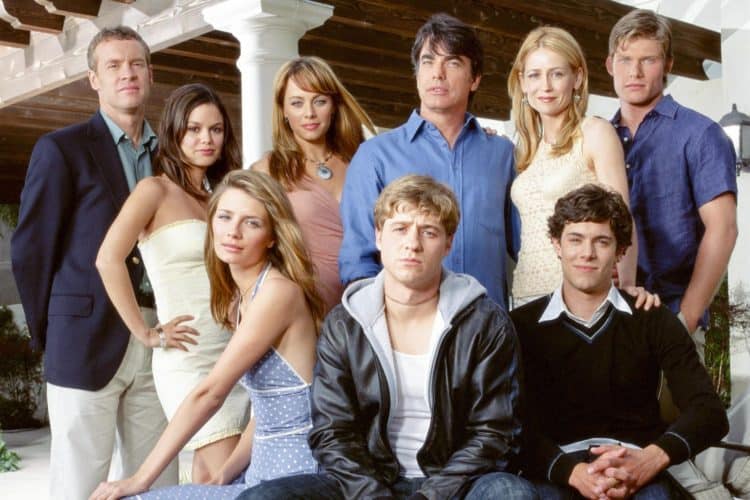 The Fox network teen drama, The OC, was far from the typical dramas that aired in the 2000's. The series spearheaded the inclusion of a well thought of and masterfully crafted soundtrack that set the bar high for television OSTs, as well as a gripping storyline that was able to attract a wide range of viewers. The show may have ended a while back, but a lot of the show's monumental scenes still thrive in our memories. The series followed the lives of the wealthy residents of Newport Beach, and how the dynamics within their community changed after the Cohen family took in Ryan Atwood, portrayed by Ben McKenzie (Gotham), a troubled teenager from Chino. Events took an interesting turn and life in Newport Beach was never the same again. Here are five scenes from The OC that are capable of breaking our hearts over and over again:
5. When Anna left Newport Beach
Seth Cohen, portrayed by Adam Brody (StartUp), was an underdog who kept to himself before Ryan got brought into the Cohen household. Seth found a brother in Ryan, who defended him from school bullies and got his back through awkward situations. Aside from Ryan, Seth's life also changed for the better when he got acquainted with Anna Stern, portrayed by Samaire Armstrong (Dirty Sexy Money), an intelligent and sassy schoolmate who he fell smitten with. This created a love triangle with Seth's long-time crush, popular girl Summer Roberts, portrayed by Rachel Bilson (Hart of Dixie). The three characters pushed each other's buttons until Seth had to ultimately decide who among the two girls he really wanted to be with. At the end, Seth's love for Summer outweighed his attraction to Anna. The scene where Seth rushed to the airport to try to convince Anna not to go back to Pittsburgh was such an emotional goodbye. Anna became a good friend whom Seth connected with really well, and it was really painful to watch her go.
4. Ryan and Marissa shared a final dance
Trouble seemed to follow Ryan wherever he went. He may have settled in comfortably in Newport Beach, and even fell in love with "it girl", Marissa Cooper, portrayed by Mischa Barton (The Hills: The New Beginnings), but his old life in Chino seemed to find him just when things were going smoothly. Ryan's ex-girlfriend, Theresa Diaz, portrayed by Navi Rawat (Numb3rs), reappeared in his life became a turning point in Ryan and Marissa' happy union. Complications arose, especially when Theresa revealed that she was pregnant with a child who was possibly Ryan's. The scene where Ryan and Marissa shared an intimate dance during a wedding party right before Ryan left to take care of Theresa was gutting to witness. The moment when Marissa revealed to Ryan that she loved him broke our hearts even more. These two broken people were meant for each other, and we would gladly hex anyone that got in their relationship's way.
3. When the Cohen family staged an intervention to save Kirsten
The Cohen family served as a prime example of how a stable and happy family was to be like. The patriarch, Sandy, portrayed by Peter Gallagher (Grace & Frankie), and matriarch, Kirsten, portrayed by Kelly Rowan (Perception), were the sweet married couple that people in Newport Beach were secretly envious of, but as with anything in life, it can't always be roses and butterflies. There came a point in the couple's lives where they grew apart because of marital issues. Kirsten started to feel threatened when Sandy crossed paths with an old fiancée, and this caused her to turn to drinking for comfort. Things started to get out of hand, to the point where Kirsten was already unknowingly endangering herself while she was inebriated. The scene where the entire Cohen family gathered together in their living room to stage an intervention was a low point in Kirsten's life. Newport's princess who was once the apple of everyone's eye had to face the harsh consequences of her actions.
2. When Ryan and Marissa got into a car accident
We've had to bid goodbye to a couple of important characters during the series' run, and one of the most heart wrenching goodbyes we experienced was during Marissa' death. The teens in the series just graduated from high school, and were about to begin a new chapter of their lives when this tragic accident happened. Marissa had her own demons to fight, and this caused her to be associated with sketchy and dangerous people, just like her short-lived romance with Kevin Volchok, portrayed by Cam Gigandet (Twilight). Ryan was about to send-off Marissa, who chose to work on a boat with her dad instead of attending University, when Volchok rammed into the car Ryan and Marissa were in. This caused the car to turn over, and Marissa to sustain life-threatening injuries. Ryan and Marissa have gone through so much in the series. The fact that Ryan tried to be her knight in shining armor until the end tugged on our heartstrings even harder.
1. When Julie and Ryan reminisced about Marissa
Marissa's untimely demise sent shockwaves throughout Newport Beach that lasted long after the accident. The effect it had on Marissa's family and friends was devastating, and we wished nothing more than the characters to find peace. The scene where Marissa's mother, Julie, portrayed by Melinda Clarke (Nikita), asked Ryan to tell her stories about Marissa was a sight to behold. Julie used to be the antagonist in their relationship, as she did not deem Ryan worthy of Marissa. Watching the two characters bond over a person they deeply cared for was touching and extremely saddening at the same time.