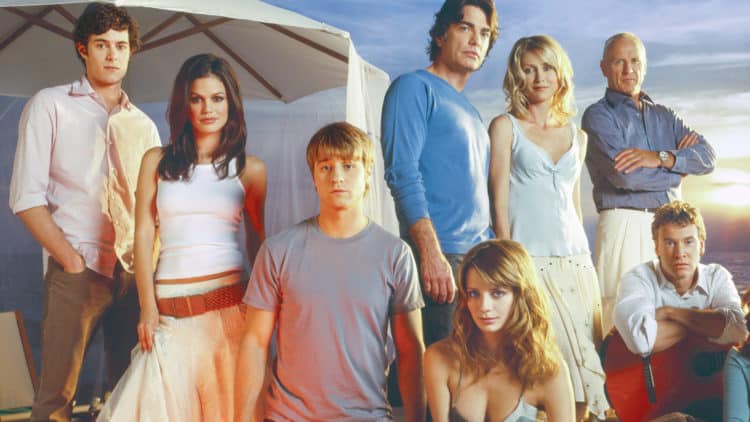 They don't make teen dramas like they used to. There's just something different about the television shows from the 90's to early 2000's that were able to capture the essence of youth. It feels nostalgic to look back to a carefree time in one's life where problems usually revolved only around boys and school. One of the most popular teen dramas of its time was The O.C. The Fox Network series aired for a good four seasons, and revolved around the affluent lives of wealthy families living in Orange County. The episodes tackled everything from family issues, friendships, and romantic relationships, all carefully crafted with a killer soundtrack that was ahead of its time. It was teen drama at its finest, and one I wouldn't mind re-watching all over again. Here are five scenes that made us fall in love with The O.C.
5. Ryan and Marissa' first encounter
Ryan Atwood, portrayed by Ben McKenzie (Gotham), and Marissa Cooper, portrayed by Mischa Barton (Starcrossed), could not have been more different. Ryan came from an abusive family, whereas Marissa was born with a silver spoon. The chemistry between the two characters was already palpable from the first time they crossed paths. Ryan was this mysterious bad boy who was a guest of the Cohen's, Marissa's neighbors. Marissa was this girl next door, who was secretly a damsel in distress. It was an unlikely pairing, but one that would go on to make a huge impact on viewers' lives.
4. Ryan finding a new family in the Cohen's
The scene where Ryan is staying with the Cohen's for good is heartwarming in so many ways. After having a tumultuous childhood filled with instability, he finally gets a chance to start anew, and have a shot at normalcy. It was one of the rare times in the series where viewers were able to witness Ryan's vulnerability. His adoptive parents, Sandy and Kirsten, portrayed by Peter Gallagher (Grace & Frankie) and Kelly Rowan (Perception), respectively, are the epitome of relationship goals, while his new "brother", Seth, portrayed by Adam Brody (StartUp), was this nerdy kid who was a victim of bullying. Ryan became a new friend who he could hang out with, and a defender in times of need. Ryan's tumultuous past suddenly had a chance of redemption, as he was able to find a new home in a place where he least expected.
3. Seth and Summer's epic rain kiss
Apart from Ryan and Marissa, another couple a lot of viewers rooted for in the series were Seth and Summer Roberts, portrayed by Rachel Bilson (Hart of Dixie). They were another odd pairing, who were polar opposites when it came to their personalities, but who also had undeniable chemistry. The episodes wouldn't have been complete without their witty banters, as well as their character development, which improved as the series progressed. One of their most memorable scenes was their own version of the iconic Spider-Man kiss. This swoon-worthy moment while Matt Pond's version of the song, Champagne Supernova, was playing in the background has been imprinted in fans' minds and hearts. It is one of the most romantic moments in the series, and one that other teen dramas would find difficult to top.
2. Bonding moments of the "Fantastic Four"
Friendship was one of the core themes in the series. Marissa and Summer were already the best of friends, even before Ryan appeared in their lives, while Ryan and Seth formed a brotherly bond like no other. The four of them started out as unlikely friends, who later fell in love with one another, thus completing the "Fantastic Four". The series was filled with dramatic moments that tested their relationships and friendship, but they survived every time. This is the reason why their bonding moments were always something to look forward to. It was one of the lighthearted times in the show when everything felt right in Newport Beach.
1. The series finale where everything came full circle
The series ended on a bittersweet note. Marissa's (spoiler alert!) tragic death during the season finale of season 3 is still hard to get over until now. The show just didn't feel complete without her presence, and each of the characters had their own ways of coping with it. Season 4 served as an opportunity to tie loose ends, and end the series on a high note. This is also seen in the last few moments of series finale wherein Ryan is about to leave Newport Beach, and open a new chapter of his life. He reflects on the memories he has spent in the Cohen household, and even encounters a troubled teenager who reminds him of the time he first met Sandy. It's a poignant moment in the show where Ryan gets the chance to save another person's life, just like the way the Cohen's saved his.
Tell us what's wrong with this post? How could we improve it? :)
Let us improve this post!