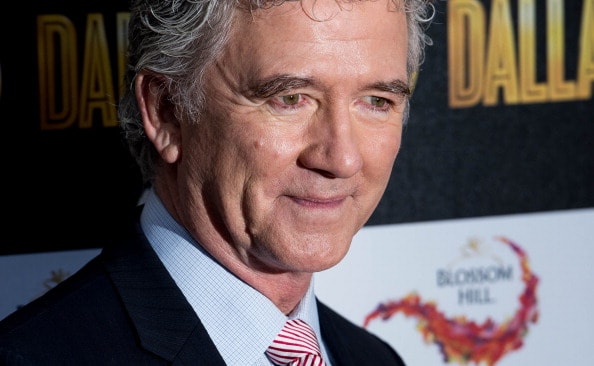 Television of the 21st century highly differs from a lot of the TV we got in the 20th century. In the 90's, it was considered cool to have your television series on Friday nights. However, if your show gets put on the schedule for Friday night today, it could mean it is on the road to cancellation. That does not hold true for all series. ABC shows' Last Man Standing and Shark Tank continue to draw in an audience while the NBC drama Grimm continues to thrive on Friday nights. ABC's popular TGIF lineup premiered in 1989 and some of your favorite family sitcoms would air on this special night of programming. One of those series is Step by Step. The series would remain on the alphabet network from 1991-1997. It would then move over to CBS and air one additional season. Here is what the cast of Step by Step is up to today.
Patrick Duffy as Frank Lambert
Patrick Duffy had just stopped playing the iconic role of Bobby Ewing on the drama Dallas before taking on the role of Frank Lambert on the sitcom Step by Step. During his time on the series, Duffy was even able to direct 50 episodes, the first being the 1992 episode, "Boy Will Be Boys," where Frank's friend from school visits. After Step by Step concluded, Duffy starred in the 1998 television movie War of the Ewings. He also spoofed the series with Victoria Principal on an episode of Family Guy. Duffy has popped up on television over the years on such series as Reba, Touched by an Angel, and Party Down. He reprised the role of Bobby Ewing on the TNT Dallas reboot from 2012-2014.
Suzanne Somers as Carol Lambert
After Step by Step concluded in 1998, Somers was already working on another television show. She was the host of CBS' revival of Candid Camera. She stayed with the series until 1999 when the series made a move to PAX network, which decided to only keep Peter Funt as host. In 2005, she made her Broadway debut in the one woman show called The Blonde in the Thunderbird, which chronicled her life. In 2012, she started an online talk show and she also hosted a 13-episode series for Lifetime called The Suzanne Show. Somers is also an accomplished writer. She has published two autobiographies, a poetry book, and several books on nutrition and fitness.
Staci Keanan as Dana Foster
Keanan was no stranger to the family sitcom. Before starring on Step by Step, she starred on the series My Two Dads, which ran from 1987-1990. When Step by Step ended, Keanan appeared in one episode of Cybill and one of Diagnosis: Murder. She has appeared in the films Hidden Secrets, Sarah's Choice, and Holyman Undercover. In 2010, she made a cameo with her Step by Step co-stars Patrick Duffy and Christine Lakin in the movie You Again.
Brandon Call as J.T. Lambert
Brandon Call appeared as Hobie Buchanan on the first season of Baywatch before playing J.T. on Step by Step. After leaving the set on September 3, 1996 he was shot in both arms during a traffic dispute. He had retired from acting when the series concluded in 1998.
Angela Watson as Karen Foster
Like her co-star Brandon Call, Angela Watson left acting shortly after Step by Step wrapped in 1998. When the series ended, she discovered that her parents had spent $2.5 million of her earnings from the comedy. She would create the organization Child Actors Supporting Themselves in 2000 to help young actors and athletes manage their finances. She personally answers over 3,500 calls a year from child stars with questions.
Christine Lakin as Al Lambert
Christine Lakin in the one child actor from Step by Step who has made a name for herself in the entertainment industry today. When the series concluded in 1998, she would go on to appear in the films Georgia Rule, Dark Mirror, The Game Plan, The Hottie and the Nottie, New Year's Eve, and Veronica Mars. She also continued to work on television appearing on 7th Heaven, 3rd Rock from the Sun, CSI, and Melissa & Joey. She currently voices Joyce Kinney on Family Guy. Additionally, Lakin was a regular cast member on MTV's improv show Wild 'n Out.
Christopher Castile as Mark Foster
Christpher Castile made his acting debut on future co-star Staci Keanan's series My Two Dads in 1990. Castile would star in two Beethoven movies during his stint on Step by Step. He also provided the voice of Eugene on Hey! Arnold for 8 episodes, but was replaced by Jarrett Lennon who he replaced in the role of Mark on Step by Step after the pilot was filmed. You can see Lennon in some of the early opening credits. Castile retired from acting and is now a Political Science professor at Biola University in La Mirada, California.
Josh Byrne as Brendan Lambert
The character of Brendan Lambert was written out of Step by the Step when the series ended on ABC. There was no mention of what happened to his character when the series resumed on CBS. Byrne has not acted on television or movies since his stint on Step by the Step.
Sasha Mitchell as Cody Lambert
Sasha Mitchell played the lovable Cody Lambert on the series Step by Step on and off during the entire run of the series. Prior to this, he starred on Dallas as James Beaumont, who was the nephew of Patrick Duffy's character. Mitchell played David Sloan in Kickboxer 2, 3, and 4 and has a black belt in Tae Kwon Do. He has also made television appearances on JAG, The Love Boat: The Next Wave, ER, and NY PD Blue. Mitchell was able to obtain custody of his four children after protecting them from his abusive ex wife. He has since remarried.
Jason Marsden as Rich Halke
Jason Marsden has had a successful career as a voice over artist since the conclusion of Step by Step in 1998. He has worked on Kim Possible, The Fairly OddParents, Teen Titans, The Garfield Show, and Invader Zim. He most recently provided the voice of Bruce Wayne on Beware of Batman.
Who was your favorite character on Step by Step? Let us know in the comments section below.
Photo by Ian Gavan/Getty Images