Can Shawn and Gus find out what some escaped convicts are up to, or will a Snickers bar be enough to distract Shawn?
I have to say, that Psych once again does guest stars right this week. First off is Chi McBride. Granted he is not as famous to some, others see him as a great actor in multiple styles (Chi currently stars in Human Target on FOX). His role as Craig was a combination of funny and serious. I have to say any scene between Craig and Lassie had me laughing. Finally having someone who doesn't take Lassie's crap lying down and still can make it amusing is great. The other guest star this week was Kevin Alejandro, who is known to many True Blood fans as Jesus. Kevin played an inmate named Northcutt and I have to say he was believable as an inmate.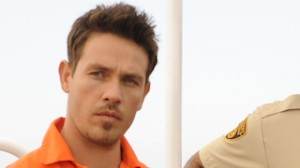 The story was once again brand new, at least to me. At first, I thought the story would have been resolved on the boat but I was oh sooo wrong. That was just the first half of the story. Bringing the rest of the story to land really helped give the story some push to resolution. After all the inmates were after something on land and not at sea. One thing I did like with the beginning of the story, was that the writers had me guessing who might have been in cahoots with the inmates.So kudos to the writers this week for a great story and a great twist.
Sadly, we had no Gus nickanme this week. That is ok for this week as I really saw no reason for Shawn to even create a nickname. Also, we were given no season story arc action. We were barely even given much Juliet and she only spoke to Shawn once.
For being on a boat for half an episode, the episode was limited but once the boat docked, the episode was really able to pick up speed. B+
Tell us what's wrong with this post? How could we improve it? :)
Let us improve this post!