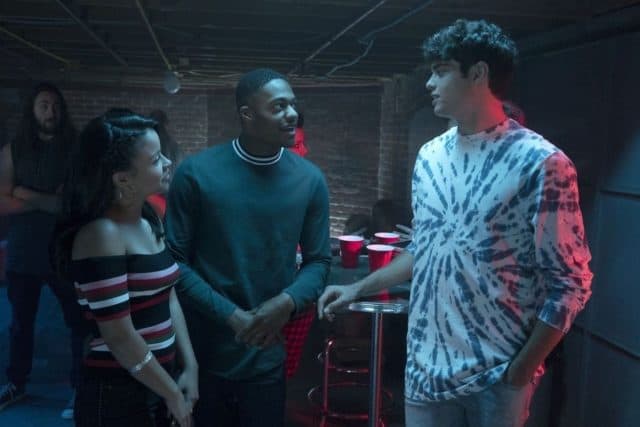 It's a difficult thing to try to redefine who you are when something or someone keeps calling to your basic instinct. That's a heck of a fight under normal circumstances, for families who don't have a child with a brain injury, or neighbors who bring up many unpleasant topics, or almost half a dozen teenagers in the house. The Fosters has to deal with all of the above. Truth be told, everyone has their own stuff to deal with. If there's one thing you can take away from this week's episode "Telling", it's that things work out better when you're honest about how you really feel.
Then again that logic only works when you know how you really feel. Brandon has been wading through life ever since the Juilliard fiasco. He goes to school, he works at a fast food restaurant, he hangs out with Grace, and in his spare time, he helps his ex-girlfriend and her son. Of course he couldn't turn Courtney and Mason away when they needed help, and of course, Gabe wouldn't kick them out of the back shed when they temporarily needed a place. Still, Brandon doesn't seem to be in a hurry to have Courtney leave. If anyone's playing with fire, it's Brandon.
Though Callie is the one who usually can't let things go, sometimes at the expense of her own relationships, she wouldn't continue doing so if she didn't have a parent example. Not in the bad way of course, since Callie is always fighting for justice for people she knows have been wronged. Unlike Callie, it is literally Stef's job to do so. Between the pimp that almost hurt Callie, and the pedophile who struck a deal to keep Troy Johnson (the guy Callie just finished fighting against) out of prison, Stef is determined to clean up the streets for the homeless kids. Thus, she enlists Cole's help to connect with the homeless kids on the street to catch a local pedophile. Stef has more resources to catch a criminal, but she needs to be careful not to focus her whole self into it, especially if it means leaving Lena to deal with the kids on her own.
I can appreciate Lena's frustration, as it comes from both her role as a mother and as a wife. On one front, she has to watch her wife become a little too nice to the neighbors, one of whom she used to have a crush on. On the other front, Lena is desperately searching for any and all alternatives that will get Jesus off the couch as he adjusts to his new medication. In regards to Jesus, Lena should absolutely do everything she can to help him. It's a parent's job to advocate for her child's needs. It just seems that Lena's intention is to get Jesus back to the way he was, and not understanding that even if that was possible, it's going to take a very long time. After a few missteps (that "alternative lifestyle" comment from Tess explains a lot), Lena does at least feel heard by someone. Tess may not completely approve of Stef and Lena's family (a topic for another time), but she does help Lena wade through the medical options for Jesus.
While the parents wade through a bunch of awkwardness enhanced by a little too much wine intake, the kids party. Truth be told, this party is tame compared to others the Adams-Fosters have been to. That doesn't mean it's without it's reveals. Mariana's derby secret literally pops up on-screen, Jesus breaks the rules and has a seizure, and Callie gets pulled back into a new cause. When the party gets broken up, Ximena has to shut it down quickly for her own personal reasons. Though they had all the proper permits and didn't do anything illegal, Ximena can't risk being hauled in by the cops because she is undocumented, and she is afraid DACA won't protect her. (Kudos to the writers for introducing another highly relevant story). Three guesses what Callie's next cause is.
Is Callie headed for even more trouble?
Save
Tell us what's wrong with this post? How could we improve it? :)
Let us improve this post!