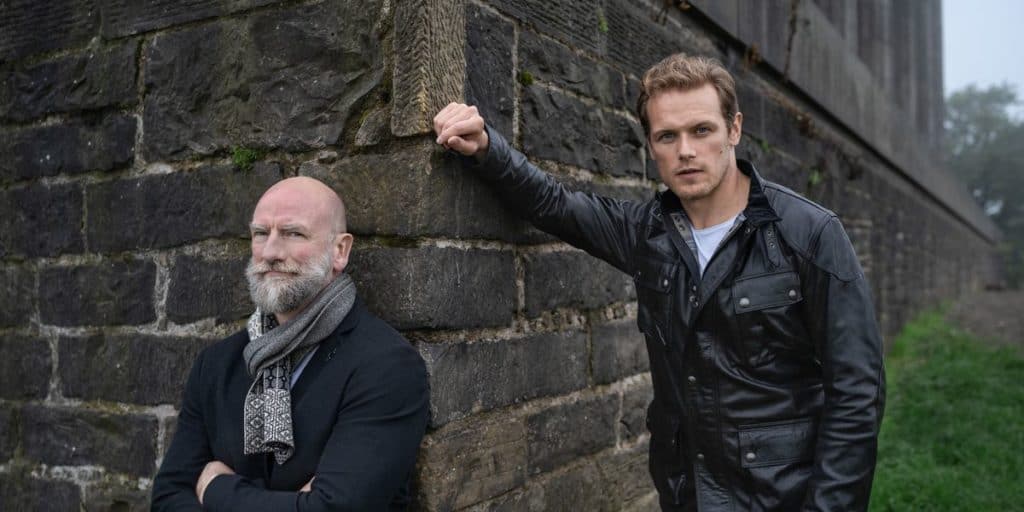 If there's one thing to learn about Scotland it's that tradition and culture are undeniably important and are a part of quite a few things that go on in the country on a daily basis. But while traveling around with Sam and Graham has been entertaining so far it's also been an excursion that's been steeped in the culture of the land, and it's shown a bit more in this episode as the guys visit the oldest tailor in the land, as the history of the place stretches back centuries despite the fact that their storefront has moved over time. A very impressive note about this shop is that they still do much of their work by hand, which definitely slows down the process, but at the same time keeps the tradition alive, which is still important in a world that is getting faster and more mass-produced every day. The guys looked pretty snazzy in their suits and were ready to move on as they had plenty of other things to see and do. The introduction to Gaelic was interesting, partially because Sam simply couldn't take the swarm of midges that were continuing to pester him, and largely because Gaelic is an interesting language that has elements that make it sound similar to several other languages even while it stands as its own system of communication. It was also interesting to learn that at one time Gaelic was not allowed to be spoken at one point in time, and was considered to be banned due to the efforts to supplant it with English.
Thankfully Gaelic still exists, though many might say that it is a dying language in this day and age, like several others that were prominent in the past. But there are still plenty of people in Scotland it would appear that are willing and ready to keep the language alive, even if it's only in small circles that aren't as influential. From here the guys went on to observe the art of basket weaving, which many people might not think much about since wicker isn't really for everyone. But the interesting thing is that the intricacy of it is definitely and earned skill since the nimbleness needed in one's fingers and the attention to detail is definitely necessary in order to create a tightly woven basket that will serve its purpose. If anyone watching the program was wondering about using a wicker basket as a strainer, as the ladies did for the potatoes they meant to consume, one should know that wicker can get wet so long as it has time to dry since otherwise submerging wicker or keeping it continually wet can obviously compromise its integrity given that it is wood and will therefore become saturated. That might have been more for my own curiosity than the reader's, but hey, as long as we both learn or realize something.
Watching the guys trying to herd sheep was interesting, to say the least since one has to imagine that the actual herders were behind the scenes making certain that things didn't escalate since it's already pretty obvious that the guys don't know what they're doing and are playing to the camera. One has to wonder if anyone in the show thus far has been wondering why they signed on, or if it's just been a lot of fun and perhaps a bit of cringe along the way that still led to a few well-earned laughs. Quite honestly there are moments when it does feel as though the guys are being ridiculous on purpose, but again, it's part of the show and definitely amusing at times when it comes to seeing the guys get a bit of comeuppance for their flippancy. It's just fun, that much is obvious, and it's a great way to look at culture and tradition, so long as there's plenty of respect to be had at the end of the day. So far the show has been an interesting ride around a country that has plenty of history to it and has consented to be the overall star of the program, giving up just enough to be enticing without showing everything that's there to be seen. The hosts are without a doubt among the best that could be asked for since they offer just enough comedy and enough drama to make it worth it.
On top of that, learning a little more about Scotland has, at this point, been highly intriguing since like any land there's bound to be plenty that can be learned by the average viewer that might appear to be a little awkward in some ways, but is still interesting due to the history behind it. With only a few episodes to go, it feels as though the season has gone by a little too quickly, but thankfully streaming allows a person to go back and view the show anytime they want.