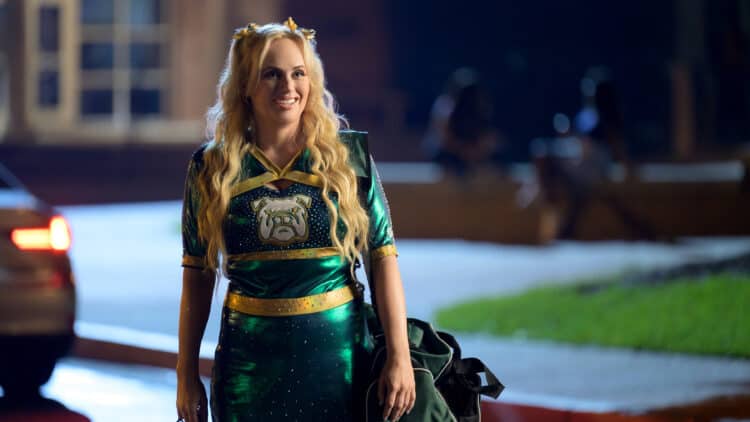 The American comedy film Senior Year was released on Netflix last May 13 and stars Rebel Wilson, who also serves as a producer of the film. The film is directed by Alex Hardcastle (in his feature film directorial debut) from an original screenplay by Andrew Knauer, Arthur Pielli, and Brandon Scott Jones. Sam Richardson, Zoë Chao, Mary Holland, Justin Hartley, Chris Parnell, Angourie Rice, Michael Cimino, Jeremy Ray Taylor, Scott Jones, and Alicia Silverstone also appear in supporting roles. The film follows a senior high school cheerleader who falls during a routine and falls into a 20-year coma. Upon waking up and discovering she has lost 20 years of her life, she goes back to high school and strives to regain her popular status and her dream of becoming a prom queen. The film has received mixed reviews so far but in a review published on RogerEbert.com, they commended the lead performances and wrote, "It's a decent vehicle for the bawdy charms of Rebel Wilson, who continues to establish herself as an appealing comic lead beyond being a reliably irreverent sidekick. And one of the more inspired choices is the casting of Angourie Rice as Wilson's teenage self; she actually gets to be Australian, which is unusual, and she accurately channels Wilson's sly, deadpan delivery." If you enjoyed Senior Year and you're looking for the next comedy film involving elements of teen life, do-overs, and growing up, here are five movies we recommend watching.
17 Again
17 Again is a 2009 American fantasy comedy film directed by Burr Steers starring Zac Efron, Matthew Perry, Leslie Mann, Thomas Lennon, Michelle Trachtenberg, Melora Hardin, and Sterling Knight. It follows Mike O'Donnell a man whose life is filled with resentment and regret but he surprisingly gets a do-over when he transforms into his 17-year-old self. A review by The Hollywood Reporter praised the performances, saying, "Efron does a fine job in letting the older man seep through his boyish exterior. As the siblings, Knight and Trachtenberg each have moments when they shine, especially when the daughter starts to think her father is hot, not realizing, of course, that he is her father. Mann, as always, is very funny and gets to put an edge of vulnerability into her performance."
13 Going On 30
13 Going on 30 is a 2004 American fantasy romantic comedy film written by Josh Goldsmith and Cathy Yuspa, directed by Gary Winick, and starring Jennifer Garner. It follows a 13-year-old girl who wishes that she was 30 years old during her 13th birthday, after an embarrassing experience. She then wakes up as a 30-year-old woman just like she wished for. Similar to Senior Year, the protagonist of the film is in an adult's body but still has a lot of growing up to do on the inside. The film was a commercial success and received positive reviews from critics. Garner's performance earned her nominations at the MTV Movie Awards and the Teen Choice Awards. Common Sense Media wrote a review of the film and commended Garner's performance saying, "what makes 13 Going on 30 work is Garner, who's enormously touching and hilarious as the 13-year-old living in the body and life of a 30-year-old. Playing a child in an adult body gives her license to show every emotion without any pretense of sophistication. She's wonderfully open and vulnerable, but she handles it lightly and with a lot of charm."
Clueless
A teen comedy that somehow resonates with similar themes to Senior Year is the classic 1995 American coming-of-age teen comedy film Clueless written and directed by Amy Heckerling. It stars Alicia Silverstone, who also appears in Senior Year, Stacey Dash, Brittany Murphy, and Paul Rudd. Set in Beverly Hills, the plot centers on rich and popular high school student Cher Horowitz who befriends a transfer student named Tai Fraiser and gives her a make-over. Tai slowly becomes popular and Cher takes on a matchmaker role for the people around her. The film has received positive reviews from critics and is definitely a cult classic for teen movies. The film was such a commercial success it gave rise to a spin-off television sitcom and a series of books, and it continues to be referenced today in several films and shows. A review archive by The New York Times praised Silverstone's performance and wrote, "Silverstone finally gives a film performance that clicks. As a pampered Beverly Hills clotheshorse, she's mostly a one-joke princess, but the joke happens to work. Even if "Clueless" runs out of gas before it's over, most of it is as eye-catching and cheery as its star."
21 Jump Street
21 Jump Street is a 2012 American buddy cop action comedy film directed by Phil Lord and Christopher Miller with a screenplay written by Michael Bacall and Jonah Hill who also stars in the film alongside Channing Tatum. The film is an adaptation of the 1987–1991 television series of the same name by Stephen J. Cannell and Patrick Hasburgh. Just like senior year, the film has elements of reliving high school although in a different context. The plot centers on police officers Schmidt and Jenko who go undercover as high school students to investigate and prevent the spread of a new synthetic drug on the campus. The film received generally positive reviews and led to a sequel, titled 22 Jump Street. The Guardian published a review of the film and wrote, "It's a funny twist on teen movies and buddy comedies, creating a postmodern Police Academy, and there's a gloriously pointless freeway chase that reaches further back to the world of Smokey and the Bandit."
Isn't It Romantic
If you enjoyed Rebel Wilson's performance in Senior Year, the 2019 American romantic comedy Isn't It Romantic, directed by Todd Strauss-Schulson and written by Erin Cardillo, Dana Fox, and Katie Silberman, will surely be a treat. Just like Senior Year, Rebel Wilson gets knocked unconscious once again and wakes up to another surprising news. In the film, she plays Natalie who wakes up in some kind of alternate universe where she seems to be the leading lady in a romantic comedy filled with all the cliché elements. Liam Hemsworth, Adam DeVine, and Priyanka Chopra also appear in supporting roles. Variety reviewed the film and praised the film's take on the rom-com genre saying, "Isn't It Romantic" recognizes one essential rule of the genre: However predictable the overall outcome, audiences want to be surprised by the details along the way." In the same article, they gave special mention to a scene that you'll look forward to witnessing when you watch the film. They wrote, "Wilson's high-wattage appeal shines brightest a few minutes earlier during a showstopping "I Wanna Dance With Somebody" karaoke scene that's so well staged and edited, it feels like another director stepped in to orchestrate this set-piece."
Tell us what's wrong with this post? How could we improve it? :)
Let us improve this post!