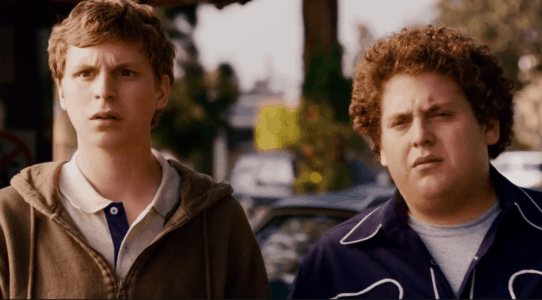 We remember movies because of their inventive storyline, relatable characters, and trusty sidekicks. It takes more than a wicked sense of humor to play the role of a sidekick. First and foremost, there has to be good chemistry with the lead, as well as an interesting back story. Jonah Hill is one of the actors who has been capable of being more than just an effective comedian. He has played the role of a memorable sidekick to a whole range of interesting characters. His physical transformations have been a delight to witness, and his knack for hilarious punchlines are always a treat to watch. Here are five films where the actor has proven to be the best sidekick:
5. Superbad
The coming-of-age comedy followed two senior high school students and best friends, Evan, portrayed by Michael Cera (Juno) and Seth, portrayed by Hill, who were on a mission to throw an epic party and lose their virginity before graduating. The film hilariously chronicled the duo's teenage escapades, as well as the great lengths they had to go to in order to host the best party ever. Cera and Hill killed it with their portrayal of two best friends who just wanted to make the most out of their high school experience. They showcased their comedic prowess that had us laughing our hearts out in a lot of unforgettable scenes. Hill has this ability to mesh really well with his co-stars, and this is just one of the many reasons why he tops the list as one of our favorite sidekicks.
4. 21 Jump Street
Television to film adaptations, such as this action comedy, can either be a hit or miss. Fans' expectations are oftentimes hard to meet, and comparisons to the original series can hardly be escaped. Fortunately, Hill and Channing Tatum (Magic Mike), who portrayed the roles of Morton Schimdt and Greg Jenko, police officers who go undercover as high school students to arrest the supplier of a new synthetic drug, did so with flying colors. The two characters complemented each other, with Morton being socially awkward yet clever, and Greg as slow-witted but handsome. They relived their high school experience in the funniest of ways while unexpectedly mixing in work and play. After all, age is just a number. Hill and Tatum's tandem reached peak success, and they reunited for a sequel shortly thereafter.
3. Moneyball
Hill portrayed the role of Peter Brand, an assistant general manager to Billy Beane, portrayed by Brad Pitt (Inglourious Basterds), in the critically acclaimed sports drama. Billy had a goal of assembling a competitive baseball team, but struggled with a limited budget. Peter played a vital role in supporting him achieve his dream with his radical ideas and careful assessment of undervalued players. You did not need to be a baseball or sports fanatic in order to find inspiration in the film. The fact that it was based on a true story added for value and meaning to the characters' journeys. Hill was also able to show some of his serious acting chops in the role that made viewers realize that he could also be as effective as a dramatic actor.
2. The Wolf of Wall Street
The Martin Scorsese biographical black comedy was such a riot to watch. The story followed the tumultuous journey of former stock broker Jordan Belfort, portrayed by Leonardo DiCaprio (The Revenant). Hill played the role of Donnie Azoff, Jordan's partner in crime inside and outside of work. Jordan took advantage of the financial system's loopholes and took part in fraudulent activities, which amassed him a huge fortune, and Donnie was there by his side to partake in it all. He was a loyal soldier to a controversial figurehead who disrupted the financial system in his own notorious way. DiCaprio and Hill created onscreen magic and established a kind of chemistry that felt more real than reel.
1. Don't Look Up
The apocalyptic black comedy featured an all-star ensemble and a wicked storyline that felt eerily familiar. Hill portrayed the role of Jason Orlean, the unqualified Chief of Staff and spoiled son of USA President Janie Orlean, portrayed by Meryl Streep (The Devil Wears Prada). The film may have garnered mixed reviews, but Hill's character was one for the books. He had the most hilarious scenes alongside Streep, and created a unique antagonist that added a whole lot of flavor to the film. There has not been a disaster movie in the recent years that has achieved this level of entertainment.
Tell us what's wrong with this post? How could we improve it? :)
Let us improve this post!