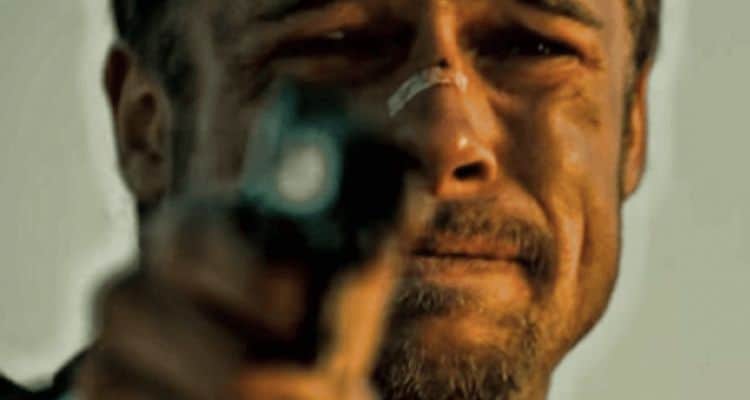 Versatility in Hollywood pretty much translates to career longevity. Actors who are able to dive into diverse roles, and portray a wide variety of characters effectively are lauded and well-respected. It takes a certain kind of discipline, and love for craft to be able to take the high road and be up for the challenge. Brad Pitt has proven to be more than just one of the prettiest faces in the industry. He shows us that age knows no limits, as he continues to pursue one memorable role after another. Throughout the span of his career, Pitt has made us fall in love with him countless of times already. Beyond his dashing looks lies his ability to tug on our heartstrings and reduce us all into an emotional mess whenever he immerses into his emotional roles. Here are Brad Pitt's five best crying scenes of in his movies, in no particular order:
5. Meet Joe Black
The romantic fantasy film dabbles with death and the afterlife. It explores familial relations, as well as budding romances. Pitt's role in the movie is complicated in the sense that he portrays different characters. He starts off as a young man that Susan Parrish, portrayed by Claire Forlani (In the Name of the King), randomly meets at a coffee shop. The two hit it off instantly, but even before they are able to enter into anything, the character of Pitt gets into an accident and passes away. His character returns physically as Joe Black, but his spirit has been taken over by Death. As fate would have it, Joe gets associated with Susan's father, Bill, portrayed by Anthony Hopkins (The Father). It doesn't take long for Joe to fall smitten with Susan, as well. It's safe to say they were not a matchmade in heaven. The waterworks begin when Bill accepts that his death is imminent. Pitt delivers a heartfelt performance during the scene when both he and Bill have to bid farewell to Susan as they cross over to the other side. Goodbyes are never easy, and watching Joe show vulnerability and emotion despite of his true identity is moving. The only consolation comes in the form of Joe disappearing, and the young man who Susan met in the coffee shop returning unharmed. It's true when they say that grief is the price we pay for love.
4. Legends of the Fall
The epic historical drama follows the lives of a father, Colonel William Ludlow, portrayed by Anthony Hopkins (The Two Popes), and his three sons, Tristan, portrayed by Pitt, Samuel, portrayed by Henry Thomas (The Haunting of Hill House), and Alfred, portrayed by Aidan Quinn (Elementary), who live in the wilderness and plains of Montana. The film beautifully captures the essence of life through the different factors affecting it, such as love, war, and loss. The close-knit family is torn apart when Samuel is killed in World War I, and Tristan and Alfred both fall for his fiancé, Susannah, portrayed by Julia Ormond (The Walking Dead). Pitt gives a poignant performance, as he mourns the loss of his brother. The emotions he poured out felt real, raw, and overall heart wrenching.
3. Seven
Viewers of this psychological crime thriller by famed filmmaker, David Fincher (Gone Girl), were brought on a wild ride. The film revolves around a detective named David Mills, portrayed by Pitt, who partners up with a retiring and more seasoned detective, William Somerset, portrayed by Morgan Freeman (Invictus), to capture a killer who has been using the seven deadly sins as a motif in his murders. Pitt unleashes his acting prowess in the confrontation scene towards the end of the film. He becomes unhinged and hysterical, as he discovers the truth behind his wife's death. Fincher is best known for his plot twists and gripping storylines. This film is most unique in the sense that the villain somehow still prevails in the end. The superb performances and heart racing scenes make it one of the best crime thrillers in Fincher's large repertoire.
2. Babel
The film by esteemed filmmaker, Alejandro Iñárritu (The Revenant), is a multi-narrative psychological drama that explores various storylines that take place in different locations, such as the United States, Morocco, Japan, and Mexico. The narrative that Pitt stars in is the one set in Morocco. The storyline follows an American couple, Richard, portrayed by Pitt, and his wife, Susan, portrayed by Cate Blanchett (Ocean's 8), who traveled to Morocco for a vacation. What was supposed to be a relaxing trip abroad took a turn for the worst when Susan gets shot by a stray bullet, while she and Richard are onboard a tourist bus. Things take an even more chaotic turn when the United States government intervenes, and declares the shooting as an act of terrorism. One of the best scenes in the film is when Pitt breaks down during a phone call to his son, after Susan is wheeled into the operating room. It was one of Pitt's strongest and most underrated performances.
1. Allied
Pitt plays the role of Max Vatan, a Canadian intelligence officer, in the war thriller. He stars alongside Marion Cotillard (Contagion), who portrays Marianne Beauséjour, a French Resistance fighter. The two World War II operatives were tasked to act like a married couple during a mission in Casablanca, but the job became personal when they fall in love with each other along the way. The two eventually get married, and have a baby girl together. A little over a year into their marriage, Max finds out that Marianne is suspected of being a German spy. He is given the difficult task to get to the bottom of the suspicion. Once proven to be true, he must adhere to his job and execute Marianne. He will be accused and hanged for high treason if he does not. What was supposed to be a happily ever after has turned into a night mare. Max is able to confirm that Marianne is indeed a German spy. The scene of the big reveal is painful beyond words. Pitt and Cotillard deliver heart breaking performances, as they prove that true love prevails even during the most unfortunate of circumstances. The film ends with Marianne sacrificing her life for Max and their baby. All is fair in love and war.