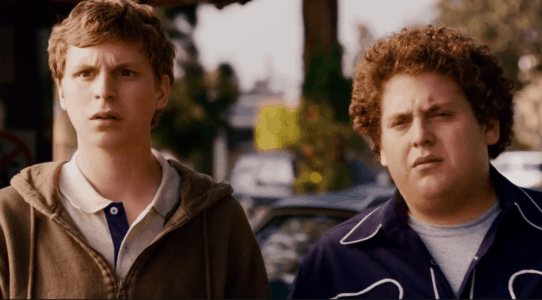 It seems safe to say that Jonah Hill is the funny fat guy in movies that we all remember for a couple of reason, one because he's obviously a big guy, and the other because he has a sense of humor that's obviously kind of hilarious depending on the movie. Once he started slimming down however he did manage to take on other roles that are less comedic and far more respectable in terms of actually winning an award for his acting rather than his comedy. US Weekly is just one of the many publications that has chronicled Hill's amazing weight loss throughout the years since he's gone up and down throughout his career, losing weight only to put it back on. Like many people he's struggled throughout his life with weight and his acting career has been impacted because of it.
If you take a look at him in this clip from Superbad you can see that Jonah was a funny guy when he was heavy, but a lot of people found it difficult to take him seriously as an actor.
Superbad was funny but it was also a movie that showed Jonah as the typical fat guy that a lot of people didn't take seriously and his character was, as you can tell, kind of needy. In a lot of roles that he was cast in as the fat guy he was seen as kind of neurotic and even uncertain of himself. This was even shown when he lost a great deal of weight but wasn't quite where he is now as in this clip.
At this point he was still cast as the insecure guy that had to try and look and act like someone else to make himself feel better, and even that didn't work. Of course throughout this movie there was a transition that allowed him to finally gain a bit of confidence, but while he had the weight on Jonah was definitely one of those actors that was typecast on a constant basis. As it stands now he's lost nearly all of the excess weight and has been eating healthy and living a lifestyle that has allowed him to take on more serious roles that might one day win him an Oscar. At this point he's already been nominated for a couple of Academy awards but hasn't taken one home yet. As his career continues though there's plenty of time and hope that he'll continue to branch out and find a way to finally stand up at the podium and deliver an acceptance speech.
In this upcoming film he might not be the star but he does seem to have a role that's a little more serious and a lot less apt to make him look like the fat guy that needs everyone's acceptance, largely because he's not fat and he seems like someone that carries at least a bit of importance.
Mel Robbins of CNN did a piece that made it sound as though Jonah Hill's comedic skills might take a serious hit after his weight loss, but if you listen to the guy talk then you should know that this isn't the case. He's going to be just as funny now as he's been in the past, but it would seem that his options have become a lot more varied when it comes to what kind of roles he'll be able to take moving forward. It's not unknown for bigger folks to take on serious and comedic roles now and again depending on what they feel like doing and what kind of acting skills they have. But when you look at the history of certain actors that have been seen as big and funny you can kind of see a trend that attempts to keep them in comedy where they're already proven. But like several others that have started out making us laugh Jonah made his move towards drama eventually and refused to be hemmed in as he sought something bigger and better in his career. Katy Kroll of Rolling Stone is definitely someone that agrees that if comedians are willing to drop the funny act and embrace the dramatic it's entirely possible for them to make their way towards the big kids' table at the Oscars, and since Hill has already been there twice it stands to reason that he'll want to do it again.
In terms of personal taste I'd say that Jonah is good from either angle since as a bigger guy he had to rely on his wits a lot to compete with his fellow actors since his weight likely kept from being as active as a lot of his costars. But as a thinner and much more fit person he's now in a position to do pretty much whatever he wants and even go for another stab at the Academy's. In the end it's what makes him happy that counts and if being in shape is what does it then more power to him.