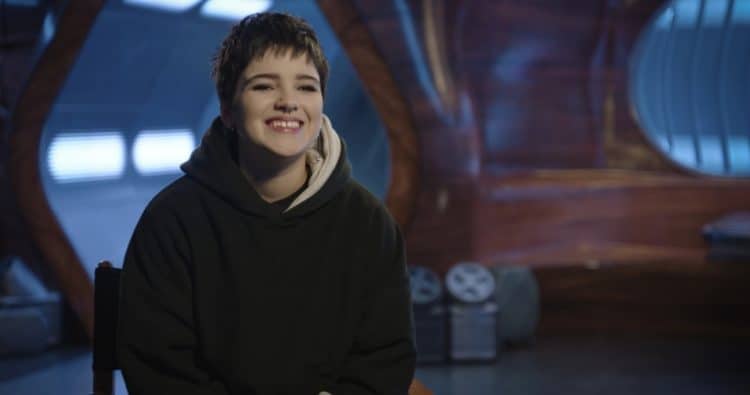 You've probably never heard the name Blu del Barrio before, but that's all about to change. In fact, if you're a Star Trek fan, you'll probably be hearing their name quite often. Recently cast as the very first ever non-binary characters in the Star Trek franchise, Blu is making their debut with a bang. Blu is young, talented, and determined to make a name in an industry that is known for limiting opportunities for people who don't fall into the standard. Not only does the role signify a new era for Star Trek, but it's also the perfect chance for Blu to prove just how talented they really are. Keep reading for 10 things you didn't know about Blu del Barrio.
1. They Are Non-Binary In Real Life
Not only is Blu's character groundbreaking for the Star Trek franchise, it's also very meaningful to them on a very personal level. Blu is really a non-binary person and they are thankful that they get to be part of bringing representation to the screen. Blu's pronouns are they/them/their.
2. They Studied Acting In London
Prior to being cast in Star Trek, Blu was studying acting in London. After landing the role, they decided to drop out so they could take advantage of the opportunity. For a young actor, being cast in any role is a big win, but working with a big name like Star Trek is definitely a dream come true.
3. They Would Love To Act In A Tim Burton Fan
Even though it's still early on in their career, Blu already knows exactly what they would like to do in the future. In an interview with GLAAD, Blu said that they would love to play "any" role in a Tim Burton movie. They added, "He could honestly cast me as goblin #7 and I would die happy. I was raised on Tim Burton films, and his work has played a huge part in my artistic growth, so to be in any film of his would be a dream."
4. They Enjoy Supporting Other Non-Binary Actors
Over the last several years, we've seen the entertainment industry become a little more diverse in terms of showing characters with different gender identities or sexual preferences. Blu has been enjoying this move towards inclusion and love to watch other non-binary actors such as Indya Moore, Bex Taylor-Klaus, and Lachlan Watson.
5. Star Trek Is Their First Professional Acting Role
One of the reasons why you've never heard the name Blu del Barrio before is because they've never actually been in anything else before. Star Trek is Blu's very first on screen role, and needless to say they're definitely making an introduction to the industry that won't soon be forgotten.
6. They Have Argentinian Roots
While we do know that Blu has lived in England, it appears that their family's roots are in Argentina. In their interview with GLAAD, Blu mentioned that their parents are Argentinian. They didn't say anything else about their family, but they did share a picture of their mother on social media.
7. They Are Very Private
So far in their career, Blu seems to be a fairly private person. They don't seem to have a huge interest in sharing too much personal information but this could change. The reality is that Blu is still so new to the industry that they haven't had a chance to really let the world get to know them.
8. They Are A Proud Pet Parent
Even though we don't know much about Blu's private life, we do know one very important detail: they are a proud pet parent to an adorable pup. Judging by Blu's highlight section on Instagram, they welcomed their fur baby home a little less than a year ago and they have been rocking with each other ever since.
9. They Don't Have A Large Following On Social Media
Blu doesn't seem like the type of person who is too caught up in the hype of social media. It appears that they once had a Twitter account but it has since been deleted. They are active on Instagram, but don't spend too much time uploading content. At the moment, they have less than 1,000 followers, but that will likely change as their character on Star Trek gains popularity.
10. They Are An Advocate For LGBT Rights
As a member of the LGBTQ+ community, Blu knows what it's like to feel different. They are a firm believer that LGBT education should be implemented in schools and feel that it is literally a matter of life and death as suicide rates among LGBT youth are higher than their peers.