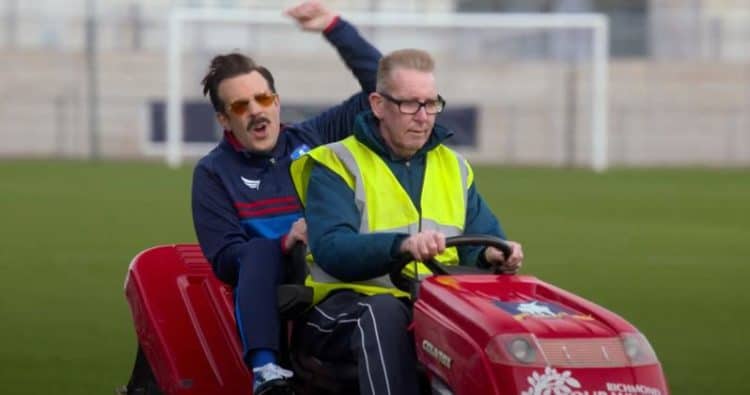 When Apple launched its own streaming service in 2019, its original content offerings were essentially non-existent. Although the platform rolled out some movies and shows of its own, nothing quite captured audiences like Ted Lasso. The series premiered in the summer of 2020 and it became a hit almost instantly. The show centers around a football coach named Ted Lasso (Jason Sudeikis) who gets hired to coach a British soccer team. Despite his lack of knowledge about the game, he does his best to win the team and the fans over. Now gearing up for its third season, fans are excited to see Ted Lasso back on their screens and they're looking forward to seeing the story pick up where it left off. Keep reading to find out what we know about Ted Lasso season three so far.
What to Expect From Season Three
As season three approaches, fans can't help but wonder where Ted Lasso's story will go next. Although there hasn't really been any information released about the storyline, there is something fans should know about the upcoming season. Unfortunately, it will probably be the show's last. During an interview with Deadline, the show's co-creator, Bill Lawrence, said, "This story [we've already mapped out], I know has a beginning, middle and an end, and will end the third year. I think there's other stories to tell about Ted Lasso and the gang, and we'll see. I think either way, it'll be important to Jason and all of us to try and go out on a high note." Creating a show with a set number of seasons in mind is a trend that seems to be getting increasingly popular, especially for shows on streaming services. Instead of letting stories drag out indefinitely, creators come into the show with an exit plan in mind. On one hand, this is good because it means that shows get the ending they deserve. On the other, it's tough to get invested in something that only lasts for a couple of seasons. That said, it hasn't officially been announced that season three will be the end for Ted Lasso, so there is still a little bit of hope. In fact, while on the podcast Fake Doctors, Real Friends with Zach and Donald, Bill Lawrence said, "The only way I think a fourth season of Ted Lasso exists would be if Ted Lasso went and coached a soccer team that played about a block from Jason's house in real life. You know what I mean? He's got young kids."
Cast Members Don't Even Know Their Upcoming Storylines
Not only are fans being kept in the dark about what's going to happen during season three, but it looks like the cast members are too. Outside of Sudeikis, who is one of the show's executive producers, the cast members will find out what's next for their characters when filming begins. Although this may be surprising to some viewers, Ted Lasso certainly isn't the first series to take this approach. Some projects do this to prevent information from leaking while others simply like to keep cast members on their toes.
Who Will Be In The Season Three Cast?
At the moment, there hasn't been any word on whether or not there will be any new additions to the cast for season three. The good news, however, is that it doesn't appear that any of the existing cast members will be leaving the show. Since this could end up being the show's last season, it's nice to know that viewers won't have to get used to any major adjustments where the cast is concerned.
When Will Season Three Premiere?
With season two of Ted Lasso already finished, viewers are anxiously awaiting the next season. Unfortunately, however, it'll probably be a while before we see season three. An official release date hasn't been revealed, but we do know that filming won't start until January 2022. More than likely, the third season will come out some time in the summer of 2022. In a separate interview with Deadline, Bill Lawrence shared, "We always try to be close to a year apart, so I would hope to see the show back in the August-type area." It's also unclear how many episodes the season will have. However, based on the first two seasons, there will likely be somewhere between 10 and 12 episodes. Even though we still have quite a way to go until the next season, fans can rest assured that it's going to be worth the wait.
Tell us what's wrong with this post? How could we improve it? :)
Let us improve this post!