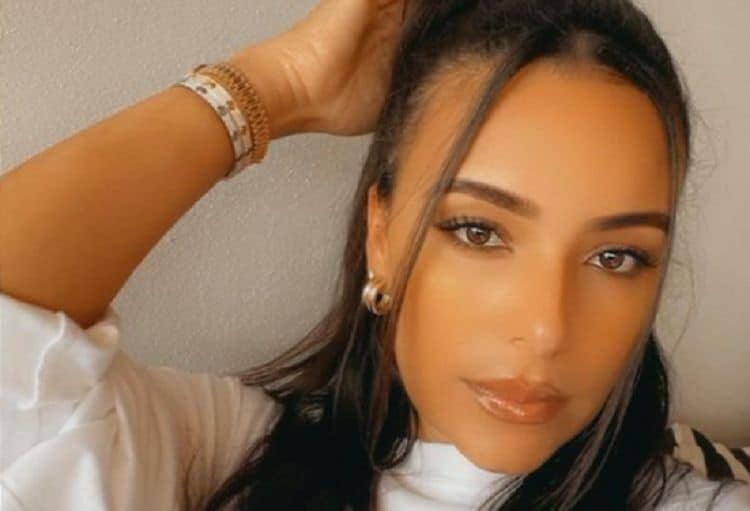 Ludacris has spent the vast majority of his life delighting his fans with the best music, the most fun movie rolls, and his adorable little family. He and his wife, Eudoxie Mbouguiengue, are a beautiful couple, and they've welcomed two gorgeous babies into the world during their marriage. They recently welcomed their second child together, and now the world is sending their collective well-wishes, praise, and sweet thoughts to this newly expanded family. Of course, the announcement of the birth of their second baby together has the world asking questions about this gorgeous model. Here's everything you need to know about Eudoxie Mbouguiengue.
1. She's an 80s Girl
Eudoxie was born in the greatest decade of all, but her childhood was not always a happy one. She was born on May 15, 1986, in Gabon. Growing up in Africa was a challenge for her, and while the harrowing things she went through in her childhood might not make for happy childhood memories, those are the things that shaped her future and turned her into the lovely woman she is today.
2. She's a Stepmom
She is not only a mother to her own two children with Ludacris, she also has two stepchildren with her husband. Luda welcomed his first child, Karma, in 2001. He welcomed his second child, Cai Bella, in 2013. He and Eudoxie welcomed their first child together, Luda's third daughter, in 2015, and they welcomed his fourth daughter in July 2021.
3. She Married Luda Years Ago
Eudoxie married her husband several years ago, delighting her fans along the way. The couple exchanged their vows in 2014. The couple met in 2008, they began dating around 2009, and they got married in 2014. Their story is a unique one, though it does feature a dark time for both.
4. She is a Model
When she's not busy working on her mom skills as a new mom of two, she's modeling. She got her start in the modeling industry years ago, and she's not slowing down a bit. She also has a charity of her own that helps women who have endured abuse either sexually, mentally, or physically.
5. She Believes in Second Chances
Eudoxie is a strong woman with strong beliefs. Second chances are something she is fond of, and she made that clear when she gave her then-boyfriend a second chance. She and Luda were together for a while prior to the announcement that he welcomed his second child into the world – with someone else. That someone else was his friend Tamika Fuller. The world was made aware of this in 2014 when Fuller filed a paternity lawsuit against the rapper/actor. She gave her boyfriend another chance after that, and she said she followed her heart and it has proven to be the best thing she's ever done.
6. She's Close to Her Girlfriends
She's a good friend, and she has good friends. She is so close to LeToya Lockett-Walker and Keri Hilson, and she often speaks highly of them. They have helped her make a life for herself, build her up, and keep her on her feet. She credits them for being the ones who made sure she was in a good place and not in a toxic relationship, indicating that in the past she was not in good relationships.
7. Her Childhood was Difficult
She's made it clear through her own charity biography page that she did not always have a blessed life. She grew up impoverished. There were times in her own childhood she did not have food to eat and was left starving. Because of her difficult childhood, she works hard to ensure that she can help anyone and everyone who needs it – she gives back.
8. She is an Angel on Earth
She created Unspoken Angels, her charity, to help women who need it the most. She knows that life is not always easy, and she knows she is in a place in life where she can make it easier for many. She does not take her fame or fortune for granted, but she does use it to gain awareness, to offer support, and to raise money for those women who do need some help. She's always giving back, and she is a blessing to all.
9. She Came to America as a Child
Her own childhood in Africa was difficult, and she often prayed to find a way out of that life. She was able to make her way to America as a child to receive an American education. She knew three English words when she came to the states, and she taught herself English and made a way for herself.
10. Her Mother-in-Law Chose Her Wedding Gown
When Luda proposed to her the day after Christmas in 2014, she said yes. They were on a plane, and the words "Will you marry me?" were written on the ground below them. She said yes, they went to dinner, and she came home to find that her future mother-in-law picked out a beautiful wedding gown for her. It was on her bed. She put it on, and they got married. It's all very romantic. The two exchanged their vows in front of only their closest friends and family, and it was a beautiful moment for both.Ludacris
Tell us what's wrong with this post? How could we improve it? :)
Let us improve this post!