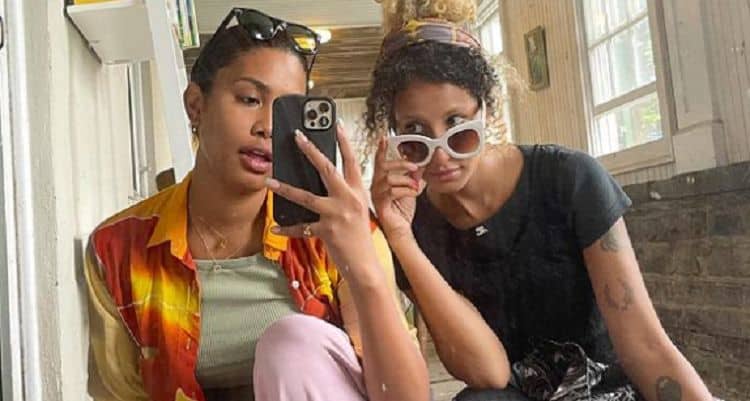 Actress and model Leyna Bloom made history by becoming the first-ever trans woman of color to grace the cover of Sports Illustrated. The popular magazine, which has been around for close to 60 years, also featured other talented and beautiful women, including rapper Megan Thee Stallion and pro tennis player Naomi Osaka. Leyna's magazine cover did not come easy, though; the activist has been at the forefront of championing more representation for the trans community in fashion for years. So how did she do it? Let's take a look at Leyna Bloom's journey of how she landed on the cover of the Sports Illustrated Swimsuit issue.
Where Leyna's Journey Began
It all started when Leyna lived in Chicago with her father and decided to move to New York City on her own at 17. The first years were tough as she worked, became homeless, and bounced from one place to another. She was ready to chase her dreams as a dancer, which eventually led her to New York's Ballroom scene. It's in New York City where she found her home, House of Mugler, and ever since, she has built a strong reputation for herself as the "Polenisian Princess." Bloom believes all the struggles she went through growing up, from losing her mom to being homeless, led her to where she is now. In 2014, she officially identified as an openly trans model.
Her coming out not only opened doors for her but encouraged other trans women to love themselves and be proud of who they are. Leyna caught everyone's attention in 2018 when she started a Twitter campaign to become the first trans woman of color to walk in the Victoria Secrets' fashion show. Bloom attached gorgeous bikini photos showing off her toned body in her tweet, which got over 52,000 likes in just a day. While Bloom didn't get the runway gig, she called out Victoria Secrets' for their lack of diversity in their models since, according to her, they only cast 'skinny, white models.' She added that in their 2017 Victoria's Secret runway show, they should cast trans and curvy models of all colors. Her bold statements got her the recognition she wanted and shone a light on her community's struggles in creative industries.
Bloom's Modelling and Film Career.
Before Leyna Bloom appeared in the 2021 Swimsuit issue, she made undeniable strides in the film and modeling industry. Her exotic looks landed her deals with high-end brands like Nike and fashion designers like Jeremy Scott. Leyna always pushed for more representation of trans women within film and fashion spaces. Her groundbreaking accomplishments played a considerable part in her landing on the international magazine. In 2017, Leyna became the first transgender woman of color to grace the cover of Vogue India, and this was only the beginning of her success. 2018 ended up being another great year for Bloom, as Glamour named the striking model as one of the '6 Women Shaping The Future of Fashion.' in their October 2018 issue. In 2019 she became the only transgender woman to walk the Paris Fashion week for Tommy Hilfiger x Zendeya's Fall /Winter Collection.
During the same year, she made history again as the first transgender woman of color to star in the feature film Port Authority, which premiered at the Canes Film Festival. Leyna is in the lead role as Wye alongside Paul (Fionn Whitehead) in the romantic drama that follows her life as an underground ballroom dancer living in Port Authority, New York. The movie holds a special place in Bloom's heart as she can relate it to her real life and all she experienced and overcame as a trans woman. Apart from her movie credit, Bloom also appeared in season 3 of Pose alongside Indya Moore, who plays Angel in the award-winning series.
Sports Illustrated Swimsuit Cover
Sports Illustrated has been creating a space for inspiring and talented women through their magazine for decades. When they announced Bloom as their 2021 cover star, she was over the moon. The beautiful model has done it again, becoming the first trans woman of color to be featured on the mag's cover. After the beautiful bikini photos on the pages of Sports Illustrated came out, Bloom shared a touching message with her fans. She dedicated the cover to all the ballroom queens that came before her and girls like her who cannot live out their dreams or even live long. Bloom hoped that her cover would empower those struggling to be seen and feel valued in the post.
The Sports Illustrated Swimsuit's editor-in-chief, MJ Day, said Bloom represented everyone's right to love themselves and be who they want to be. He added that the magazine was honored to have the 27-year-old on their cover, who is not only beautiful but passionate in her social activism. MJ also added that her spread in the magazine resulted from her lifetime dedication to forging her path and that his team was honored to tell Bloom's story to the world.
Bloom becomes the first black and Filipino person to be on Sports Illustrated's annual magazine cover. In an interview with TIME, the talented dancer acknowledges the new world we are in where she gets to be the first one to do all these great things. All this so that the next generation can have all the resources to be inclusive and supportive of the trans community. Overall, Leyna is the second openly trans woman featured on the magazine's pages since last year when Sports Illustrated featured transgender model Valentina Sampaio for its annual swimsuit issue. The 23-year old is also a strong advocate for the LGBTQ community and has broken barriers for transgender people in the modeling industry. Today, Leyan Bloom is praised as one of the most vocal people to highlight the issues facing the trans community. The beautiful model is truly an icon who deserves to be on the front of the Sports Illustrated Swimsuit issue.