Songs like "Kim" (2000), "Obsessed" (2009), and "The Warning" (2009) capture the uncertainties and controversies surrounding Eminem's dating history. The American rapper from Detroit, Michigan, has been romantically linked to several famous women, from Nicki Minaj to Mariah Carey, Skylar Grey, and even Rihanna. While most of these were rumored relationships, it's no secret he was twice married to Kimberly Anne Scott, the mother of his only biological child Hailie Jade Mathers. Apart from Kim Scott, Marshall Bruce Mathers III has kept most of his love life away from the limelight, making it difficult for the public to keep track of his amorous pursuits. He has, nonetheless, often expressed his struggles with romantic relationships in songs.
Eminem hasn't been fortunate with love as he has been with his rap career. He's currently unmarried and doesn't seem to be dating anyone, even though he's open to having a romantic partner. The Detriot rapper told Rolling Stone he'd like to be in a relationship again, adding that it's difficult for someone in his position to meet new people; that was back in 2010. Over a decade later, nothing indicates he has found someone worthy of his love. He alluded to that in "Never Love Again," the 14th track on his 2020 album Music to Be Murdered By. From his failed marriage to his fallout with Carey, here are details about Eminem's dating history.
Eminem And Kim Scott Were High School Sweethearts
Eminem and Kim Scott fell in love as teenagers sometime in the late 80s. Kim and her late twin sister Dawn Scott had a rough upbringing that saw them run away from home to live with Eminem and his mother. The rapper was around 15 years old at the time. Several years into the relationship, they welcomed their only biological child together. Hailie Jade Mathers was born in December 1995, inspiring her parents to get married in 1999 despite the challenges they had as a couple. Their relationship problems reached a breaking point barely a year into the marriage as the "Love Game" rapper allegedly caught Kim cheating on him with John Guerra in 2000.
Eminem reportedly saw Kim kissing Guerra outside a bar in Michigan and struck the bouncer with an unloaded gun, earning himself a two-year probational sentence in addition to the $100 thousand he was ordered to pay Guerra. With violent songs like "'97 Bonnie & Clyde" and "Kim," the rapper expressed the pains of his relationship with Kim. Released in 1997, the former narrates a dark scene where the rapper and his daughter discarded Kim's dead body in a lake. The latter, a prequel to "'97 Bonnie & Clyde", was released in 2000. It portrays the rapper's intense anger towards his then-wife, whom he eventually "murders" in the song. Although Kim insisted she never cheated, Eminem filed for a divorce, which was finalized in 2001.
Mariah Carey And Other Women Linked To The Rapper After His First Divorce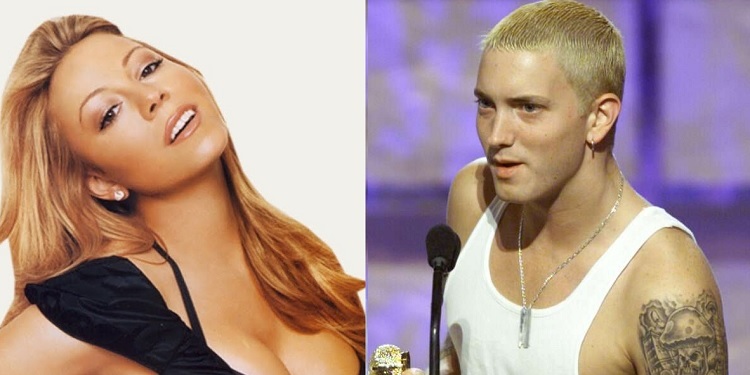 The "Lose Yourself" rapper romantically linked to a slew of famous women after his first divorce from Kim. The same year the divorce was finalized, Beyonce, Brittany Andrews, and Joy McAvoy were all rumored to be his girlfriend. The following year, he was linked to Britney Spears, Kim Basinger, and Brittany Murphy. 2003 saw Karrine Steffans and Gina Lynn rumored into Eminem's dating history; so was Tara Reid in 2004. These were all rumored relationships with no credible facts backing them. Neither the rapper nor the women involved have validated these claims. However, the same can't be said about Mariah Carey. Eminem has maintained over time that he dated the pop diva, but Carey insists it was a professional relationship.
Eminem first referred to his relationship with Carey in two songs from his fourth studio album, The Eminem Show, released in 2002. On the 13th track of the album, "Superman," he said, "What, you tryin' to be my new wife? What, you Mariah? Fly through twice." And on the 16th track, "When the Music Stops," he rapped, "…You smokin' crack? 'Fore I do that, I'd beg Mariah to take me back." Before the year ran out, Mariah Carey released an answer song titled "Clown." Part of the lyrics reads: "I should've left it at, how ya doing? I should've left it at I like your music too…You should've never intimated we were lovers. When you know very well we never even touched each other…"
The following years had the artistes taking shots at each other to prove their version of what transpired was accurate. In 2009, Eminem fanned the feud with his "Bagpipes from Baghdad" song wherein he said: "Mariah, what's ever happened to us, why did we have to break up?" He also addressed Mariah's then-husband in the song. "Nick Cannon better back the f**k up. I'm not playin', I want her back, you punk… you prick, I wish you luck with the f**kin' wh-re." In response, Mariah dropped her hit song "Obsessed" in June 2009, accusing the rapper of being obsessed with her. "…why you so obsessed with me…Lying that you're sexing me," she sang.
Eminem wouldn't let that slide; he released "The Warning" in July 2009, daring the pop star to call his bluff. He claimed in the song that Mariah made him put up with her "psycho a** over six months, and only spread her legs to let me hit once… surely you don't want me to talk about how I nutted early cause I ejaculated prematurely, and bust all over your belly..." added the rapper. The feud has quietened since then, but it remains a significant moment that defined Eminem's dating history.
Eminem's Second Marriage And Divorce From Kim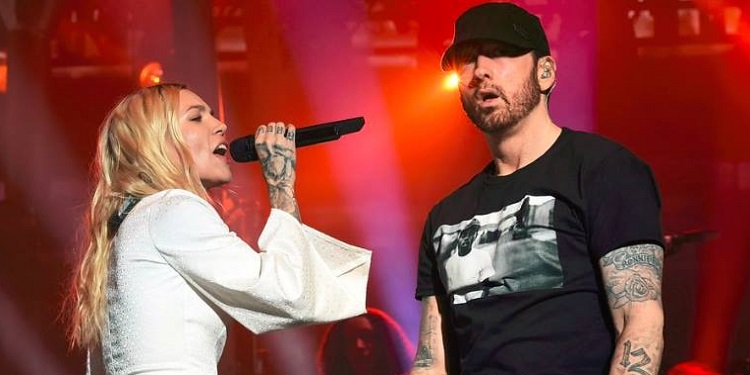 After the controversial artiste officially parted ways with Kim, he told Rolling Stone that he was done with marriage. "I would rather have a baby through my penis than get married again," he said in 2002. But for reasons best known to him, he reconciled with Kim in 2005 and wedded her for the second time in January 2006. Nevertheless, Eminem filed for divorce three months into the marriage. It was finalized that same year in April. Blindsided by the rapper's decision to end their marriage a second time, Kim claimed a disagreement over his brother's "inappropriate behavior" led to the divorce.
However, some reports stated that her addiction to drugs and alcohol inspired Eminem's decision to end the marriage for good. Unlike the first divorce, which had them battling for Hailie's custody, the second was void of drama as they quietly parted ways with joint custody and an undisclosed settlement. Several years later, it circulated that the hip-hop star rekindled his relationship with Kim. While sources close to the former couple gave some credence to the reports, Eminem and Kim never got back together. Since his second divorce, he has been linked to Skylar Grey, Tracy McNew, Marni Bright, Rihanna, and Nicki Minaj. As these were all rumors, Eminem's dating history, to a large extent, is shrouded in secrecy.