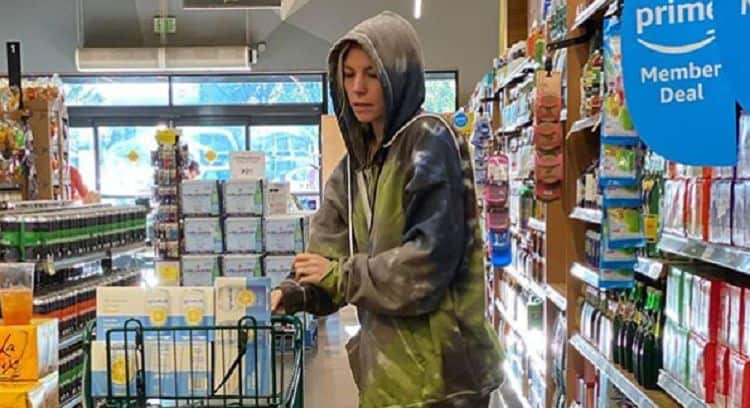 You might not necessarily know the name Skyler Grey, but unless you've been living under a rock for the last decade, you'll be familiar with her work, whether you know it or not. Remember Eminem and Rihanna's "Love the Way You Lie"? Grey wrote it. The angelic voice on Dr Dre's "I Need a Doctor"? Grey's. The person behind the spine-tingling cover of Stand by Me on Budweiser's 2018 Super Bowl LII commercial? You guessed it… If you needed any more incentive to check out her music, read on.
1. She's been performing since she was 6
Grey was born into a hugely musical family, and by the age of 6, had already been encouraged by her mom (who plays the banjo, guitar, harp, and dulcimer) and dad (who sings in a barbershop quartet) to start performing. For most of her childhood, Grey performed regularly with her mother as part of a folk duo called Generations.
2. Marilyn Manson is a big inspiration
Giving her folk/ pop style, you wouldn't have thought Marilyn Manson would have been much of an influence on Grey, but apparently, the shock rocker is one of her main inspirations. That said, her influences are nothing if not eclectic, with everyone from the likes of Fiona Apple, Neil Young, Bon Iver, Shirley Manson, and Joni Mitchell to Radiohead, Bob Dylan, Fleetwood Mac, James Taylor, Sarah McLachlan, Eminem, Death Cab for Cutie and Alana Davis featuring.
3. Her stage name has a deep significance
Before she was Skylar Grey, she was Holly Brook Hafermann. Choosing her stage name wasn't an easy task, and clearly one she put a lot of thought into. Eventually, she made her decision, picking a moniker that "represents the unknowns in life. People seem to be afraid of the unknown, but I'm the complete opposite. I dive into the unknown because I feel like that's where all your possibilities come from." After settling on the name, she decided to mix things up by substituting the a in Gray for an e , a decision she explained to Beatweek with the comment "it's more masculine. I'm not a very feminine person."
4. She's a chameleon
Describing Grey's style isn't an easy task, with any attempt to pigeonhole her into any particular genre likely to end in raised eyebrows and a chorus of dissenting opinions. Her genre-bending, eclectic style can be attributed to the huge variety of music she was exposed to as a kid, and is one she's more than happy to embrace. "I'm just a chameleon, basically," she explained to Hollywood Life. "I want to write in every genre and go where the universe takes me. I follow the energy. Who knows? It could end up with a hundred songs, it could stop at five."
5. She's an award winner
At this point in her career, Grey's fireplace must be groaning under the weight of all her awards. Her role of successes began all the way back in 2006, when she claimed a Ringtone of the Year title for "Where'd You Go" (with Fort Minor) at the MTV Video Music Awards. Since then, she's come home with a 'Music Up Next' Breakthrough Award at the 2014 Variety's Breakthrough of the Year Awards, and two awards from the Vevocertified Awards. She's also won a slew of nominations at the World Music Awards, plus a Grammy nomination for her co-writing credit on "Love the Way You Lie".
6. She's the first sole female to produce an Eminem song
Grey and Eminem have a long history of collaborating, starting in 2010 when the two co-wrote the hit single "Love the Way You Lie". The following year, she featured alongside Eminem on Dr. Dre's "I Need a Doctor", and in 2012, they paired up again on "C'mon Let Me Ride", the lead single from Grey's album Don't Look Down (which, as it so happened, was produced by none other than Eminem himself). The two have continued to team up on various projects ever since, and in January 2020, Grey became the first sole female to produce an Eminem song with "Leaving Heaven" from the Detroit rapper's eleventh studio album, "Music To Be Murdered By".
7. She's engaged to her co-writer
Anyone who's followed Grey's career will know the name of her frequent collaborator, Elliott Taylor. The two have worked together on numerous projects, including "Falling In Love Again" from Celine Dion's 2019 album Courage. Clearly not adverse to mixing business with pleasure, the two got engaged while Grey was working on her 2019 album, Angel With Tattoos, with Grey subsequently explaining that many of the album's tracks were inspired by her new fiancee. "He's just my world, so I just started writing everything about him," she told Hollywood Life, adding "the songs for this project are very happy love songs."
8. Her Net Worth
Over the past 15 years, Grey has collaborated with some of the biggest names in the music industry, released several well-received solo albums, and written some of the biggest hits of the decade. Those kinds of achievements don't come without their rewards, with the reward in Grey's case (at least according to Celebrity Net Worth) being a very nice $10 million net worth.
9. There's a secret behind her tattoos
Grey is almost as well know for her tattoos as she is for her music, with her back, arms, hands, and chest all covered. After Glamour asked why she got so inked up, Grey explained it all came down to wanting to make her presence feel known. "I feel like I let my people push me around a lot. I think that was a huge influence on my getting all of the tattoos: I just wanted to be intimidating," she said. "Part of me wishes I never got them, because I know I got them for the wrong reasons. I realize now that I can speak up for myself, and that I don't have to have tattoos to do it, but it took me a long time to realize it."
10. She'd love to work with Kendrick Lamar
Grey has already worked with some of the biggest names in hip-hop, but her dream collaborator is someone she's not yet had the pleasure to partner up with. "I think my dream person to work with would be Kendrick Lamar, as far as like rappers go. I think it'd be pretty fun," she told Billboard.
Tell us what's wrong with this post? How could we improve it? :)
Let us improve this post!