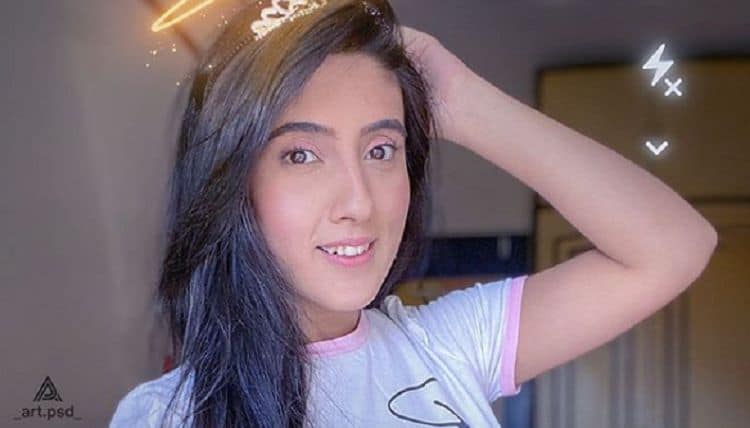 Sameeksha Sud, an Indian-born and Mumbai based television star, is a regular face known for her beauty and her delightful personality. You may have probably seen her on television from her casting roles in a vast number of televisions series and movies, or maybe you are her fan on social media. Her budding career in the entertainment industry has made her a center of attention. She has made a name for herself in the entertainment industry by being among the top TikTok influencers after sharing amazing lip-syncing and comedy clips on the platform. Sameeksha Sud is full of life, and we bet you would be intrigued to get to know more about her, so here is your chance.
1. She made her acting debut in Baal Veer, as Dari Pari
When one door opens, sometimes it leads to many more opening as can be seen from Sameeksha's career. Her TikTok influence has, in turn, resulted in her beginning the journey of becoming an actress. She started her television career in 2012, where she was part of the cast members in a superhero children fantasy series known as "Baal Veer." Sameeksha Sud plays her role of Dari Pari, a character who seemingly is scared of everything happening around her.
2. She is philanthropic
Apart from entertaining her followers on TikTok or appearing in movies and series, Sameeksha Sud is also benevolent. She is part of a foundation that looks forward to making a difference in the lives of children who have cancer. According to Samiksha Foundation, the foundation labels itself as a creative learning initiative that gives children support in terms of education, spirituality accompanied by imaginative play and activities. The organization strives for incremental happiness results among children, thereby scaling their conviction and dignity, and encouraging them to lead healthy lives without fright.
3. She is a member of teentigada
Teentigada is a group of influential TikTok users comprising of Vishal Pandey, Sameeksha Sud, and Bhavin Bhanushali. The trio has made a name for themselves by creating and posting interesting videos on YouTube and Tiktok. They collaboratively host a YouTube channel and Tiktok account that goes by the title, "Teentigada." Their most significant milestone was achieving a record-breaking 4 billion views of their uploaded TikTok videos.
4. Her Hobbies
You would think that with the pressure to keep her fans entertained would have her left with little or no time for other activities. However, the television actress has a lot of leisure time which she spends shopping, dancing and partying. As proof of her dancing skills, you might have seen her dancing videos on TikTok.
5. Her love life
The actress is quite secretive not only about her family but her relationship status as well. Although she has been rumored to be dating several men in the past, she never bothers to come clean about the allegations. Currently, she is in a relationship, but whoever the lucky man is, she wants us to remain in the dark. However, speculations are that she is either dating Bhavin Bhanushali or Vishal Pandey. The rumors surfaced after the three of them announced they were making a video, but Sameeksha has not disclosed yet who her boyfriend is.
6. Her Education
She may not talk much about her academic qualifications on social media as she does about other bits of her life. But according to MuchFeed, she holds a Diploma in Computer Science. The celebrity was wise enough to have a fallback plan by first getting an education before embracing the internet. Therefore even if her TikTok career were unsuccessful, she would still have made a living as a computer scientist.
7. She has a huge fan base on Instagram
Sameeksha Sud's fame stretches beyond just the confines of TikTok. She has amassed an enormous following on the picture-sharing platform, Instagram. Having made it in the TikTok world, she is now building her social media presence on Instagram. She takes pride in having close to 1.2 million followers on Instagram. Although this may be a lower number compared to her TikTok followers, she still is a notable Instagram influencer whose popularity is growing with each sunrise. Of course, as the number grows, Sameeksha will also increase her income as each post she makes will be worth her while.
8. Involved in shooting a music video
Thanks to the popularity she got from the Chinese video-sharing platform, Tiktok has opened many avenues for her to explore. Her newest venture is collaborations with musician. Her Instagram fans were the first to know of her latest interest in music when she took to her Instagram story to announce her partnership in a music video titled "Dil Roya Re." Together with her in the music project are other celebrities like Celebistaan, Akankshab, Immanzar, and Kamboj.
9. She got featured among 32 top generation Z influencers
Although praise is not the reason why we engage in the various activities in our lives, it feels good when someone appreciates our efforts. Sameeksha Sud, not only got the Muser crown for her Tiktok account, but she also was featured in The Business Insider's list of generation Z top Tiktok influencers causing a buzz in the entertainment industry. Sameeksha Sud's stardom journey has been one to keep an eye on and inspire many who wish to follow in her footsteps. Such recognition only serves to show that the significant strides she's making as well as the long way she has come are not going unnoticed.
10. She is a model
Sameeksha Sud possesses what would be your ideal image of a model; from her raving beauty to her other physical attributes. She is now working on building her budding a modeling career by gaining exposure. She has featured in television commercials and advertisements. Besides that, she also models on social media, posting incredible pictures of herself on her Instagram, which are bound to attract potential clients.
Tell us what's wrong with this post? How could we improve it? :)
Let us improve this post!