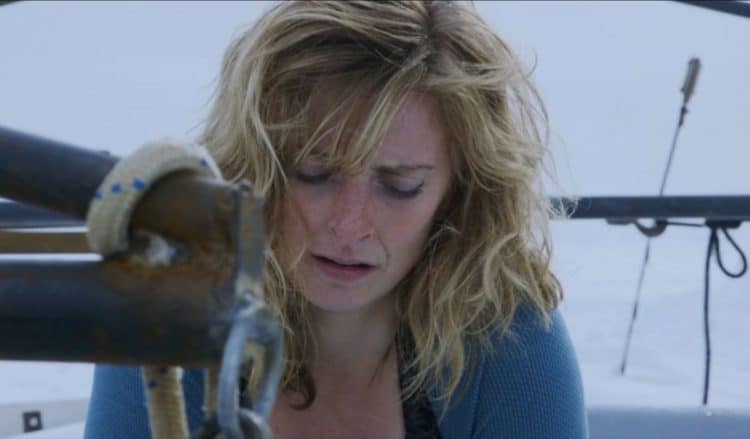 Emily Riedel has become popular since becoming a part of the cast of the reality television series "Bering Sea Gold" on the Discovery Channel. She shows the world that women are highly capable when it comes to braving the elements and mining for gold. Once considered to be a man's occupation, she's paving the way for women who also have a passion for the activity. She's growing an impressive base of fans who are always happy to hear more about her, so we looked into Emily's history and discovered some interesting facts about her. Here are 10 things you didn't know about Emily Riedel.
1. She previously dated ZekeTenhoff
Emily is currently a single lady and she is not married, nor is she dating anyone. Prior to becoming single, she dated fellow cast member Zeke Tenhoff. The two initially hit it off, but as they got to know one another better, they realized that there were more differences than there were similarities. The couple just did not have enough in common to maintain a working romantic relationship. Their differences created a strain on the relationship which resulted in drama. They called it quits and tried remaining friends, but even this is a challenge for both of them.
2. Emily faces some serious challenges
Emily Riedel is the only female on the show. She's working hard to break into a profession in which there are very few women. The work is hard and the elements that the crew must face are at times, unforgiving and harsh, but she has maintained well and has shown the world that she's up for the challenge. There are still challenges though, because of the attitudes towards women who choose to become gold miners, but it appears that she takes them in stride and she's not giving up on her passion.
3. Emily's first career choice was to sing opera
When Emily started her career, it was in a different industry. She loves singing opera and she's good at it, but it doesn't pay the bills. At the time she was attending college, she had to work to help pay for her education and it wasn't possible for her to pay for school and pursue a career in opera. She had to make a choice. She needed a job and when her friend Zeke offered her a job working in Nome, Alaska, she took the job. It was with a gold dredging operation. This is how she became involved in mining for gold as a career.
4. She was a deckhand before she was a reality TV star
Emily Riedel joined the crew prior to their appearance on the Discovery Channel's "Bering Sea Gold." It was after she had been working with them for a while that they were approached to appear on the television series. It was her good fortune to be employed with the mining outfit at this time in her life because she was afforded the same opportunity for fame as the rest of the crew, perhaps a little more with the novelty of being the only woman on the crew. This is the event that has changed her life.
5. Emily has a tattoo to prove her passion
Emily took a job as a means of supporting herself and paying for her education. She had no idea that mining for gold would become as big of a passion as becoming an opera singer. It didn't take long for her to get hooked and now she's doing what she loves. She even had a tattoo made in honor of her current occupation.
6. Emily Riedel is a pioneer
We also learned that Emily is a pioneer for women in the mining industry. While she's not the first to ever work a claim, she is the first woman to ever professionally dredge for gold in Alaska's Bering Sea. Her accomplishment will go down in history and in the record books, which qualifies her as a pioneer in Alaskan's Bering Sea gold dredging history. She is currently the only woman in this exact profession.
7. She just wants to fit in with the guys
Emily doesn't use the fact that she's a woman to get any kind of special treatment. In fact, she's just the opposite. She tries her very best to fit into the guys and she shared that her voice even drops to a lower more masculine tone when she's in the company of the guys. She just wants to be seen as a professional gold miner who produces, and not as a novelty. She's a part of the team and she doesn't expect any special treatment, nor does she want to be singled out as any different from the other professionals when it comes right down to it. It's a career choice and she's fully invested in that choice.
8. She owns her own vessel
Dredging for gold in the Bering Sea is an expensive venture if you want to go out on your own as the skipper of your own boat. It took Emily three seasons of appearing on the show before she was able to save up enough money to buy her own vessel. She's now the owner of the Eroica.
9. She's appeared on other television shows
Emily is an impressive lady who has caught the attention of fans around the world. She's been invited to appear as a guest on popular talk shows including "The Larry King Show," "The Steve Harvey Show," "The Insider" and several others. She leads such an interesting life that people want to hear more about it.
10. Emily's future in mining looks bright
Emily is back on the Eroica and getting ready to have an amazing season. She has everything that she needs to achieve success, including her own vessel, a ten-inch suction dredge with high power and a professional and experienced crew of three at her side. We'll see her back again for another season of "Bering Sea Gold."