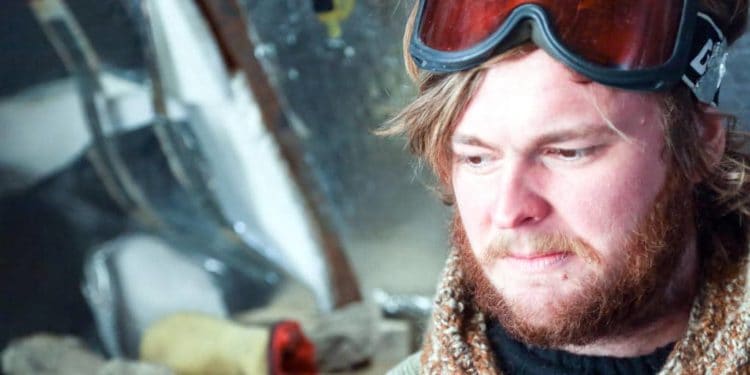 Zeke Tenhoff became famous after appearing as a member of the cast of the Discovery Channel's reality series "Bering Sea Gold." Zeke has been one of the more interesting characters because of his appeal to younger audiences. He's done his part to bring drama to the series and he makes it more entertaining for some viewers, whether that is intentional or not. He has quite a following of fans who would like to know more about him, so here are 10 things that you probably didn't know about Zeke Tenhoff.
1. He is a native Alaskan
Not all of the people who work in the Alaskan fishing industry were born in the state, but Zeke was. He's used to the harsh and unpredictable environment of Alaska because it's really all that he's ever known. Growing up in Nome has taught him how to be tough and how to survive in an unforgiving climate and landscape, and in his case, ocean environment as well. It's as though he's been prepped for this way of life since he was born.
2. Tenhoff's life has been unconventional
When Zeke was young, he was home-schooled. He missed out on the things that happen in a public school, whether that's for the better or worse, is a matter of conjecture. As an adult, his main focus turned to be independent and being his own boss, which he has accomplished. Zeke is indisputably the boss of his operation.
3. His relationship with Emily Riedel went sour but they still work together
Tenhoff and Emily Riedel combined their talents in a few different ways. They worked together in his gold mining business and they ran a dredge together. Zeke is a skilled diver and prospector, adn Emily has money. When Zeke ran into some financial difficulties the two put their differences aside and managed to work fairly well together in a profitable partnership, despite a few arguments and disagreements.
4. Most of the drama is real
Zeke works under harsh conditions and the stress is not created for the sake of the camera on the show "Bering Sea Gold." It's very real and authentic. Although there is some degree of dramatization, you can believe that the majority is a result of the environment and the daily dangers that the crew faces in the work that they do. They face the challenges of below-freezing temperatures, icy waters, and some real hardships as they eke out a living looking for the next big load of gold. When you throw a few romances in the mix it stands to reason that there's going to be some real drama taking place.
5. Fans are obsessed with Zeke Tenhoff
As we were looking into some of the forums and articles discussion fan opinions of Zeke Tenhoff, it became apparent that he's got a decent-sized following and some fans are obsessed with Zeke and the work that he does. He's living a life that some can only dream of. He is his own boss and he does what he pleases. Even though there have been ups and downs, all in all, he's a self-made man. There are a lot of fans of "Bering Sea Gold" who think that Zeke is the coolest member of the cast.
6. He knows when to put his pride aside
Tenhoff does have his pride, but when it comes to choosing between that and his life's work which is dredging and mining for deep-sea gold, he puts his feelings aside. We saw proof of this when he was willing to connect with his ex Emily to keep his business afloat, no pun intended. Emily had the funding and Zeke didn't. It was as simple as that. This tells us he's willing to do about anything to keep his quest for gold alive.
7. Zeke has a new girlfriend
It's recently been reported that Zeke Tenhoff has started dating someone new. The name of the girl that he's been seeing is Sarah Dunn. There were a few interested fans who tried to find information about Sarah and Zeke but it was tough going and although rumors about the new relationship were plentiful, information and confirmation were either non-existent or very well-hidden.
8. Zeke's relationship status is the new drama for the season
Although it's one of those off-camera fan theory situations, there is a big buzz about Zeke Tenhoff's relationship status. From what we could gather, Sarah Dunn is an artist and she also runs a food truck that is called The Au Gratin. She's based out of Nome, Alaska and it has been reported that the two met and hit it off immediately. and that they've been dating ever since, but there have also been conflicting stories circulating.
9. Zeke went through a bad spot in his life recently
Tenhoff is reported to have slipped into a period of severe depression, and also substance abuse, although more details are not available about that. It was then that he ended up in New Orleans, Louisiana for a while, but he did come back to Nome to resume his life. Supposedly, Sarah helped him to get his life back together.
10. Zeke Tenhoff prefers to keep his personal life private
Zeke isn't the kind of guy to go out in search of attention. If you go on an all-out search for information you might dig up a few nuggets here and there, but he likes to keep things in his personal life hidden from prying eyes. He doesn't like a lot of attention. He's a hard-working prospector who has a passion for searching for gold, and this has become his life's ambition. You won't see him living the life of a jet-setter, and although he takes his fair share of breaks from work, it's not something he has to do, but rather something that he loves doing.