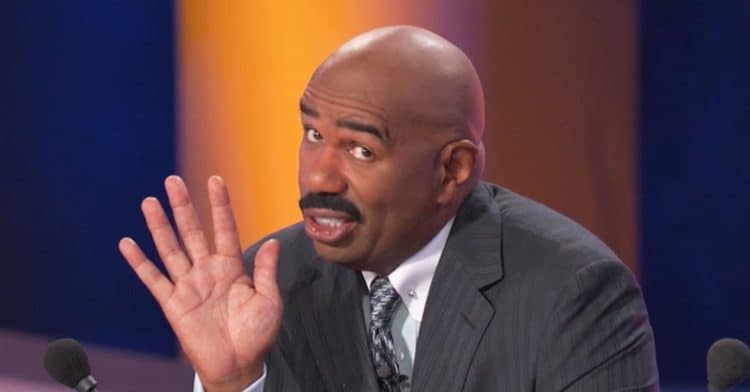 For more than 25 years, Steve Harvey has been one of the most recognizable figures in entertainment, especially when it comes to comedy. However, he has also proven that he can do much more than make people laugh. In fact, in more recent years, Steve's hosting abilities have gotten him a lot of attention. So, in 2017 when he got his very own daytime talk show, it seemed like a natural next step. The show, Steve, came just a year after his previous talk show, Steve Harvey, was canceled. The new show featured a nice mixture of audience interaction, celebrity guests, and of course, humor. After season one, the show seemed to be off to a very strong start and it looked like it had a bright future. As a result, lots of people were stunned when news broke that the show would end after its second season.
Let's talk about why Steve Harvey's self-titled talk show was canceled after just two seasons.
Why Steve Was Canceled
When Steve debuted in 2017, everyone had every reason to believe that the show would be around for a long time. After all, Steve Harvey's previous talk show lasted for five seasons and aired more than 900 episodes. Unfortunately, however, switching from the Chicago-based show to filming in Los Angeles proved to be more challenging than originally anticipated. On top of that, there were some things behind the scenes that contributed to the show being canceled.
Usually, when we hear that a show's been canceled, low ratings are the root of the problem. When it came to Steve, however, ratings weren't really an issue. While the show didn't have record-breaking numbers, it had a steady viewership. Although the official reason for the show's cancelation was never given, sometimes you have to read between the lines a little bit.
The Backstory
For those who were wondering why Steve Harvey stopped doing one talk show just to come back with a new one that was essentially the same thing, the answer is simple: contract negotiations. After five seasons of Steve Harvey, Steve's contract with NBCUniversal Television Distribution ended and he opted not to renew. Instead, he started a new deal with IMG Original Content. In his new deal, Steve had more creative control over the show, a higher salary, and more ownership. While this was great for him, it caused a bit of a rift between IMG Original Content and NBC.
According to an article from Variety that was released when the show was canceled, "The demise of "Steve" raises the question of whether Harvey's show was a casualty of animosity between NBCUniversal and Endeavor's IMG Original Content over IMG's takeover of the show two seasons ago…NBCUniversal executives were furious at losing their stake in Harvey's show after the transition to IMG, even though it remained the distributor of "Steve."
The article from Variety also noted, " for new stations in New York, Los Angeles, Chicago and other major markets to keep Harvey on the air in syndication. "Steve" was also shopped to cable and digital buyers." Unfortunately, none of those efforts were successful and the show would ultimately be replaced by The Kelly Clarkson Show which has now been renewed through 2023.
Steve's Reaction
As you can probably guess, Steve Harvey wasn't thrilled about having his talk show canceled, but he didn't have any resentment towards Kelly Clarkson for getting his spot. During an interview with Ellen DeGeneres, Steve said, "You know, I'm a person of faith, so when a door closes for me, I just walk up the hall. It's more doors," he continued. "You've just got to keep going up the hall. So I open other doors and I'm back on TV and I'm happy for everybody. I like Kelly Clarkson, I'm happy for her." Steve also went on to launch a digital show on Facebook Live called STEVE on Watch. The show currently has a following of more than seven million people.
Will Steve Harvey Enter The Talk Show World Again?
It's been a few years since Steve was canceled, but Steve Harvey's face has continued to be a consistent presence on TV. He is still the host of Family Feud and he has done several other hosting gigs. At the moment, it appears that he is content with not having a talk show, but that doesn't mean that he won't consider returning to the air one day. If Steve were to get another talk show, I think we can all agree that viewers would welcome him back with open arms.