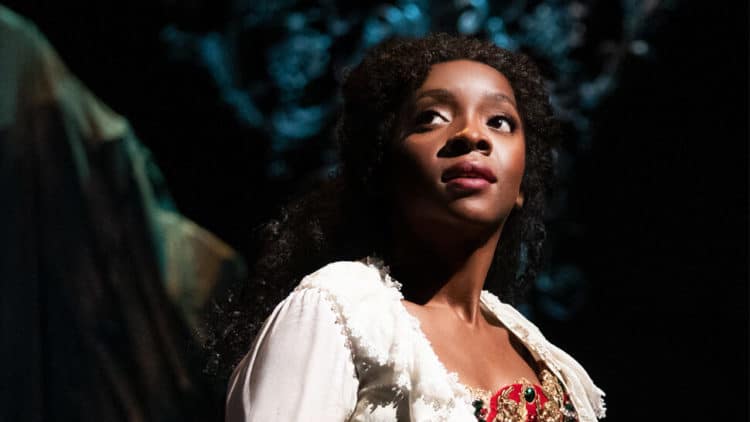 When Emilie Kouatchou looks back on her life, 2022 will probably be a year that she never forgets. This year alone has changed the trajectory of her life forever. Emilie recently made history as the first Black person to have a leading role in a production of The Phantom of the Opera on Broadway. This life-changing opportunity will probably lead to lots of other great things for Emilie. Not only is she excited to see what the future has in store for her, but her growing fan base is looking forward to it, too. After all, there aren't many 25-year-olds who can say that they've already made history. Continue reading for 10 things you didn't know about Emilie Kouatchou.
1. She's A Chicago Native
Chicago is a city that has a long history in the arts. It has been home to countless talented people – many of whom have gone on to become legends. Emilie was born and raised in Chicago and she is very proud of her roots. These days, however, she is living in the New York City area.
2. She's A Formally Trained Actress
There's no doubt that Emilie is a natural when it comes to acting, but talent isn't the only thing that has gotten her where she is today. Emilie has also put in lots of hard work to accomplish her goals. She attended the University of Michigan where she earned a BFA in musical theater in 2019.
3. She's A Private Person
Now that Emilie has made Broadway history, there are lots of people who would love to know more about her. Unfortunately, however, information on her isn't easy to come by. At this point in her career, Emilie hasn't shared much information about her personal life.
4. She Doesn't Have Any On-Screen Experience
Being on Broadway is arguably the biggest stage an actor can make it to. However, there are lots of theater actors who eventually find their way to the screen. As her career continues to grow, it'll be interesting to see whether or not Emilie decides to step into the film and/or TV worlds.
5. She's Bilingual
If you've ever tried to learn another language, you know just how difficult it can be. Needless to say, someone being able to speak more than one language is always impressive. According to her resume, Emilie is fluent in French. Her ability to speak French is probably due to the fact that her family's roots are in Cameroon where French is one of the country's official languages.
6. She Loves Fashion
Emilie may not have any experience in the fashion industry, but she definitely dresses like she does. She has a great sense of style and she seems to be a natural when it comes to putting outfits together. Just like acting, fashion has become a great way for Emilie to express herself.
7. Family Is Important to Her
While it's true that we don't know much about Emilie's life outside of acting, we do know that she seems to be family-oriented. Based on an Instagram post, it's clear that she has a strong relationship with her mother. That said, we aren't sure if Emilie has any siblings.
8. She Started Acting as a Child
Acting has been a part of Emilie's life for almost as long as she can remember. She got her start by performing in local theater productions when she was a kid. During an interview with the Chicago Sun Times, Emilie said, "I initially started doing theater because I was really shy, and we had just moved to this town, Palatine. My mom wanted to get me out of my shell. And I did it and I loved it".
9. She's Grateful for All of Her Fans
Emilie's rise to stardom has been relatively quick, but she hasn't taken any of it for granted. She has gotten lots of love and support along the way, and she will always be grateful for all of her fans. She told the Chicago Sun Times, "I love seeing those messages because it just makes it feel like even when I'm really nervous about the show, I'm doing something for a higher purpose".
10. She Almost Went to Business School
In 2020, things in the entertainment industry came to a screeching halt due to the COVID-19 virus. Many actors were unsure what the future held, and Emilie was among them. At one point, she even thought about quitting acting and enrolling in business school. Fortunately, however, things ended up turning around and Emilie was able to see her dreams come true.
Tell us what's wrong with this post? How could we improve it? :)
Let us improve this post!