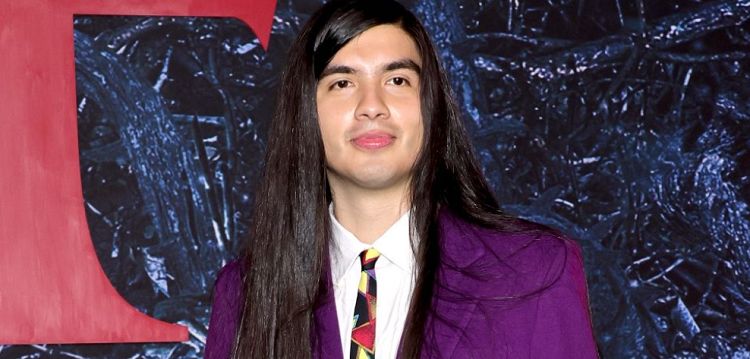 Even if you don't know his name, you know his hair. Eduardo Franco is the guy every woman feels envy of when they see his long, dark, shiny, healthy, gorgeous hair. He's also the man from Stranger Things who is doing big things as an actor. If you haven't seen him in any of his recent work, here's everything you need to know about the actor with the great hair.
1. He is a 90s Kid
He was born and raised in the 90s, which means his childhood was slightly different than anyone born after him. He didn't have a cell phone or social media growing up, and we imagine he – like the rest of us – appreciates that tremendously. He is a man who has a lot going for him, and it shows. He was born on August 29, 1994.
2. He's from Arizona
His childhood was spent in the west. He grew up in the city of Yuma, Arizona, which is not the most obvious choice for anyone who wants to go into the acting business, but he made it work despite not being in a city known for the work.
3. He's Been in Everything
While he is obviously most famous for his role in Stranger Things in 2022, he's been in a little bit of everything. From Queenpins in 2021 to American Vandal to Gabby's Dollhouse, he's been all over the place. His name is not quite household yet, but it will be.
4. He is Funny
It seems that what people love the most about him is his humor. He's funny. He has a lot to offer, and he is making big things happen. People notice him because he makes them laugh, and most of his roles to this point have allowed him to take on a comedic route.
5. His Parents Worked Hard
Growing up, he was from a solid middle class family. His mother was a housewife who stayed home to raise the kids and care for their home, and his father was a businessman. He saw his family work hard and make things happen, and he always knew that hard work was paramount to success.
One thing that he did as a kid is respect his parents and the work that they put into his life. He remembers being a kid who got a job at a movie theater. It was his first job, and he was so excited about it. His plan was to save his money and purchase a car for himself, but that did not pan out. He remembers that his parents did everything for him, and that money was something he wanted to give to them to help them pay their bills rather than buy a car.
7. His Parents Supported His Dream
He wanted to be an actor, and his parents supported that. While they could not financially support him when he headed to Los Angeles to pursue his dream, they did support him in all the ways that count. He knew that he had their love and their respect, and he also knew it would be hard without the financial aspect of being able to go. He did it, though.
8. His Aunt Does His Hair
Growing up, his hair was always maintained by his aunt who owns a salon in Mexico just over the Arizona border. He'd go to her for his hair styles and his maintenance. He is known for having long, dark locks, and we can say for certainty that we are all envious of his gorgeous hair.
9. He's a Private Man
He grew up knowing that privacy is such an important thing. He maintains that even as a working actor. He's happy to share things about his life and his family, his history, and his jobs, but he's not sharing anything about his personal life and how that is going for him. He does prefer to keep that to himself, and there is nothing more admirable in life than someone who is famous but also wants to keep something to himself.
10. He's So Close to His Family
He speaks often about the fact that his family supports him and loves him, and he is very close to his mother and his father. He says that the single most important thing in his life is when he picks up the phone and his mom and dad are on the other line telling him that they love him and that they are wishing him luck on his auditions and his work. They're so close.