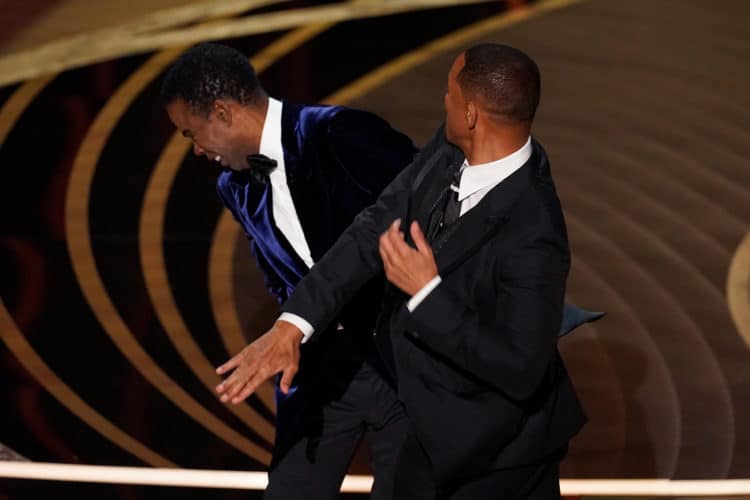 So, we all know about the slap heard around the world at this point. That incident was pretty much the result of a harmless G.I. Jane that would've easily been forgotten in a matter of seconds if Will Smith didn't react in an irrational manner. However, it's not the Will Smith incident that has put comedians in a state of turmoil, but that moment has seemingly sparked more people to stand up to comedians who tell jokes that they don't particularly like. Another example is Grammy-winning rapper T.I, who heckled a comedian for cracking jokes about the sexual allegations that were pitted against him. However, this isn't the first time that comedians have been blasted over controversial jokes. Kevin Hart was chastised from his Oscar hosting gig following a gay joke. And we all know much the media "loves" Dave Chapelle's jokes. The time for edgy jokes is seemingly being erased, and comedians are being blasted for simply doing their jobs.
Here's the thing, if you don't find Dave Chapelle's brand of humor funny then that's okay. Does he push the boundaries? Definitely. If you simply rolled your eyes at Chris Rock comparing Jada Pinkett-Smith to G.I. Jane then that's perfectly fine as well. All comedy is subjective. In fact, all forms of media are subjective. Jokes can push the boundaries that come across as offensive. However, at the end of the day, they're just jokes. It's not a form of bullying. Nor is it a form of hate speech. Did anyone actually check on Kevin Hart's criminal history? Is there any crimes that he's committed, especially hate crimes towards someone in the LGBTQIA+ community? What about Dave Chappelle? Look, a joke is always going to hurt someone because there's a layer of truth hidden within the messaging. Jokes aren't meant to be cruel reminders of someone's pain and suffering. They're meant to bring a smile or two out of someone's situation. Whether you think they're funny is entirely up to you, but this culture of trying to silence a comedian is extremely harmful.
There's a false narrative that jokes are a form of bullying or hate speech, but when was the last time someone committed suicide over a mean joke? Exactly how have jokes sparked any moment of violence? Again, you don't need to find these types of jokes funny, but trying to silence a comedian is more harmful than good. It takes away their freedom of speech and it makes the world seem sensitive because someone said a particular joke they didn't like. There is simply no defense for the Will Smith incident. Fine, you didn't find Chris Rock's joke funny. Tell me, Jada Pinkett-Smith was being compared to a strong female who just happens to be bald, what's the harm in being called strong and beautiful? It doesn't matter if Chris Rock knew that Jada had alopecia or not, the actress isn't suffering from stage five cancer. She's losing her hair. That's it. Comedians are brought to the Oscars to roast the elite and Jada shouldn't have been the exception. Will Smith's moment is harmful because the actor essentially got away with a slap on the hand, and now it's given citizens the idea that it's okay to harm a comedian because of them doing a job.
What happened to just simply laughing at ourselves? When did become okay to put jokes on the same level as hate crime or bullying? Why is is okay to ruin someone's life because their joke momentarily hurt someone's feelings? The world shouldn't function based on feelings. Imagine if your boss hurt your feelings for screwing up and your response is to knock him out? What if your teacher slapped the taste out of your mouth for telling a joke that hurt his/her feelings? The world wouldn't be able to run in a rational manner because people are not using logic and reasoning to base their decisions on. Comedians have the right to tell any joke that they want. You also have the right to decide whether it's funny or not. If you find it offensive, don't watch. We shouldn't be taking away someone's power of free speech. Of course, if comedians were spreading hateful rhetoric that caused violence then that's clearly different. A comedian's purpose is to make us laugh and smile in a world that's simply chaotic. Telling a comedian, "You shouldn't have said that" isn't the solution. Being able to handle yourself in professional manner is. You don't find a joke funny? Simply ignore it. If you can't even take a joke then how can you survive a cruel world when people have no problems being mean? It's worse now that social media exists. Given all the crap that we have to deal with on the outside world, silencing a comedian should be last thing on anyone's list.