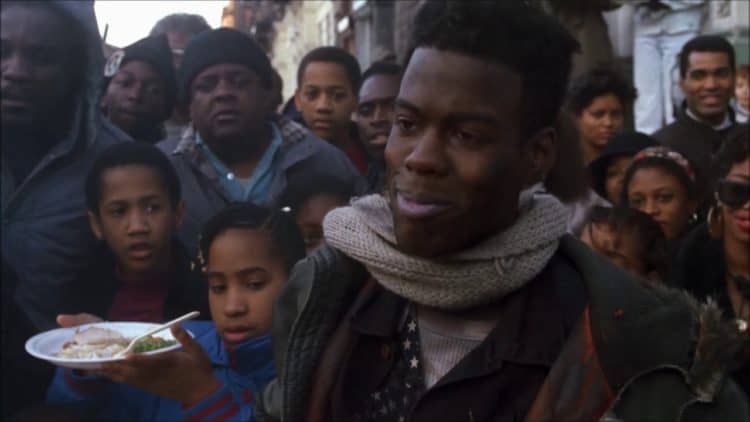 It's not uncommon for a lot of actors to take on various roles that they don't appear suited for since being honest, a lot of actors think they can adapt and do pretty much anything and make it work. Some can, and some realize that trying to do something wouldn't be the wisest idea since they might not be in the right frame of mind or might not have the right skill set to take a role that's offered to them. It takes some doing, but thinking up a role for Chris Rock on The Sopranos might actually work if the story was able to wrap around it to accommodate such a character. Obviously that time has come and gone, but Chris Rock did talk about how he was offered a role on the popular show and refused more than once, citing that he had too much respect for the show to try and make it work. Some folks are liable to roll their eyes and think of this as an egotistical way to state that Rock didn't want to do it, but looking at things from a different perspective makes his refusal take on a different meaning, and as a result, it becomes easier to respect his decision.
Back when The Sopranos was still a big deal on TV and fans were doing everything they could to work their day around each episode, Rock was still heavily into comedy and had his own talk show. He was definitely still in a comedic frame of mind and because of this, it's likely that he didn't want to step into a crime drama that would require someone that was going to be able to take things seriously. Could Rock have done this? There's no doubt he could since he'd already starred in a couple of movies that had cast him as a character that had to take things seriously. But at the time he was given the offer it obviously didn't feel right to him, and as a result, he simply said no. That might have been one of the best decisions he ever made even if people don't want to unanimously agree.
The fact that actors do have an idea which roles will work for them and which won't is kind of a frustrating idea since it would mean that throughout the history of cinema that plenty of movies and TV shows would have benefited from NOT having certain actors play roles that were destined to tank. But then, thinking a little more on this idea, it's fair to state that trying a role and tanking it isn't that big of a deal, except to diehard fans, since it can either make it clear that an actor isn't cut out for a certain role, or has a lot of work to do if that's the direction they want to move in. Taking a look at Rock's career over the years it should be obvious to anyone that he's changed quite a bit. From being a comedian doing standup routines and having his own show to starring in family movies to being a serious, dramatic actor, Chris Rock has come a long way. In fact, if The Sopranos had continued this far it's fair to say that he might be in the right frame of mind to take a spot on the show, or at least be a guest star.
Anyone doubting this might need to recall that he placed himself in Spiral, an extension of the Saw trilogy, which is anything but comedy or family fun. This means that Rock is capable of taking on very serious roles, as is the fact that he was in the Fargo series. As an actor, he's grown quite a bit over the years and he's changed his act just enough to where he's still just as funny as ever but is now incredibly diverse when it comes to his talent. It does feel that Chris made the right move when he said no to The Sopranos years ago, but as of now, he could easily step into the show if it were still around.
Actors do tend to know sometimes when something feels right or when it doesn't in terms of their career. Some actors kick themselves for not getting in on a role that they say no to in the past, but others are glad they did since they didn't see anything happening in that direction at the time. The big difference between those that go gung-ho for a role and those that might say no to it because it doesn't feel right is that the latter may or may not have other prospects to follow, but the fact is that they're being respectful towards themselves and the project in question by determining if they're the right fit.