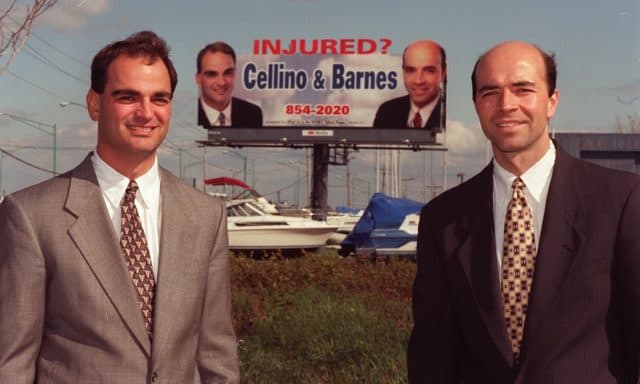 It's not like a big law firm breaking up is huge news but it is when it's Cellino and Barnes. Every single person in New York who has a TV knows who these guys are and are familiar with their jingle of "1-800-888-8888. " The personal injury lawyers are apparently calling it quits. According to the NY post
The famed "Cellino & Barnes" jingle may soon be a thing of the past. Ross Cellino Jr. filed a lawsuit against his longtime partner, Stephen Barnes, in State Supreme court Wednesday to dissolve the firm, according to media reports. It wasn't immediately clear what claims Cellino cites in his lawsuit, according to Buffalo station WGRZ-TV. Barnes is scheduled to respond to the suit on May 19 and show why the firm shouldn't be dissolved, the records show. Several documents, including Cellino's petition, remain sealed by the court. Terry Conners, the attorney representing Cellino, declined to comment to station WIVB Wednesday night. The injury law firm – which urges victims "Don't Wait, Call 8" in advertisements – has law offices across the New York metro area, as well as in Buffalo, Rochester, Los Angeles, Oakland and San Diego.
You can bet that personal injury lawyers are now chomping at the bit to become the head honchos of New York. Can you even imagine how much it probably cost just to get that all 8's phone number? I don't think people realize how big a deal this is in the personal injury arena. I'll really miss this jingle guys. Ugh, now I can't get this darned song out of my head.
Tell us what's wrong with this post? How could we improve it? :)
Let us improve this post!