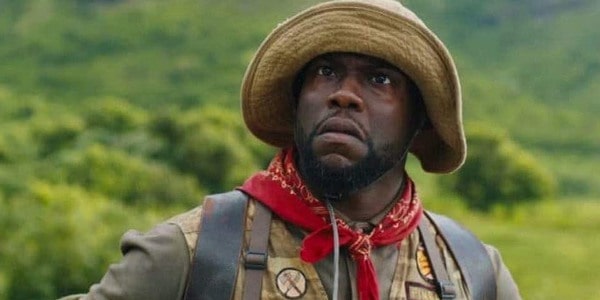 We were first introduced to Kevin Hart when he made an appearance as Luke on three episodes of Undeclared. At the time, Hart had not hit it big yet and was well on his way to making his mark. Eventually, he got the perfect opportunity, the one that would take his brand and catapult him to the next level of fame: Soul Plane. In an interview with Seth Meyers, Hart said, " Soul Plane was supposed to be the one that was gonna take me out of here. Oh my God! It's about to go down…Somebody give me the money train, coz after this movie, it's gon' happen."
That dream quickly took a different turn when Hart found himself at the airport. At the time, he and the cast were still in the process of filming the movie. A guy came up to him and said, " Oh my God! You're the guy from Soul Plane!" Hart was amused. When he inquired further, he learned that the movie had been bootlegged. "It's out, I saw it," the guy said. He began narrating all of the scenes from the movie, much to Hart's disappointment. The guy further pulled out a bootlegged copy of the film and asked Hart to sign it. Kevin Hart was right about Soul Plane, except his big break did not happen like he thought it would. Thanks to the bootleg version of Soul Plane, he grew popular in the streets within a month." I was 'that's the guy from Soul Plane' for a long time." Hart said.
Through the years, Hart has transitioned from 'the guy from Soul Plane' to a mogul in the making. While Soul Plane gave him popularity in comedy clubs, Hart has since founded HartBeat Productions and Laugh Out Loud Productions, both of which have earned him partnerships with some of the biggest names in the entertainment business. Hart began HartBeat Productions with a team of two. The company has since grown to have over forty employees and is responsible for Hart's standup specials including What Now, Let Me Explain, and Laugh At My Pain, alongside Real Husbands of Hollywood, that's set to make a comeback. Kevin Hart founded Laugh Out Loud Productions in 2017. The company has brought us shows such as Cold as Balls and What the Fit, which aired on YouTube, and Hart's first talk show, Straight from the Hart, which streamed on Pandora. Most recently, Kevin Hart debuted his latest talk show, Hart To Heart.
'Hart to Heart'
Hart to Heart debuted on Peacock TV on Thursday, the 5th of August. The show is not Hart's only collaboration with the streamer, as he also hosted Olympic Highlights with Snoop Dogg. Announcing the show on his Instagram, Hart wrote, "Expanding my brand even more. This has always been a goal of mine and now it's a reality, people! Mark your calendars for August 5th and join me on my new show Hart to Heart streaming only on Peacock TV." Promoting the debut of his show, Hart told his audience, " Welcome to my first-ever talk show. Now, I know what you are thinking: 'Kevin, it's just a talk show, no big deal.' Wrong, People! We're gonna get to know one another. We drink wine here. We're gonna have a Hart to Heart."
True to his words, the NAACP Image Award and Nickelodeon Kid's Choice Award winner had the best time with his inaugural guest on the show, Miley Cyrus. First, he set the ground rules by letting Cyrus know that there weren't any rules at all. " I like the fact that I'm taking a big risk, and doing what hasn't really been done. Talk shows, normally we go on and know what's gonna happen. We know the questions they're gonna ask you, you know the road of conversation. I'm taking the risk. I don't wanna talk before. I wanna get to meet people, get to know people…This is us having a conversation for the first time…We're gonna have ourselves a Hart to Heart."
Hart and Miley delved into her monumental success at Disney, and how it came about. The singer, who was cast as Hannah Montana at the age of 12, had a three-day drive with her mom from Nashville to California to get to her audition. Her call back birthed what has been an illustrious career, despite the fact that the friends she'd auditioned with didn't get their parts. "I don't think I fit in in the small town that I was in," Cyrus said. Miley has since had more high highs than we can count, a wild phase through which she cruised in the full glare of the public, and over a hundred award nominations to boot. Of her conversation with Hart, Cyrus said, " I think that I've had..uh..I felt very disconnected from my community of creatives for a long time. When we first sat on this chair, I was having an out-of-body experience. I was in my robot mode that I was taught to have…I was still doing all the things you talked about, and I would have missed on something…It was really nice of you to do that."
Since his episode with Cyrus, Hart has unveiled more guests on his show, with whom he has had in-depth conversations. Actor Don Cheadle touched on the amazing people he's worked with across the years. " They're all very different. And they're all very unique. And all very serious about their work, and what they wanna achieve." He said. Taraji P. Henson emphasized the importance of mental health. Jimmy Fallon discussed his faux feud with Matt Damon, and Cameron Diaz touched on the reason she retired from acting. " When you do something at a really high level for a long period of time, when you're the person who's started delivering on this one thing, you're the person on the screen, you're the person who's like 'the talent', everything around you, all parts of you that aren't that have to be handed off to other people…Cameron Diaz is a machine…But for my personal spiritual self, I was realizing that, that one part of me that functioned at a high level wasn't enough." She said. Hart is yet to avail more guests on the first season of his show, and one thing is certain: they're having a Hart to Heart.