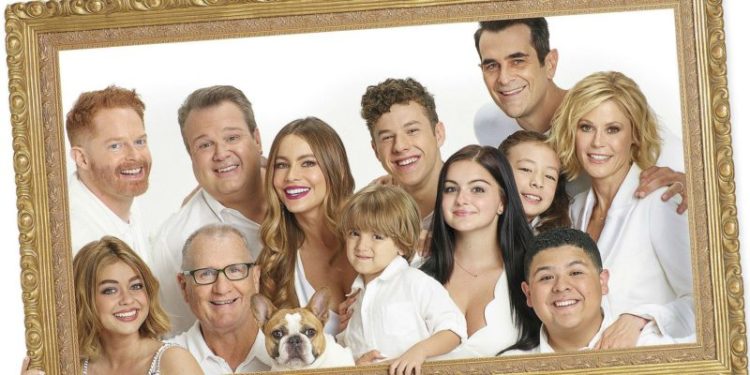 Modern Family aired for 11 seasons, from 2009 to 2020, on ABC. A mockumentary-style sitcom that depicts the life of an American family in the 21st century, Modern Family features the Pritchetts, the Dunphies, and the Tucker-Pritchetts as they discover what it means to be a part of a modern nuclear family. A New York Times review of the show took note of how "modern" is constantly emphasized in the show, writing, "But all the attention on Mitch and Cam's lip life overshadowed deeper strands that make the show even more probative of contemporary culture. For starters, the characters in "Modern Family" are so immersed in technology that nearly every scene is refracted through a digital funhouse: an iPad screen, a cellphone camera, a baby monitor, a YouTube video. Characters spend half their time glancing past one another rather than communicating directly." The show stars Ed O'Neill as Jay Pritchett, Sofia Vergara as Gloria Pritchett, Julie Bowen as Claire Dunphy, Ty Burrell as Phil Dunphy, Jesse Tyler Ferguson as Mitchell Pritchett, Eric Stonestreet as Cameron Tucker, Sarah Hyland as Haley Dunphy, Ariel Winter as Alex Dunphy, Nolan Gould as Luke Dunphy, Rico Rodriguez as Manny Delgado, Aubrey Anderson-Emmons as Lily Tucker-Pritchett, and Jeremy Maguire as Joe Pritchett. The show has won multiple nominations and awards, including an astounding 80 Primetime Emmy noms (with 22 wins), 25 Screen Actors Guild noms (with 5 wins), and 12 Golden Globe noms (with 1 win). It's also made the careers of several younger cast members, such as Sarah Hyland, Ariel Winter, Nolan Gould, and Rico Rodriguez. Because Modern Family was such a hit, it significantly contributed to the wealth and status of some of its cast members. Here are the three richest cast members of Modern Family.
Ty Burrell ($26 million)
Ty Burrell played the Dunphy patriarch, Phil Dunphy, a real estate agent and goofball dad who, as far as parenting goes, is on the more lenient side as opposed to his stricter spouse, Claire Dunphy. On whether Ty Burrell is similar to his character on the show, the actor had this to say, according to The Guardian: "The truth is I'm too neurotic. I have too many bees buzzing in my brain. Being in Phil's head is like taking a trip to the spa. But I do share his obliviousness. The other morning, when it was very dark, my wife whispered from the bed: "Have a good day." I leaned over and kissed the lamp." For his role as Phil Dunphy, Ty Burrell has been nominated and won multiple awards, including two Emmy wins (with eight successive nominations) as Best Supporting Actor in a Comedy as well as four consecutive awards for Outstanding Performance by an Ensemble in a Comedy Series, shared with the rest of the cast. Aside from Modern Family, Ty Burrell has also appeared in Dawn of the Dead, The Incredible Hulk, Mr. Peabody and Sherman, and Finding Dory. On TV, he's worked on Boondoggle and Duncanville, co-starring Amy Poehler. Burrell's net worth is estimated to be at $26 million, according to Celebrity Net Worth. The actor's salary during Modern Family's first few seasons was reportedly around $190,000 per episode. He got a massive raise, bumping his per-episode salary to $500,000 during the show's later seasons.
Ed O'Neill ($65 million)
It's no surprise that Ed O'Neill is significantly wealthier than most of the cast members of Modern Family. O'Neill is a TV veteran, having played Al Bundy on the Fox Network sitcom Married… with Children for 11 seasons, from 1987 to 1997, before joining the cast of Modern Family. For appearing in two highly successful sitcoms, Ed O'Neill says it was like winning the lottery twice, according to Page Six. In an interview with Business Journal Daily, Ed O'Neill talked about shooting the last episode of Modern Family. "The last two weeks of shooting, there was a build up of emotion and you could feel it all around you," he said. "It got inside of you. People were getting choked up and it built up to that last day. The last two days were long ones because the [whole cast] was together filming for 12-hour days and it became very emotional." He also appeared in a couple of episodes of The West Wing as Governor Eric Baker. Outside of his on-screen roles, Ed O'Neill frequently lends his voice to various projects, most notably for the medication Zyrtec, as well as for animated movies like Finding Dory and Ralph Breaks the Internet. The actor reportedly earned $12 million per season of Modern Family during its later seasons, which significantly contributed to his net worth. O'Neill has a current net worth of $65 million.
Sofia Vergara ($180 million)
Sofia Vergara portrayed Gloria Pritchett on Modern Family, Jay Pritchett's significantly younger Colombian wife. A recurring joke in the show is that Gloria is a few years younger than Jay's eldest child, Claire Dunphy. Surprisingly, Sofia Vergara has the highest net worth of all former cast members of Modern Family. The reason for this is that, as a fashion icon, Vergara makes a significant amount of money from her non-acting endeavors. In an interview with Variety, Vergara said that a bulk of what she earns comes from her business ventures. "I've made a lot with endorsements and being a spokesperson," she says. "That has given me a lot of money – and I've done a lot of them." The actress, however, thinks that her wealth is often exaggerated by people. "I feel like it's a bit of an exaggeration though — don't forget that I have to pay horrific taxes too." According to Celebrity Net Worth, the actress is involved in lucrative brand endorsements, including CoverGirl, Head & Shoulders, and Diet Pepsi, as well as working on her own clothing lines. During her time on Modern Family, Vergara was one of the highest-paid TV actresses, earning $19 million in 2013. Vergara is married to actor Joe Manganiello. The two purchased a $10.6 million mansion in the Beverly Hills area of California in 2014. In 2020 they purchased a $20 million mansion in Beverly Hills park. The house used to belong to baseball legend Barry Bonds.
Tell us what's wrong with this post? How could we improve it? :)
Let us improve this post!