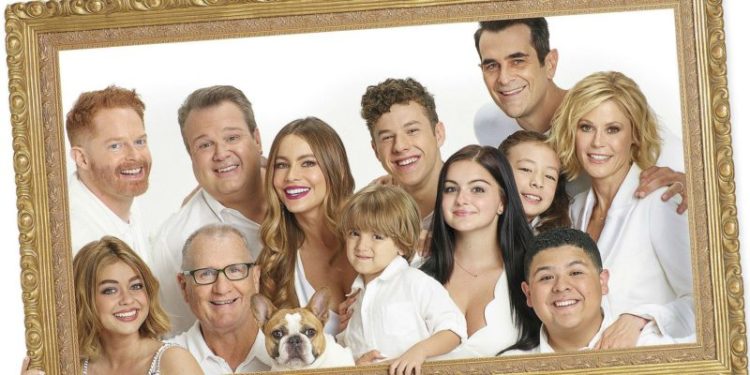 Modern Family, the hilarious sitcom that follows members of a "modern family" as they appear to talk to a cameraperson who is documenting the story of their lives, is drawing to a close. Just last year, ABC announced that the beloved family show would be ending after Season 11. The show is currently in the midst of its final season; the series finale will air on April 8, 2020. Filled with ridiculous storylines, complicated plots, and no shortage of laughs, Modern Family will certainly be missed. But even as the show says its final farewell, will that actually be the last we see of the modern family clan?
Given the immense popularity of the family comedy, many fans are now wondering if Modern Family will give birth to a spinoff or two. The comedy is full of opportunities for spinoff shows, starting with Haley Dunphy, who literally gave birth to twins at the end of Season 10. Haley's storyline and the beginning of her own modern family with dubiously intelligent, on-again-off-again boyfriend Dylan (Reid Ewing) present the most obvious choice for a Modern Family spinoff, complete with openings for an entirely new cast as well as plenty of potential guest appearances from the original cast.
Haley and her young, chaotic family are not the only open opportunity for a spinoff show. Other characters might deserve their own shows, or think that they deserve their own show, in the case of Phil Dunphy (Ty Burrell), the "cool" dad of the show who embarrasses his kids, attempts magic tricks that sometimes succeed, and works as a real-estate agent. Or Mitchell Pitchett and Cameron Tucker, resident dynamic duo, who are thinking of relocating from L.A. to rural Missouri, a move sure to produce drastic but hilarious change. Or what about Alex Dumphy (Ariel Winter), the sarcastic genius of a middle-child, never truly given the opportunity to stand out in the middle of her loud and crazy family?
Modern Family's creators have neither confirmed nor denied nor ruled out the possibility of an emerging spinoff series. ABC Entertainment president Karen Burke said back in 2019 that while she has stepped back on the idea of starting a spinoff series, the idea has merit. Burke cited Modern Family's co-creator Steven Levitan as being particularly opposed to the idea–but that she was not giving up. The show's creators are simply focusing on the show's finale rather than moving right past the emotional final season finale into spinoff territory. No spinoff works are in progress as of yet.
Following up on the rumors earlier this year, Levitan clarified that "right now, there are no plans" for a Modern Family spinoff. Meanwhile, cast members remain positive about some kind of continuation for the popular series. Both Reid Ewing (Dylan) and Aubrey Anderson-Emmons (Lily) have expressed interest in seeing their characters continue in spinoff series–hardly surprising, given that their characters remain fairly young and un-developed as individuals upon the ending of Modern Family. Julie Bowen (Claire) also responded favorably to the prospect of being in a spinoff series, so long as the new show also filmed in L.A. and had an "amazing cast."
The "will they or won't they" aside, there are plenty of reasons why Modern Family should not have a spinoff. From decreasing ratings to the exhausting number of family storylines already told, Modern Family has run its course and should be allowed to retire completely. At this point in time, after 11 whole seasons, Modern Family does not need a spinoff, and here's why.
Dropping Ratings
Like many long-running shows, Modern Family has experienced significant decline over the course of its run. Modern Family started seriously shedding viewers on the approach to its final season, reaching an all-time series lows in ratings at the end of the 10th season. Even a penultimate series filled with important milestones including the death of an important character and the surprise pregnancy of another failed to keep viewers.
While the show experienced highly dynamic ratings over the course of the first ten seasons, the bigger picture shows an overall decline for the past couple years and current ratings that are a far reach from the show's popularity in the first couple seasons. If a spinoff series follows an existing character and adopts a similar model to Modern Family, the truth is that popularity for the show is simply decreasing. Why risk creating an elaborate spinoff that only a few fans actually want to see?
Tired Storylines
It's impossible to keep things completely fresh over the course of 11 seasons. While Modern Family does an admirable job of changing things up and keeping the show interesting with new characters and lively subplots, the fact remains that upon its conclusion in April, the show will have run for 250 episodes. Spinoff series, particularly as they follow characters already followed throughout 11 seasons worth of Modern Family, could too easily fall upon already trodden territory.
It wouldn't ever, ever be as good
No spinoff ever lives up to the original show. Just look at the Golden Palace–the short-lived and famously bad spinoff of the Golden Girls. Whether you'd like to start ranting or just forget that the Golden Palace ever existed, the fact remains that the show was canceled almost as quickly as it was created. The Golden Girls isn't the only legendary show shadowed by an un-watchable spinoff. Take a look at The Bradys (original: The Brady Bunch), That '80s Show (That '70s Show), or The Cleveland Show (Family Guy). Just look, because watching is not recommended.
No spinoff could ever live up to the crazy characters and classic comedy of the original Modern Family. The show certainly had its day. Or, 11 years. Fans can watch and re-watch the series as much as their little hearts desire. In the end, you just have to let it go.
Tell us what's wrong with this post? How could we improve it? :)
Let us improve this post!