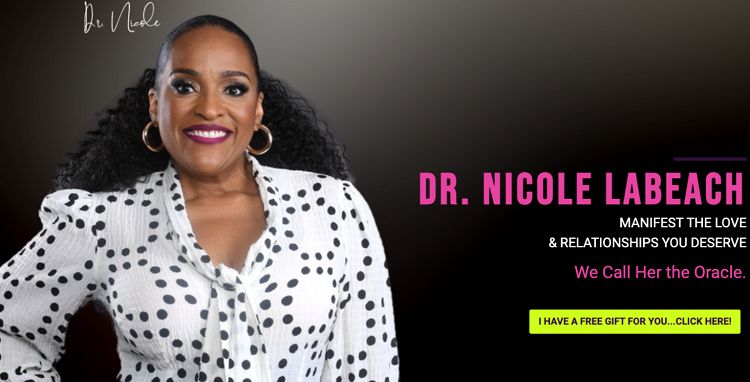 When Dr. Nicole LaBeach began her career as a psychologist and relationship counselor, she probably never thought she would end up on TV. However, when the chance to help people on the small screen came along, Dr. LaBeach knew she couldn't pass up on the opportunity. As the resident therapist on the OWN series Put A Ring On It, Dr. Nicole LaBeach has become a useful resource to couples who are contemplating whether they should get married or go their separate ways. Her calm demeanor and wealth of knowledge have made her the perfect person for the job, and she's a major part of the reason why the show has been a success. Keep reading to learn 10 things you didn't know about Dr. Nicole LaBeach from OWN's Put A Ring On It.
1. She's A Brooklyn Native
Dr. Nicole is currently based in the Atlanta area, but she is originally from Brooklyn. During an interview with Talking with Tami, Dr. Nicole said, "My parents are from the Caribbean and my mother was a hairstylist. So I grew up hearing women talk about their problems in the hair salon. Although my mom was a hairstylist, she often wore many hats like being a counselor, coach and prayer warrior and more while doing hair. It made me very intrigued to hear other people's relationship problems, hopes and dreams."
2. She Has More Than 25 Years Of Experience
In this day and age, it's hard not to be skeptical of everything we see on reality TV. As a result, it can be easy to question whether or not people are really who they say they are. The good news is that Dr. Nicole LaBeach really has a doctorate degree and she has been a relationship coach for more than 25 years.
3. She's Private About Her Personal Life
A major part of Dr. Nicole's work involves other people's personal lives, but she has chosen to stay very private about her own. Outside of her work, there isn't much information about her online. She is active on social media, but all of her posts relate back to her work. Even though it would be nice to know more about her, staying private is probably a good decision for her.
4. She Loves Connecting With Her Supporters
Over the course of her career, Dr. Nicole has touched the lives of countless people. Many of them use social media as a way to stay in the loop with what she has going on. Dr. Nicole is thankful for all of the people who have supported her over the years and she enjoys interacting with them online.
5. Put A Ring On It Isn't Her First Time On TV
Put A Ring On It is the TV show Dr. Nicole is best known for, but it' snot the first or only one she's done. According to her IMDB page, she was on a show called Exhale in 2013. It wouldn't be surprising if we saw her continue to take on more TV opportunities in the future.
6. She's An Entrepreneur
Dr. Nicole genuinely loves helping people, but she's also all about her business. She is the co-founder of a company called Sister Diamonds, LLC. According to an article from Voyage ATL, "Sister Diamonds LLC embraces the unique experience of women globally and provides unparalleled, extraordinary opportunities to develop the future talent for the corporate and small business landscape. "
7. Her Faith Is Important To Her
We weren't able to find the specifics regarding Dr. Nicole's religious beliefs, but she does appear to be a Christian. Her faith in God has always played an important role in her life and it's something that has guided her along her journey both personally and professionally.
8. She Offers Free Advice Online
If you like what you've seen from Dr. Nicole on TV, the good news is that you can get access to more of her awesome advice by following her on social media. She often shares helpful tips with her followers that they can apply to different areas of their lives. You can also pay to work with Dr. Nicole directly by signing up through her website.
9. She's Dealt With Lots Of Challenges
Despite being private about her personal life, Dr. Nicole has revealed some of the difficult things she's had to deal with during her lifetime. In the bio section on her website, she mentions that she has experienced "child sexual abuse, divorce, losing everything and starting over, and restoring a challenged parental relationship".
10. She Went To An HBCU
Dr. Nicole is a proud graduate of Spellman College where she earned a bachelor's degree in psychology in 1993. She then went on to attend Saint Louis University where she earned master's and doctoral degrees in organizational and clinical psychology respectively.
Tell us what's wrong with this post? How could we improve it? :)
Let us improve this post!