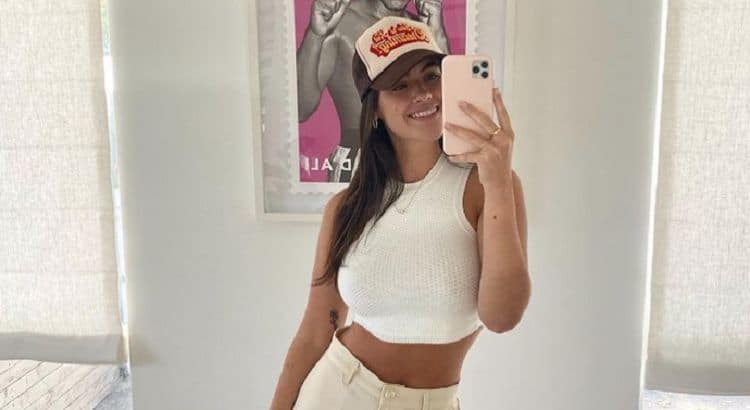 Dating a person who is well known to the public can make it difficult to keep a relationship low key. Natalie Joy has recently learned this thanks to her relationship with former Bachelor, Nick Viall. Nick appeared on two seasons of The Bachelorette before landing his own season on The Bachelor in 2017. Looking for love on TV didn't work out so well for Nick, but it looks like he's finally found what he's been looking for. The couple has officially been together for a year, and they've decided to go public with their relationship. Natalie doesn't have any reality TV or entertainment experience, but she is now known to reality TV lovers everywhere. Keep reading to learn 10 things you didn't know about Natalie Joy.
1. She And Nick Met On Instagram
Instagram may not be a dating app, but it is responsible for bringing lots of couples together. Although it's unclear exactly when Natalie and Nick met, we do know that they met on Instagram. Apparently, Natalie slid in Nick's DMs and it didn't take long for the couple to hit it off.
2. She's From Alabama
Natalie currently lives in the Los Angeles area, but she was born and raised in Auburn, AL. Surprisingly, she doesn't have even the slightest southern accent. She also lived in Savannah for several years. In an Instagram Q&A, Natalie also mentioned that she lived in New York at one point, but she didn't mention how long.
3. She's An Animal Lover
There's something indescribable about the bond between humans and animals, and this is something that Natalie knows first hand. She loves animals, but she has an extra special place in her heart for dogs. In June 2020, she posted a photo on Instagram that revealed she got a new puppy.
4. She's Almost 20 Years Younger Than Nick
At first glance, it may not be obvious that Natalie and Nick have a huge age difference, but they do. Nick is 40 and Natalie is only 22. Some people may find this age difference to be a little concerning since Nick is technically old enough to be Natalie's dad. However, the gap doesn't seem to bother either one of them.
5. She Loves The Beach
Now that Natalie lives in Southern California, she is taking advantage of all of the beauty it has to offer. In her free time, you can usually catch her outside soaking up the sun and enjoying some time at the beach. Natalie also likes to stay active so she can keep her body beach ready at all times.
6. She's All About Positivity
The world can be a very negative place, but Natalie has never let that bring her down. Instead, she chooses to see the good in things as much as she can. Natalie appears to be a very positive person who likes to make the most out of every moment life has to offer.
7. She Is A Surgical Technologist
Natalie may be young, but she seems to be very hard working and responsible. She is a surgical technologist who works for two private practices in the Beverly Hills area. According to the Bureau of Labor Statistics, "Surgical technologists, also called operating room technicians, assist with operations. They prepare operating rooms, arrange equipment, and help doctors during surgeries."
8. She's A Tracy Chapman Fan
Music has the power to connect people in ways that nothing else can. While it doesn't appear that Natalie is a musician herself, she is a big music fan. In her Instagram Q&A, Natalie revealed that "Fast Car" by Tracy Chapman is her favorite song of all-time. Ironically, the song was released more than 10 years before Natalie was even born.
9. She Loves Fashion
There are plenty of people who are only interested in clothes for their practical purpose, but clothes are much more to Natalie than that. She has a great eye for fashion and she has the confidence to pull off any kind of outfit. Whether she's getting ready for a night out on the town or a relaxing day at the beach, you can trust that Natalie is going to show up looking sleek and stylish.
10. She Isn't A Fan Of The Bachelor
There are millions of people who tune into each episode of The Bachelor, but Natalie Joy isn't one of them. While talking during her Instagram Q&A, Natalie shared that she never saw Nick's season of The Bachelor. She also mentioned that she didn't even know who he was when she decided to DM him. She simply thought he was a social media star.