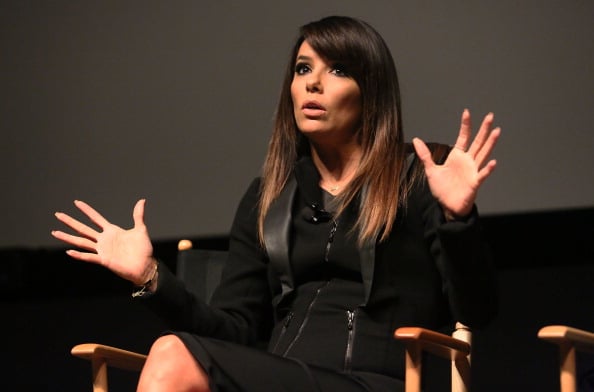 Brooklyn Nine-Nine ended it hilarious first season in March of this year. Fans of the sitcom will still have to wait a few more weeks for the second season, which is set to premiere in its new time slot Sundays at 8:30 PM beginning September 28, 2014. It was revealed this month that Eva Longoria will be appearing in three episodes. She will be playing Sophia, a defense attorney who battles Andy Samberg's Jake in court. Jenny Slate and Kyra Sedgwick have also signed on to guest star. Take a look at these 15 other facts about the comedy and its stars.
Photo by Astrid Stawiarz/Getty Images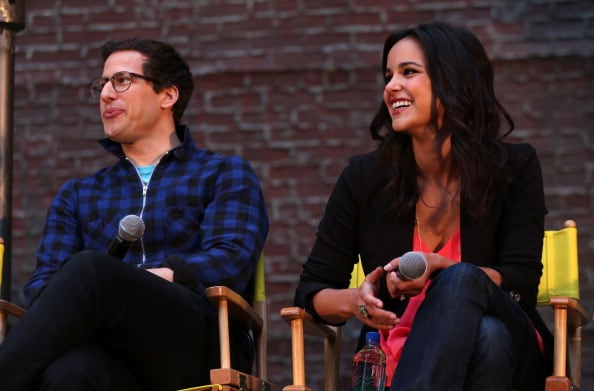 1. The exterior shots of the police precinct on Brooklyn Nine-Nine is an actual real police station. It belongs to the 78th precinct located at the corner of 6th Avenue and Bergen Street in New York City. If you are familiar with New York City, the building is located one block south of Barclays Center where the 2013 NBA Draft took place and one block east of the Bergen Street stop on the New York City subway. There are a total of 77 precincts located within the five boroughs of New York City. They range in number from 1 to 123.
Photo by Mark Davis/Getty Images
2. When series creators Michael Schur and Daniel J. Goor pitched Brooklyn Nine-Nine to the networks they described the characters as those that were similar to popular work place comedies The Office and Parks and Recreation. Both Schur and Goor work on Parks and Recreation, while Schur also worked on The Office. The great pitch caused a bidding war between the networks, with FOX taking the win even though a script has not even been created. Also, actor Andy Samberg was not in the original concept for the series as he was still committed to SNL when it was pitched.
Photo by Frederick M. Brown/Getty Images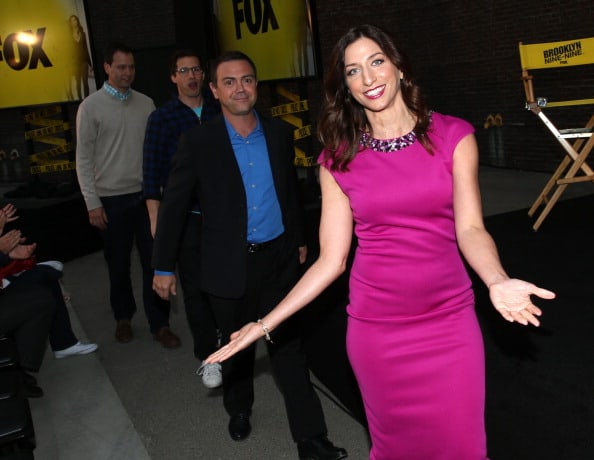 3. Chelsea Peretti stars as Gina Linetti on Brooklyn Nine-Nine. Peretti has also lent her voice to the television series China, IL. She did the voices for two characters: Crystal Peppers and Kim Buckett. Peretti even voiced a character in the Grand Theft Auto IV video game. Plus, Peretti has written for several popular comedies including Parks and Recreation, Saturday Night Live, and The Kroll Show. She was nominated for a Writer's Guild of America Award in both 2012 and 2013 and an Online Film and Television Association Award in 2013 for her contributions to Parks and Recreation.
Photo by Mark Davis/Getty Images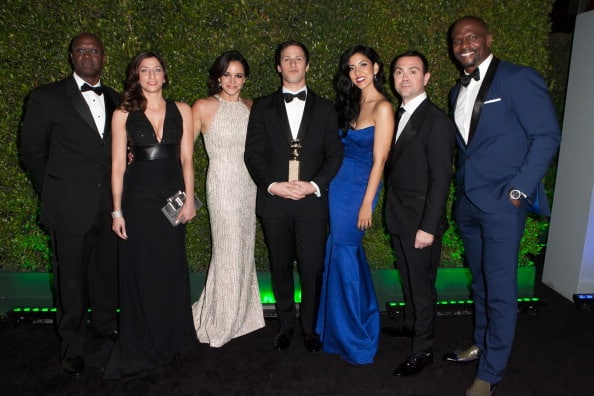 4. Brooklyn Nine-Nine took home two Golden Globe wins in 2014. Andy Samberg won for his performance as Detective Jake Peralta in the Best Performance by an Actor in a Television Series – Comedy or Musical category and the comedy was named Best Television Series – Comedy or Musical. Last week, the series won an Emmy Award in the category of Outstanding Stunt Coordination. Actor Andre Braugher received a nomination in the Supporting Actor in a Comedy category. Braugher has also already won a Critic's Choice Television Award in June.
Photo by Gabriel Olsen/Getty Images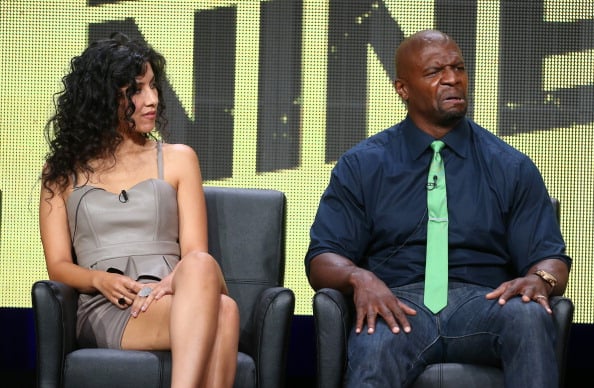 5. The first season of Brooklyn Nine-Nine has a total of 22 episodes, which is pretty common for a sitcom. When FOX picked the show up in May 2013, they only ordered 13 episodes of the series. The series was picked up for a full season on October 18, 2013. The series premiere was viewed by 6.17 million viewers. The comedy was moved to The Mindy Project's time slot when it took a brief hiatus. The season finale was on March 25, 2014 and was viewed by just 2.59 million viewers. It was ranked as the 98th most watched series overall for the year and averaged 4.8 million viewers.
Photo by Frederick M. Brown/Getty Images
6. This is not the first time that Brooklyn Nine-Nine star Andre Braugher has played a cop during his extensive career in front of the camera. Braugher spent six seasons playing Frank Pembleton in the series Homicide: Life on the Street from 1993-1998. He would exit the show before it ended in 1999. Braugher's real-life wife Ami Brabson played his wife on the series. Plus, he played Detective Winston Blake in several Kojak television movies between 1989 and 1991. Braugher has also played a lawyer on Law & Order Special Victims Unit.
Photo by Frederick M. Brown/Getty Images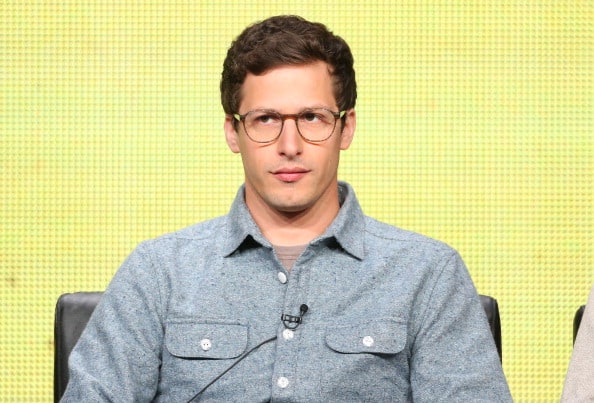 7. Before Andy Samberg made it big on Saturday Night Live, he was a production assistant on the Michael J. Fox comedy Spin City. The Brooklyn Nine-Nine actor worked on the show during its 22-episode final season from 2001-2002. At that time, Charlie Sheen had taken over for Fox, who vacated the show at the end of season five. The lot that Brooklyn Nine-Nine shoots on is the same place where Spin City filmed their episodes eleven years earlier. Samberg was also a production assistant on the television series Human Edge in 2001.
Photo by Frederick M. Brown/Getty Images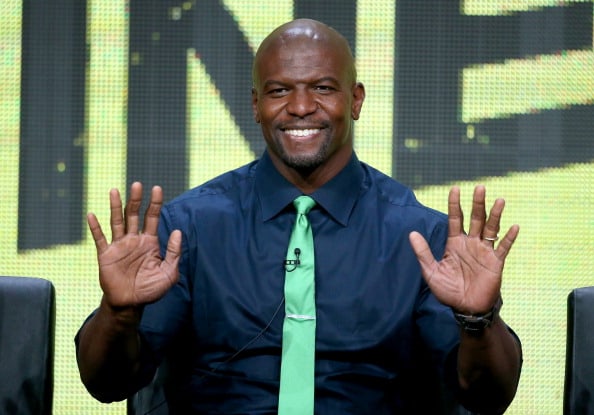 8. Brooklyn Nine-Nine star Terry Crews had a few different careers before entering the world of acting. Crews spent six years playing in the NFL from 1991-1997. He played for the Los Angeles Rams, the San Diego Chargers, the Washington Redskins, and the Philadelphia Eagles. Crews received an Art Excellence scholarship and a football scholarship at Western Michigan University. While playing professional football, Crews painted a line of NFL lithographs for Sierra Sun Editions, which sells different types of sports memorabilia.
Photo by Frederick M. Brown/Getty Images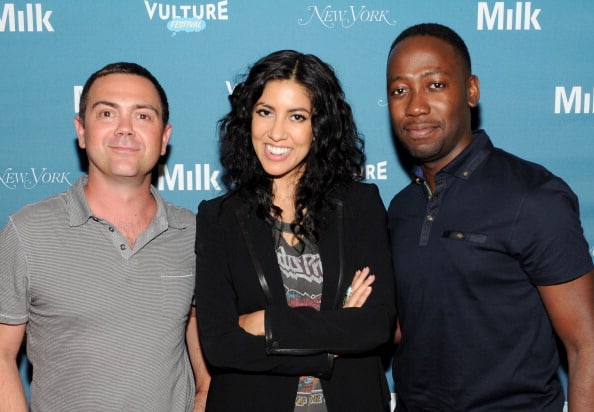 9. Stephanie Beatriz stars as Detective Rosa Diaz on Brooklyn Nine Nine. The actress never got the chance to meet star Andy Samberg prior to joining the show, but she was a big fan of his work. Batriz admits to being a huge fan of Samberg's musical comedy group The Lonely Island. The group currently has three albums: The Whack Album, Turtleneck & Chain, and Incredibad. Some of the group's songs were made into music videos on Saturday Night Live. Diaz was star struck working with Samberg during the first few weeks of filming the show.
Photo by Craig Barritt/Getty Images for New York Magazine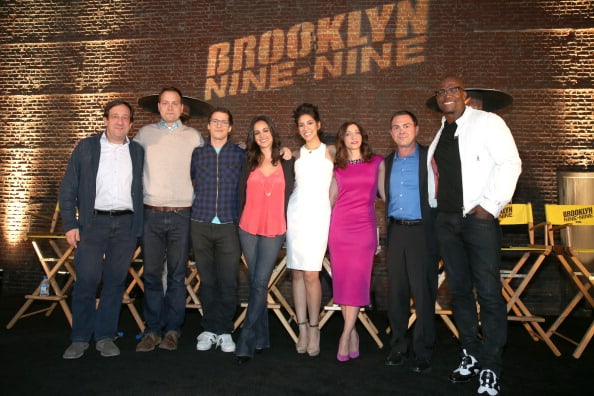 10. The cast of Brooklyn Nine-Nine really enjoys working together. Some of the cast's favorite scenes are those where the entire ensemble is on set. This occurred during the tenth episode of season one entitled, "Thanksgiving." Amy hosts the holiday feast and invites the entire precinct. Stephanie Beatriz told OK! magazine, "Chelsea Peretti and I were talking about how nice it was to bond on that episode because we all got to hang out and shoot, especially around that disgusting turkey that got flies around it by the end. It's really nice to be in a scene with us all together. They are my friends."
Photo by Mark Davis/Getty Images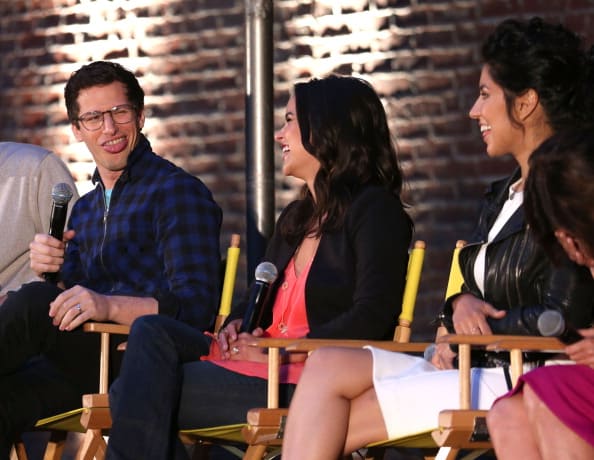 11. The producers of Brooklyn Nine-Nine are in no rush to make Jake and Amy a couple. Co-creator and executive producer Michael Schur said in an interview with OK! magazine, "Here are the two characters that we have. Here's the way that they relate to each other. Given their personality types and the fact that their desks face each other, there might be some kind of romantic intrigue at some point. As stories suggest themselves we follow those stories. We wouldn't have done the cliffhanger that we did if we had no intention of following the story."
Photo by Mark Davis/Getty Images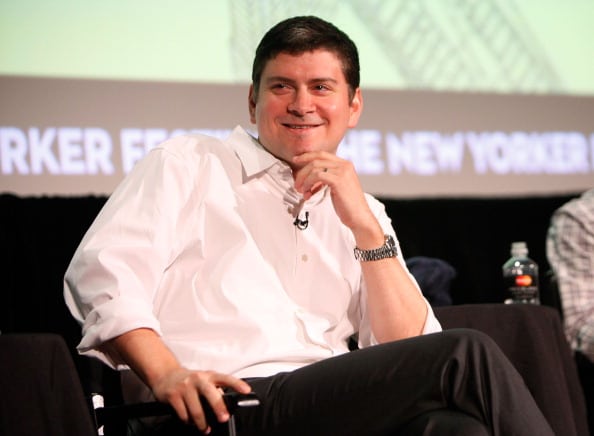 12. You may not have realized this, but you have seen Brooklyn Nine-Nine co-creator and executive producer Michael Schur in front of the camera as well. From 2006-2013 he played Mose, who is Dwight's creepy cousin, on The Office. He starred in thirteen episodes including the finale. Schur had this to say about his experience on the comedy, "Mose was basically a sight gag. I think I said a total of eleven words. Thankfully, I did a part that did not require me to have any actual acting skill. I am a terrible actor. I can write the words and have more talented people say them."
Photo by Amy Sussman/Getty Images for The New Yorker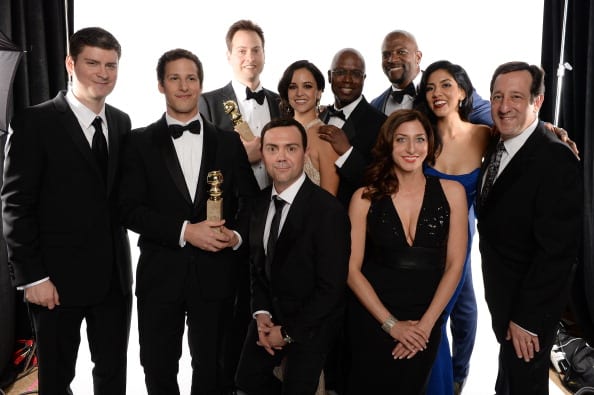 13. It is a common practice in the acting world for stars to prepare for a role. This could mean anything from learning another language to hitting the gym 7 days a week to bulk up for a part. To prepare themselves to be detectives, the cast of Brooklyn Nine-Nine all underwent real-world police and firearms training. The training covers pretty basic material such as learning how to load a gun and hold it properly to more advanced techniques like trying to take down a criminal that is attacking you. Some training even includes getting shot by a taser.
Photo by Dimitrios Kambouris/Getty Images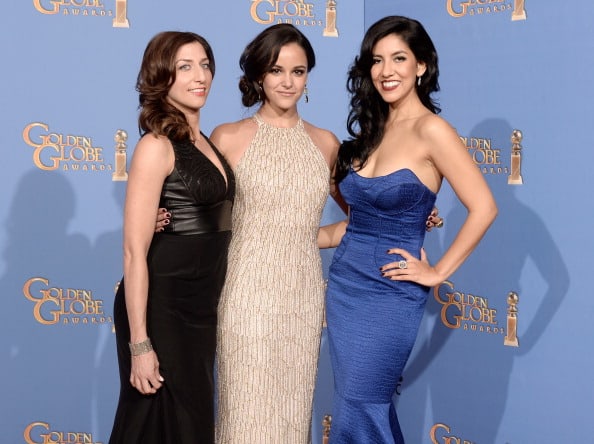 14. Melissa Fumero, who plays Detective Amy Santiago on Brooklyn Nine-Nine, spent four years playing Adriana Cramer on the soap opera One Life to Live from 2004 to 2008. She would return four additional times to play the character, if the script called for her to appear. Fumero even played the role on All My Children for two episodes in 2005. Fumero not only found love on screen, but she also fell in love off-screen. She married co-star David Fumero in December 2007. David played Melissa's cousin on the soap. He played the role from 1998-2003 and from 2005-2011.
Photo by Kevin Winter/Getty Images
15. Joe Lo Truglio, who plays Detective Charles Boyle on Brooklyn Nine-Nine, attended New York University. This is where he would meet most of his castmates from the sketch comedy show The State, which premiered in 1993 on MTV. The show ran for three seasons and starred Ken Marino, Michael Ian Black, and Michael Showalter. Not only did Truglio star in many of the sketches, he also wrote and edited them. Many of the cast would go on to star in the cult film Wet Hot American Summer, which came out in 2001 and also starred Amy Poehler and Bradley Cooper.
Photo by Frederick M. Brown/Getty Images
Tell us what's wrong with this post? How could we improve it? :)
Let us improve this post!