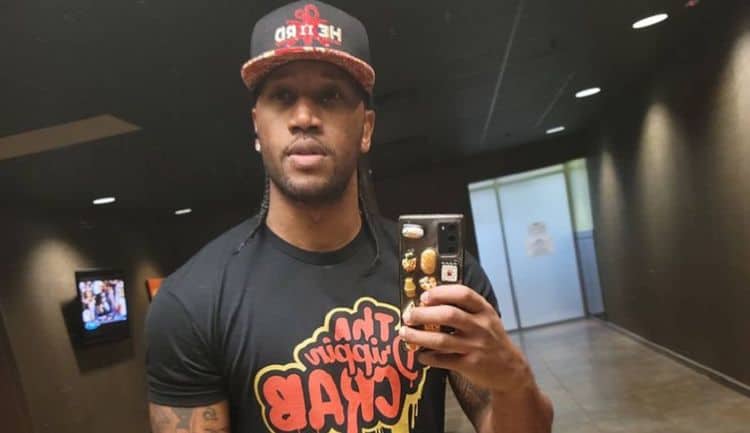 Darnell Ferguson is a name you recognize already, but we all know that he is currently competing on Guy Fieri's new show about champions. He's a chef and a man who is reputed to have one of the most positive personalities in the world – he's always smiling and lifting up those around him, and his fans love him. He's a regular fixture on The Food Network, and people adore him. Yet, it seems that many people have no idea who he is as a person outside of his roles on television. Where did he grow up? Where did he learn to cook? What made him into who he is today? There are a lot of questions and not as many answers for his fans, but we've come with all the most important information. Here's what you need to know.
1. He Wasn't Always So Positive
There was a time of trials in his life when he went through many things that he might not love looking back on. He's been arrested for selling drugs, he's been to jail, and he was even homeless for a time. He begged for couches to sleep on with friends so he'd have a place to stay when he did not have a place to stay. He wasn't always who he is now.
2. He Lost his Restaurant
After his trouble with the law and his inability to get his life together for some time, Darnell finally pulled himself up and made the decisions he needed to make to succeed in life – and he's doing just that. However, there was a time in 2015 when he owned a restaurant and faced a massive heartbreak when his restaurant burned to the ground causing him to lose everything. His faith got him through it, and he is forever thankful for that.
3. He Was Part of the Olympics
Well, he was a chef for Team USA, but let's be honest – that might be just as (if not more) important as being the actual athletes on the team. He headed to Beijing and he did what he had to do to make sure that his team ate well and healthy, and that they were able to have what they wanted, too.
4. He's Got a Large Family
He's a man who has turned his life around so much, and he is thriving. He and his lovely wife are the proud parents of eight children of their own – and that is so many kids. It's double the number of children my husband and I have, and it makes for a rather large, exciting, fun, challenging, loud, and never boring household.
5. He Gives Back
Perhaps the reason that he dealt drugs and spent time in jail and as a homeless person was part of a larger story. Perhaps those moments in his life are what he needed to help him acquire the compassion he has now. He is a man who does all he can to give back to at-risk youth, to those in need, and to empower the younger generation. He is constantly looking to see how he can help his community, and giving back is one way in which he does that. He teaches kids to cook. He hires people in his restaurants who are down on their luck. He does give back.
6. He Sees His Past as A Lesson
While most people would consider living in their car the worst thing that ever happened to them, he does not. He considers it one of the best things that ever happened to him. He knew that in that moment he would never go back to living that kind of life. He would never allow himself to be in that situation again, and that was a learning curve for him that shaped his future and his own goals.
7. His Middle Name is SuperChef
It wasn't always, though that would have been some serious foreshadowing on behalf of his parents, wouldn't it? He got the nickname many years ago, and it stuck. He paid to legally change his middle name to SuperChef, and we kind of dig it.
8. He Got Married in 2016
He and his wife have not been married too long, but they may have been together a long time. The truth is that no one really knows how long they were together prior to their marriage, but we do know that they got married in 2016. They have eight kids, and their youngest was born in 2020.
9. He Enjoys His Privacy
The thing about this man is that his privacy is important to him. He's a celebrity chef and judge and television star, but he prefers to keep his family as close to the vest as possible. He's not all over the place with them, but he does keep their lives as private as he can. It's something he finds important.
10. He's a New Host
He's about to start a new job that allows him to host a show about teeny, tiny food, and he's doing so with a woman who has been famous for some time. Her name is Mamrie Hart, and she's been famous since 2011 for making YouTube videos. She's one of the YouTube OGs, and this should be an interesting combination.
Tell us what's wrong with this post? How could we improve it? :)
Let us improve this post!