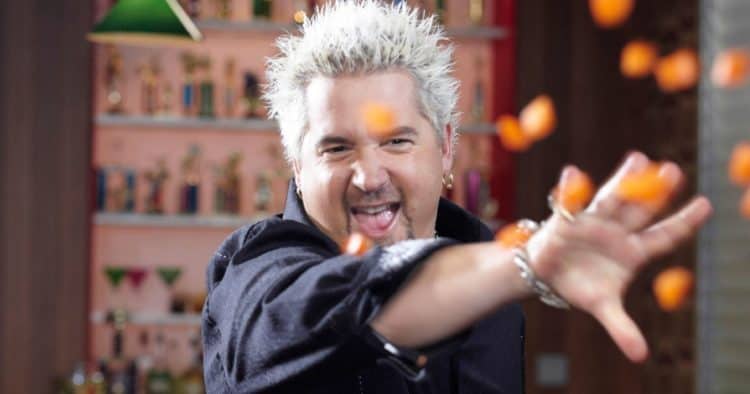 There's no doubt that Guy Fieri is one of those people that viewers either love or despise, but the guy has a flair for the dramatic that kind of takes the Food Network to a different level, and to be fair, he's no more full of it than the rest of the stars on this channel. But, like a few of those that are definitely seeing the moment as a way to keep their reputation up, and hopefully be decent people, Guy has been raising money for out of work restaurant employees since last year when the pandemic hit, and for that, it's easy to say that he might have more heart than a lot of people give him credit for. It sounds pretty disingenuous to say that Fieri is faking his time on the air when he's one of those that are advocating for working people, as we're being told, and has been able to prove it as payments have been going out to those that have been hit so hard by the effects of the pandemic. When people can't go out to eat since there's too much risk to sit within a few feet of each other, most establishments are bound to be hurt by such a development. While corporations definitely felt a pinch, small mom and pop shops were hit even harder since they couldn't pay their employees, their rent, their utilities, suppliers, and so on. Thanks to his efforts to reach out and help people the Food Network decided that they didn't want to let Guy go just yet and signed a deal that will keep him around until 2024 at the very least.
As for Guy's part in this, it's fair to think that people are going to keep talking since that's kind of what happens when anything good or bad is happening, opinions start flying like gnats, most of them are irritating but they're nearly impossible to get rid of. It's easy to think that the Food Network doesn't want to get rid of this guy right away since not only has he been entertaining people for so long, but he's a definite PR magnet at the moment that a lot of networks would probably pay good money to have in their corner. Anyone that's into helping people and not always bashing others is bound to be someone that a lot of people might want to hang around, though he did get in a dig concerning Jeff Bezos of Amazon. If that's a personal dig or not it's hard to say, but right now Guy Fieri is on fire when it comes to his positive outlook and the ability he's shown to help the American people that have been suffering. This is about when the average cynic would come in and state that he hasn't helped everyone and therefore he's not that much of a saint, but the fact is that helping anyone during these times is enough to call a person a decent human being, even if they're helping because it makes them look better on paper and on TV. If that is Guy's angle then it's easier to view him from afar, but if he's being genuine then it's not hard at all to say that a person can have their opinion about him, but one thing that's not wise to do is say that he's doing nothing at the moment. That would certainly fire up an argument with a lot of people since anyone that's bothering to help, be it for fame and fortune or just because they're a good person, is doing more than the average individual that's just trying to do for themselves.
Say what you want about Guy, and plenty will, but trying to do something to help others, no matter what reason it's for, is bound to get a lot of attention since it means that the individual is stepping beyond their own boundary to affect the lives of others and are to be commended for it at least a little bit. At this point in life, it's way too easy to be cynical about a lot of things, but when people are helping each other it's time to toss the cynicism down for just a spell and give in to the thought that people can in fact be decent and caring and show that they're not all about money, which I know is ironic since Guy has been pushing to earn more money to donate to others, which in turn has scored him more money. But beyond all that, the effort to help the working class and to keep the economy going in any way possible is laudable and it's a goal that's worth striving for. Let the cynics say what they will and wallow in their own theories of how those in a position of influence do everything for profit and fame. For once, just be glad someone famous does manage to notice those in need.