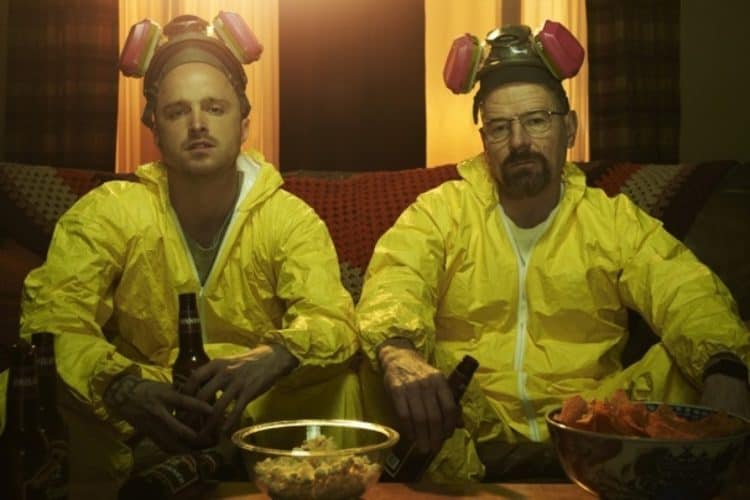 Who could forget what many critics and fans deem one of the best television shows ever made, Breaking Bad. Starring Bryan Cranston and Aaron Paul, the AMC drama follows the misadventures of Walter White, who's diagnosed with terminal lung cancer and resorts to cooking and selling methamphetamine to provide for his family. The show ran for five seasons and has won over five Emmys including Outstanding Drama Series and Outstanding Lead Actor in a Drama Series. However, it's been nearly ten years since the series finale and over a decade since the pilot in 2008. In the landscape of television, times change, and does Breaking Bad's original pilot stand the test of time? Let's dive back into the world that Vince Gilligan has famously created.
Without a doubt, the opening that jump-starts the pilot for Breaking Bad is one of the best ever written. Walter White is driving like a mad man throughout the Albuquerque desert with Jesse Pinkman out cold and the two drug dealers seemingly lying dead in the back of the van. Once he crashes into a ditch, White is flustered in a state of panic. This guy is in his underwear leaving a goodbye message for his wife and son. Then, he points a gun at the road as sirens indicate cops are coming. This scene gets your mind rushing. What the heck is going? Who are the three bodies in the van? Why is this half-naked man wearing a gas mask? In less than five minutes, this opening sequence manages to thrust you into the world of Breaking Bad in a very compelling manner. It didn't have to start this way. Breaking Bad isn't some gonzo-crazy action show so we could've taken the mundane route of following White's character throughout his boring teaching life until the huge climactic moment. Or, Gilligan could've started at the moment Walter found out about his terminal cancer and built from there. The avenue the creator decided to go grabs you by the throat and promises audiences a wild ride that you'll never forget.
From there, the entire pilot is a character study on White and his life prior to being diagnosed with the severe illness. It's such simple storytelling, but it perfectly paints the picture of who the chemistry teacher is. White is a pushover, whose living an unsatisfied life that he desperately needs to change. Granted, that change wasn't likely in the hopes of getting cancer, but Gilligan does an excellent job crafting who this family man is. White doesn't just go into the drug dealing business instantly once he gets the news about his cancer, Gilligan puts him on a path that forces the chemistry teacher to explore his options when he realizes that his financial income is pretty lackluster. We also get a description of the people around him and the world that he breathes in. Skylar and Walter White Jr. aren't particularly interesting characters, but they serve their purpose when it comes to White's journey. It's important that we as an audience really understand White's slow transformation into being more confident and exuberant being despite his illness. Hank is obviously there to serve up one the major arcs that will play out in the series. Marie is that annoying and nosy family member you wished jumped off a bridge sometimes. Extreme, but you get my point.
Of course, the reason these characters are so vanilla is to balance the juxtaposition once Walter crosses over to the drug world. How the morals and rules of Walter's life have drastically changed. It helps up the stakes of Walter's new venture into selling narcotics. Instantly, the scenes with Cranston and Paul are great. Both have amazing chemistry together despite having different personalities. The former effortlessly balances the changes that his character goes through in the pilot. Walter weaves through depression, happiness, anger, or whatever the situation calls for organically thanks to the incredible writing and performance. Jesse's slacker/somewhat of an idiot character manages to veer away from annoying once the duo gets down deep into the depths of making the drugs. It's odd how quickly things escalate in the pilot episode, yet it never feels rushed nor does it drag at any point. We understand Walter's character, see the changes he goes through that presents us with an exciting new problem that will carry on throughout the remaining season. Once we finally circle back to the opening sequence, the events never feel out of place and the final scene reaffirms the new man that we're following. The pilot of Breaking Bad is still a masterful exercise in writing and never feels out of touch despite being over ten years old.Walter White