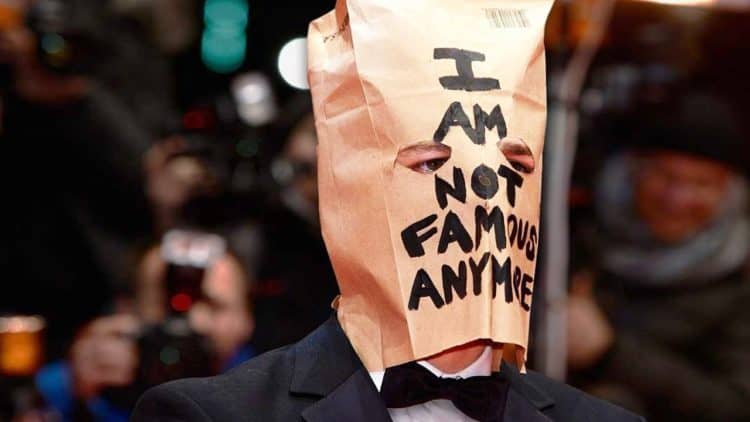 Being a celebrity comes with extra work, which is not part of their duties. Like playing hide and seek with photographers. Celebs are people with a life away from the camera. Paparazzi's will do anything possible to snap that billion-dollar moment for media. Many celebs enjoy being in the limelight and have no problems having their photos and autographs taken. Some get tired of the attention and opt to find ways to hide from the paparazzi. The constant attention and always being followed becomes boring as they look for privacy. Peace of mind is essential to them, so they develop creative ways to hide from cameras. Some methods are doughnuts, kitchen paper bags, hiding behind trees, or using their coats for cover. Read on for more to find out the tricky ways that celebs deal with paparazzi.
Ashley Tisdale Hides Behind Her Dog
Ashley is an American singer, actress, and producer. Her fame started in her childhood. At the age of three, she was highlighted in more than one hundred advertisements. She also sang for Bill Clinton at the age of twelve. Her feature in the Disney Channel series, The Suite Life of Zack & Cody, opened the doors to paparazzi due to the massive growth. Since it was featured, paparazzi have been on her neck. But thanks to her dog, Maui, who shields her from the camera. At first, she didn't like pups, but she uses Maui to cover her face. It's a trick that works well for her.
Delicious Outfit Like Pizza Onesie
Pizza could be the next outfit for every celeb, as Cara Delevingne proves. She has been seen twice wearing a zip-up pizza onesie. It's a delicious disguise that keeps paparazzi away.
Hiring a Body Double
For some celebrities, fame has become hard to handle, making them use other people to stand for them. Nervous ones look for other people to attend their events. And whether right or wrong, some celebrities hire look-a-like (body doubles) to hide from the public. Body doubles face their adoring public and do any other dirty work for them, including being a sub in a shoot. All this happens with them, hoping no one notices. Britney Spears hired a body double to distract stalkers. Shakira hired one when she received death threats. Eminem is afraid of being shot and hires a man named Particles. Russell Crowe was not in any way going to allow press in his wedding. In comparison, Michael Jackson used to hire body doubles for security purposes. It's a common practice.
Wearing Creepy Outfit
Anti-paparazzi clothing is not new for camera-shy celebrities. The clothes trick the camera that the scene is different from what is seen. So, the camera produces too much light or less light to fight the reflections ruining the photo. Some celebs get through creepiness easy while others end up being recognized. The method is not always practical for some as the photographers are learning how to maneuver the trick. Kesha wore an eyeball dress from the head, scarf to socks to hide from photographers. But they still noticed it was her though they couldn't capture her face.
Using Different Objects to Hide the Face
Photographers work hard to get a celebrity's face, so they sell them to their fans. Thus, they work hard to get a nice shot. But some celebs have gone an extra mile to hide their face using objects; some use big doughnuts. Katy Perry bought a giant doughnut pillow which she used as a paparazzi shield at Miami Airport. Dustin Hoffman hides behind trees or objects that intersect his body making it difficult for photographers to sell his images. For Emma Stone, holding images in front of her face makes it easy to promote her charities. She writes the name of charities on large cards and places them in front of her face.
Paper Bag Over the Head
Kitchen bags are not just for shopping groceries, as some celebs use them to hide from the press. Shia LaBeouf, The Transformer star, uses the bags to cover his face and keep the paparazzi away. He usually places the paper bag over his head and, to an extent, wraps his left arm in a black plastic bag. In 2014 during the red-carpet premiere of von Trier's Nymphomaniac held in Berlin, he had the same paper over his head written he is not famous anymore.
Send Paparazzi Home with a Message
Instead of paparazzi covering the lives of celebs, they should instead cover critical reports that are happening. When Egypt was protesting, Benedict Cumberbatch had a message for the paparazzi as a shield. He wore a paper that stated they go to Egypt and show the world something important. Celebs can use such messages to promote peace, and maybe several celebrities should imitate Benedict.
Wearing Same Clothes for Months
There is magic in wearing the same clothes for six months. Such photos will appear to be old, useless, and reused, and nobody will buy them. It has worked well for Daniel Radcliffe, who used to leave the theater wearing the same jacket and hat in a row for six months. Taking his photo then was worthless. And it works like a charm.
Uploading Photos on Their Social Media Platforms
Paparazzi always go the extra mile to capture and caption the recent celeb's photo. So, when a celebrity uploads a photo to their social media platforms, it becomes useless for the paparazzi to follow them. Jennifer Lopez, Taylor Swift, Jessica Alba, and Arnold Schwarzenegger are celebrities who share their photos on their Instagram pages.
Share Evidence Before Them
Celebs are regular people and want to live like ordinary people. So, if a paparazzi has awkwardly taken photos, the solution is to share them yourself. It makes their evidence unworthy. There're enough choices for every celeb. Publicity makes celebrities famous, but it comes with a lot of expectations from the public, which at times is overwhelming. That's why a superstar will go an extra mile to lead a normal life, even if they have to carry a blanket! Various options are available that work quite well to fool the paparazzi.