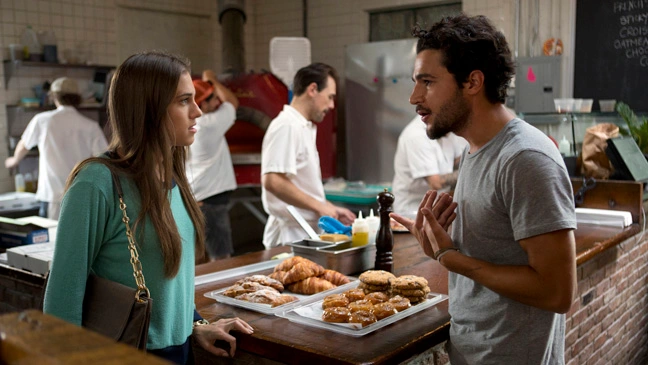 Christopher Abbott made his on-screen debut in 2009. Within just a few years, he was already on his way to becoming a star. Christopher got his big break when he was cast as Charlie Dattolo in the HBO series Girls. He was a cast member on the show from 2012 to 2016, and he didn't have any trouble keeping the ball rolling after leaving the show. Christopher got another big opportunity in 2017 when he was cast in the TV series The Sinner, and that also helped him show his versatility. Although it may seem like he's been pretty quiet in 2022, that's because he has quite a few projects in the pipeline. Keep reading to learn 10 things you didn't know about Christopher Abbott.
1. He's From Connecticut
Any time I see that an actor is from Connecticut, it's something that I have to include on their list of "10 Things You Didn't Know". As a Connecticut native myself, it's always nice to see that someone from my home state is getting a little shine. Christopher was born in Greenwich but raised primarily in Stamford. He eventually decided to relocate to New York City.
2. He's Also a Producer
During his time in the entertainment industry, Christopher has shown that acting isn't the only talent he has. He has also taken stepped behind the camera. He made his debut as a producer in 2013 with a short film called The Exit Room. This is his only producer's credit to date.
3. He's Not Into Social Media
People love to follow their favorite actors on social media, but unfortunately, Christopher's fans don't have that opportunity. We weren't able to track down any verified social media profiles for Christopher. Since he has always been a relatively private person it's not too surprising that he doesn't have an interest in social media.
4. He Has Formal Acting Training
Breaking into the entertainment industry is incredibly difficult, and actors need to work very hard to give themselves a competitive age. For lots of people, that edge comes from undergoing formal acting training. Christopher studied acting at HB Studio in New York City.
5. He's Been on Broadway
Christopher is probably best known for the work he's done in front of the camera, but the stage will always be near and dear to his heart. He has been a part of several theater productions and he made his Broadway debut in 2011 in the play The House of Blue Leaves.
6. He Has Five-Star Feet
Christopher's acting skills aren't the only thing that has drawn people to him. Apparently, there are several people who also have a thing for his feet. According to Wikifeet, an online database dedicated to celebrity feet, Christopher's feet have earned an almost perfect 5-star rating.
7. He's a Big John Cassavetes Fan
From the 1950s to the 1980s, John Cassavetes was a strong presence in the entertainment business. Not only was he a star in front of the camera, but he was also a talented director and writer. According to an article from Indie Wire, Christopher, "once told The New York Times he'd like to emulate the creative life of John Cassavetes".
8. He's Done Voice Work
Being able to excel in multiple areas is one of the best ways to find success as an entertainer. Luckily for Christopher, he hasn't had any problem doing this. In addition to his live-action work, Christopher has also dabbled in the voice acting world. In fact, he will have a role in the upcoming Netflix animated series Entergalactic.
9. He Didn't Think About Becoming An Actor Until He Was An Adult
There are lots of actors who have heartwarming stories about how they've been performing since they were in diapers. That isn't how Christopher's journey went, though. He actually didn't develop an interest in acting until he was already an adult. He was quoted saying, "I loved movies growing up. I went to the movies with my uncle all the time. But being an actor? I didn't even think about it until I was about twenty years old. I took a class at the college I was at. I don't know why – I just wanted to take a class, and I kind of fell in love with it there." Once he got serious about acting, he decided to move to New York to build a career.
10. He's A Musician
Acting has been Christopher's primary focus for many years, but it isn't the only area of the arts he's interested in. He also loves music and would love to incorporate his love for music into his acting work someday. However, it doesn't look like he has plans to release an album of his own.
Tell us what's wrong with this post? How could we improve it? :)
Let us improve this post!