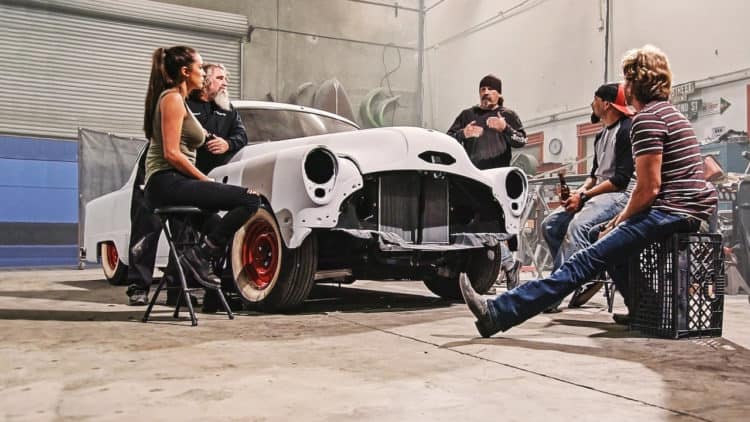 Car Masters: Rust to Riches premiered on Netflix in 2018. Although it's not one of the platform's most popular shows, it's built a solid following. The series follows Mark Towle and his crew as they work hard to restore old cars and give them completely new looks. The level of creativity they put into each project they work on is something that you don't see very often. No matter how challenging the project is, Mark never backs down. After a long break between seasons, Car Masters: Rust to Riches is officially back for a third season and viewers are really excited. It'll be great to see what kinds of designs Mark and his team come up with. Keep reading to learn 10 things you didn't know about Car Masters: Rust to Riches.
1. The Show Is Filmed At A Real Garage
There are lots of reality shows that are made to look like they are being filmed on location, but are actually filmed on sets. That's now true for Car Masters: Rust to Riches, though. The series is filmed at Gotham Garage in California. The people in the cast are also real employees of the garage.
2. Lots Of People Think The Show Is Fake
Even though the show takes place in a real garage, there are still many viewers who have questioned the show's authenticity. People are suspicious of Car Masters: Rust to Riches because the show doesn't really go into the technical aspect of the restoration process. This isn't too surprising given the fact that reality TV has a history of being fake.
3. The Show Does It Best To Avoid Drama
The entire reality TV genre is known for drama, but that's something you won't find much of on Car Masters: Rust to Riches. The show does a good job of staying out of the cast members' personal lives, so there isn't much room for drama other than moments of pressure that come with working on major projects.
4. Mark Towle Isn't New To Working With The Entertainment Industry
Car Masters: Rust to Riches might be Mark Towle's only on-screen credit, but it's definitely not his first time working in entertainment. According to Hot Cars, "For years, he [Mark] built movie props and cars for movies and television". He eventually used the money he made to open Gotham Garage.
5. You Don't Necessarily Have To Love Cars To Enjoy The Show
It goes without saying that a show like Car Masters: Rust to Riches was made to appeal to car owners, but you can still enjoy the show even if cars really aren't your thing. If you're someone who loves seeing renovations and makeovers, you may still be drawn to the series because the transformations are very impressive.
6. Some Viewers Have Been Critical Of The Builds Seen On The Show
Lots of people love Mark's work, but there are some viewers who just aren't impressed. A Reddit user named pigeonman699 said, "The car builds they make are so tacky and unflattering. Out of all the cars they've built, I've only liked a few; like the Lincoln Futura or the Thunderbird. At the start I thought it would just be one or two cars where they might have been targeting a certain type of buyer, but no, every car is just lacking." The post received more than 60 comments and many of them were from people who agreed with the OP.
7. The Show Doesn't Have Social Media Profiles
Following shows on social media can be a great way to see behind-the-scenes clips and other content that typically doesn't make it to TV. Unfortunately for Car Masters: Rust to Riches fans, there aren't any official social media profiles associated with the show, but Gotham Garage is active on social media.
8. The Show Features A Variety Of Cars
If you're a car enthusiast, you'll probably appreciate the fact that the team at Gotham Garage works on all sorts of different cars. No matter what car brand you like the most, you'll probably see a few things you like on the show. You may even be introduced to some models you aren't familiar with.
9. The Cars On The Show Are All Unique
Every time Mark gets a new project, he approaches it with a completely clean slate. All of the cars he works on will leave his garage with a one-of-a-kind restoration. Even though Mark has been working in the industry for years, he keeps getting better because he's always willing to put his creativity to the test.
10. There's No Word On A Fourth Season
There are some shows that get renewed for new seasons before the current one even airs, but that hasn't happened for Car Masters: Rust to Riches. The just started its third season, and there haven't been any announcements regarding another season. To be honest, it seems like the future of the show could go either way.